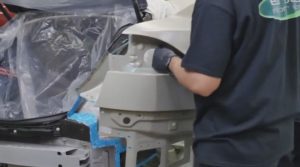 The Society of Collision Repair Specialists on Monday formally released the first of a new series of educational videos shops can use to inform themselves, customers and insurers.
The movie examining adhesives in collision repair first premiered Wednesday during the association's open board meeting and has since been posted on YouTube. Shot at the SEMA Garage, it features SCRS Vice Chairman Kye Yeung (European Motor Car Works), board members Tim Ronak (AkzoNobel) and Michael Bradshaw (K&M Collision) and frequent contributor Toby Chess (Kent Automotive).
Executive Director Aaron Schulenburg said Wednesday that SCRS covered four topics during shooting last year, and the remaining footage would be released over the next three quarters.
Next up in the spring would likely be a three-part series on MIG and MAG welding, he said. SCRS planned its diagnostics film for the summer and at least one movie, likely a series, on spot welding in the fall, according to Schulenburg.
See the adhesives video below. It's a great resource that spells out the why and how of structural adhesives — and some practices to avoid while applying them — and it can easily be embedded or linked to on a shop website, email or social media page.
More information:
"SCRS Education Committee Panel – Adhesives"
Society of Collision Repair Specialists via YouTube, Jan. 16, 2016
"SCRS Premieres Education Committee Video on Adhesives at January Meeting"
Society of Collision Repair Specialists, Jan. 16, 2016
Featured image: The Society of Collision Repair Specialists on Monday formally released the first of a new series of educational videos shops can use to inform themselves, customers and insurers. (Screenshot from Society of Collision Repair Specialists video on YouTube)
Share This: