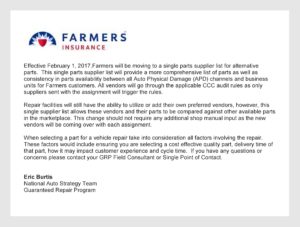 Farmers announced that as of Feb. 1, the insurer will move to a single alternative parts supplier list for direct repair shops.
Few other details were available. A phone and email message to Farmers' media relations staff Tuesday morning hadn't yet been returned.
"Effective February 1, 2017,Farmers will be moving to a single parts supplier list for alternative parts," Eric Burtis of the Farmers Guaranteed Repair Program National Auto Strategy Team wrote in an email shared with Repairer Driven News. "This single parts supplier list will provide a more comprehensive list of parts as well as consistency in parts availability between all Auto Physical Damage (APD) channels and business units for Farmers customers. All vendors will go through the applicable CCC audit rules as only suppliers sent with the assignment will trigger the rules."
Though the move might result in lower prices for non-OEM parts, it also seems like an indirect step away from auto body shops making their own parts sourcing decisions and potentially doing business with local vendors. True, Farmers reassures the repairers that the shops can still pick their own suppliers — but then implies those vendors' prices should or will be compared against the Farmers list.
"Repair facilities will still have the ability to utilize or add their own preferred vendors, however, this single supplier list allows these vendors and their parts to be compared against other available parts in the marketplace," Burtis wrote. "This change should not require any additional shop manual input as the new vendors will be coming over with each assignment."
But while Farmers encourages shops to use its own list of vendors, it takes no responsibility for any quality, cycle time or customer satisfaction complications — a nice way for the carrier (and any others with similar programs) to have its cake and eat it too.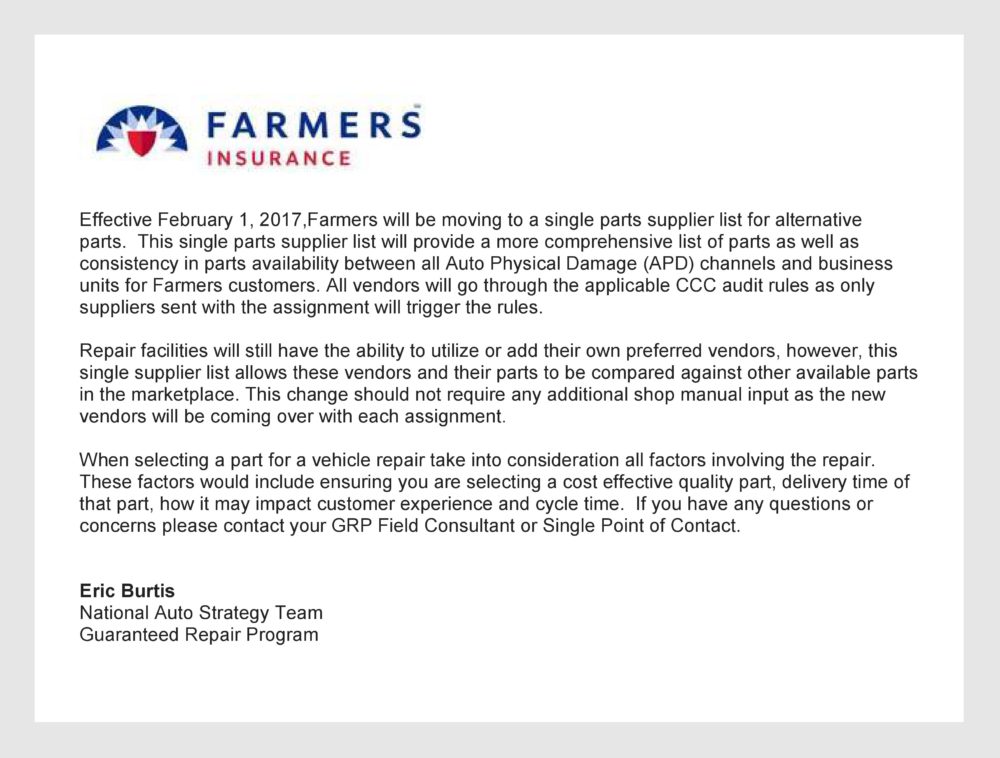 "When selecting a part for a vehicle repair take into consideration all factors involving the repair," Burtis wrote. "These factors would include ensuring you are selecting a cost effective quality part, delivery time of that part, how it may impact customer experience and cycle time.  If you have any questions or concerns please contact your GRP Field Consultant or Single Point of Contact."
Farmers' direct repair shops are contractually obligated to deliver certain metrics to the carrier in exchange for referral volume, and the list might well be a way to help them do so. Still, shops should remember that they work for the customer, not the insurer, and any repair decisions must be made with that in mind, regardless of B2B relationships or insurer preferences.
Featured image: Farmers announced that as of Feb. 1, the insurer will move to a single alternative parts supplier list for direct repair shops. (Provided to Repairer Driven News)
Share This: