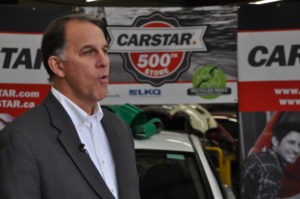 Capitalizing on its large Canadian and U.S. networks, CARSTAR has announced a new "Care Center" call center which could open up new insurance partnerships as well as serve Canadian snowbirds who get in crashes while visiting the U.S.
"Each year, Canadians make more than 11.9 million trips to the United States, and unfortunately, sometimes they have fender benders or other vehicle issues while they are in the country," CARSTAR North America President Michael Macaluso said in a statement. "We want to make it seamless for these drivers to get a high-quality repair on their vehicle through their Canadian insurance carrier.  This program makes it much easier to handle the repair and helps take the stress out of the situation.  And it allows CARSTAR North America to offer unmatched coverage in North America."
CARSTAR describes the system as a "single point of contact for everyone involved," allowing Canadians to just call the Care Center and have it start the claim, handle the estimate and warranty and schedule the repair at a CARSTAR (or, since this is Driven Brands, possibly a Maaco or Meineke).
CARSTAR insurance Vice President Arlo Johnson said at a media meet-and-greet last week that insurers had told the company that a CARSTAR call center might be a nice thing to have around, and "now we have it." It sounds similar to what Safelite has done with auto glass claims — and raises questions of steering, given allegations against Safelite.
All customers, American and Canadian, can just call 1-800-CARSTAR and reach the call center.
CARSTAR: Insurers shifting to performance-based agreements with auto body shops
Catering to Canadians with a brand they recognize could be pretty lucrative. With 11.9 million Canadian visitors and what at least for Americans is a crash rate of about 5 percent, that's 595,000 Canadians that could be converted into CARSTAR customers in the U.S. (CARSTAR spokeswoman Debby Robinson last week described an even higher crash rate of somewhere around 1 in 7, which would be make for even more potential repair orders.)
This could shake up the repair market in certain select states, likely around the U.S.-Canadian border and in snowbirdy areas. Johnson said "well over 100" CARSTARs are participating in the cross-border program.
"Most of these claims occur in Florida," CARSTAR Eastern Region insurance director Larry Seimbab said last week.
The program is one of a few cross-border initiatives since Driven Brands bought both nations' CARSTARs back in 2015 and quickly consolidated the two companies under the leadership of Macaluso, the former CARSTAR Canada head, following the surprise departure of U.S. CARSTAR President Dan Young in 2016.
Other cross-border programs included sharing operational best practices and plans to bring the CARSTAR Express model to the U.S. CARSTAR's new analytics operation also can play with some combined Canadian and U.S. data, such as Enterprise's per-ticket length-of-rental statistics for both countries, according to Johnson.
However, the U.S. CARSTARs typically rely on CCC, while the Canadian ones use Mitchell, but Johnson anticipated "we'll get there" — more merged data — as the performance analytics team takes on more data collection responsibilities.
CARSTAR on Tuesday celebrated its 500th store (CARSTAR West Chester, in Ohio), a tally that combines both the U.S. and Canadian operations.
More cross-border coverage in Repairer Driven News
Last month, we covered a few examples of where Canadian and U.S. collision repair and insurance industries could learn from each other and/or were displaying noteworthy similarities.
Perhaps most notable was the Roanoke Times' coverage of the new Virginia collision repair reporting center pilot program, an 18-month trial concept imported from Canada. According to the newspaper, the idea is to have residents report collisions at an insurance-funded facility rather than have the vehicle or vehicles involved tie up traffic and police time on the side of the road. Find some analysis from a Canadian collision repair expert here.
Also intriguing was Aviva Canada's November announcement that it would cut premiums 15 percent for drivers with autobraking — the latest sign that the technology will indeed have a significant impact on collision frequency. According to the Chicago Tribune in June, the Hartford and Liberty Mutual among U.S. insurers are offering deals as well. Read more coverage here.
And a 2016 Canadian survey studying women in automotive held some lessons for both nations' employers. See more here.
Share This: