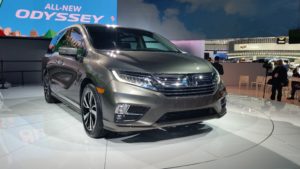 The next-generation 2018 Honda Odyssey minivan shed up to 96 pounds using higher-strength steels, aluminum and magnesium, similar to its lightweighted rival 2017 Chrysler Pacifica.
However, Honda opted to configure those metals in a similar fashion to its next-generation vehicles like the Civic, Pilot and Ridgeline and Acura TLX rather than adopt the aluminum sliding door and aluminum-magnesium liftgate of the Pacifica.
The only magnesium on the Odyssey is the "steering hanger beam" — the instrument panel beam — and aluminum is held to the hood and front and rear bumper reinforcements, Odyssey Chief Engineer Chad Harrison said.
"Otherwise, everything else is conventional steel," he said shortly after the Odyssey's reveal Jan. 9 at the North American International Auto Show in Detroit.
Now, when Harrison says "conventional steel," he doesn't mean the traditional 200- to 340-megapascal mild steel entire bodies-in-white were built out of back in the day. He's talking about steel as opposed to unconventional metals like aluminum or magnesium. The Odyssey is build on the Honda's Advanced Compatability Engineering platform, which so far has used a lot of higher-strength steels. For example, on the Ridgeline: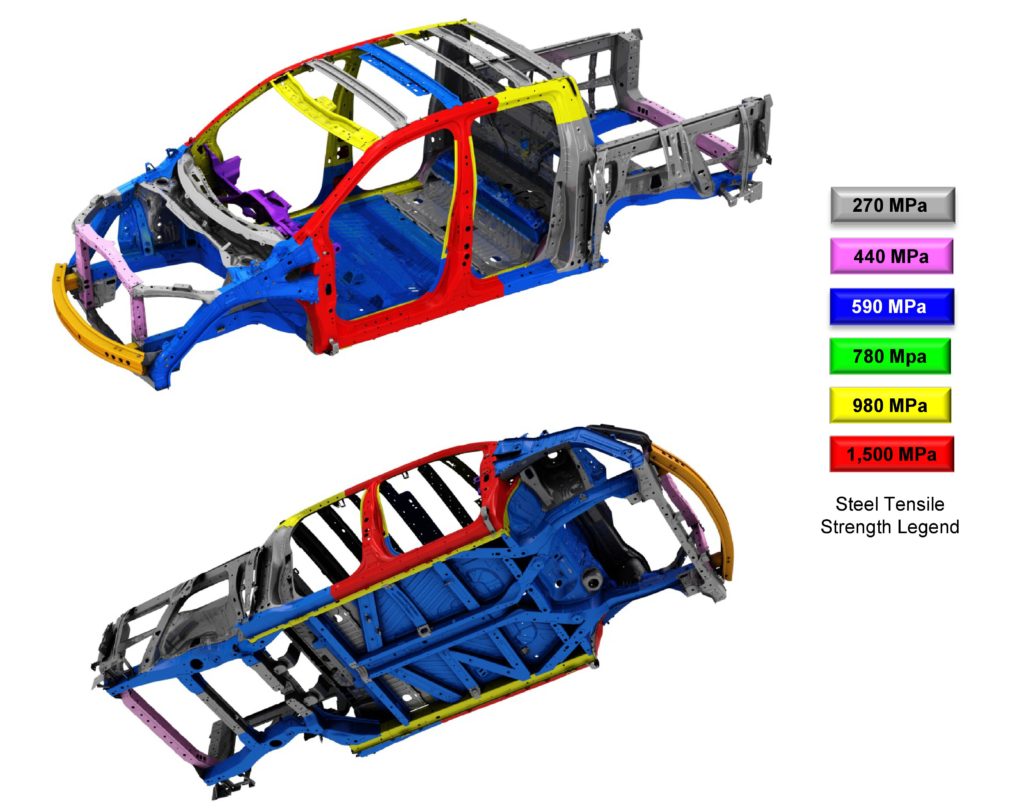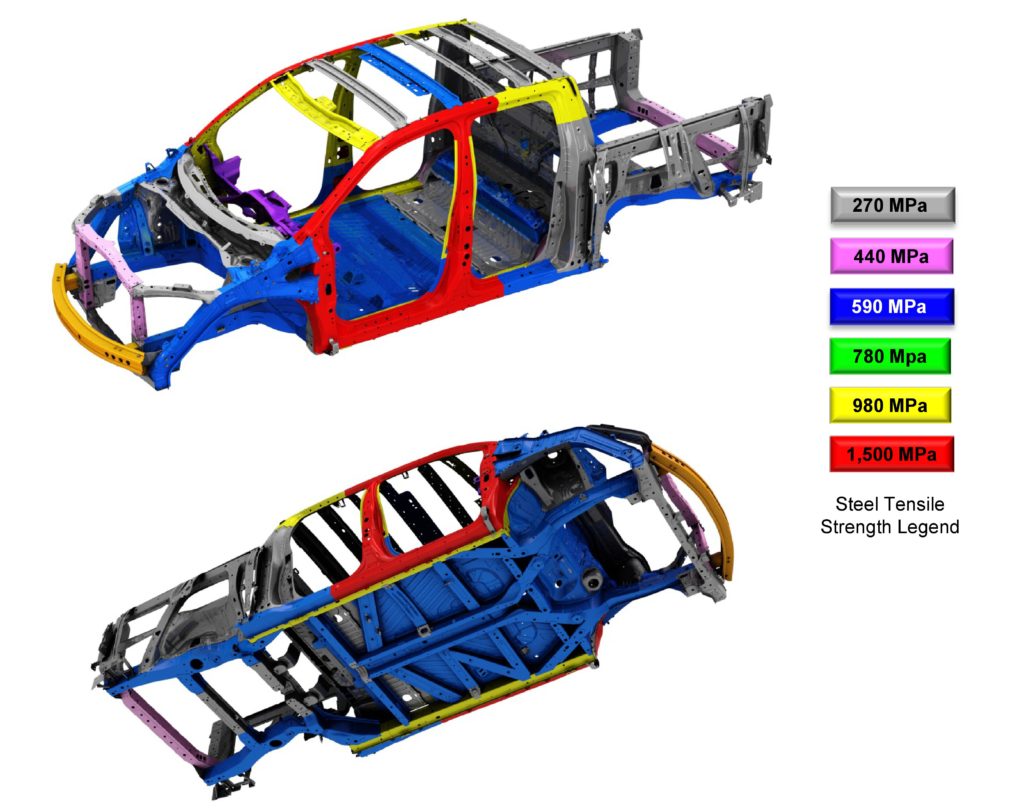 Though Honda has loosened some repair procedures when very specific conditions are encountered, it still generally has very specific restrictions on heating and sectioning such steel the higher the tensile strength grows. It'll be important for repairers to check repair procedures to identify both the different metals and what the OEM does or doesn't want you to do with them.
Higher-strength steels are wonderfully light and strong, but their tensile strength plummets when exposed to heat — compromising the crash protection they're meant to offer occupants. And sectioning higher-strength steels disrupts the intended flow of collision energy through the vehicle, also with potentially disastrous consequences for the occupants.
"The entire frame system is generally ultra-high-strength steel, as well as … what we call the 'door ring,'" Harrison said of the Odyssey.
To date, Honda's made its next-generation "door rings" and frame rails out of 1,500 MPa steel — some of the strongest stuff on the market today. The rear frame rails didn't employ the soft-zone construction of the 2016 Civic, according to Harrison. (Probably because there's a giant minivan trunk to serve as a crush zone instead.)
However, Harrison said "we did do a lot of optimization to make (the Odyssey's frame rails) as straight as possible," allowing them to be "much more efficient" from both a rigidity and crash management perspective.
The Odyssey's rigidity is up 44 percent from the 2017 Odyssey, making for a smoother and quieter ride for the occupants. (Though if the occupants aren't as quiet, the vehicle has "CabinTalk," which lets Mom or Dad chew out the kids in the back using the speakers there.)
Repairers should remember that optimization as another reason to always 3-D measure your vehicles — otherwise, you might not deliver this driving performance or safety back to your customers.
For shops which have been paying attention to repair procedures, neither the door ring or frame rails should be too much of a surprise. Honda revamped both parts for the 2014 model year, and the Odyssey subsequently received a Top Safety Pick+ when it took its first small-overlap IIHS test.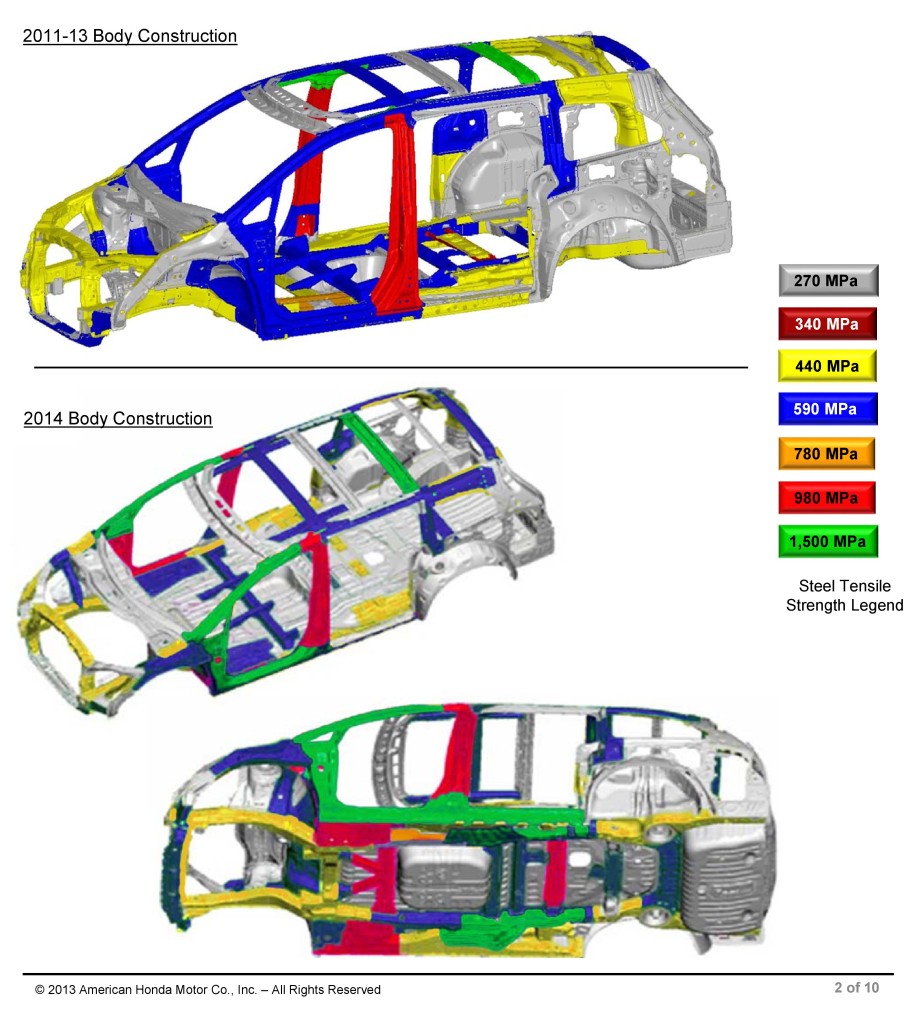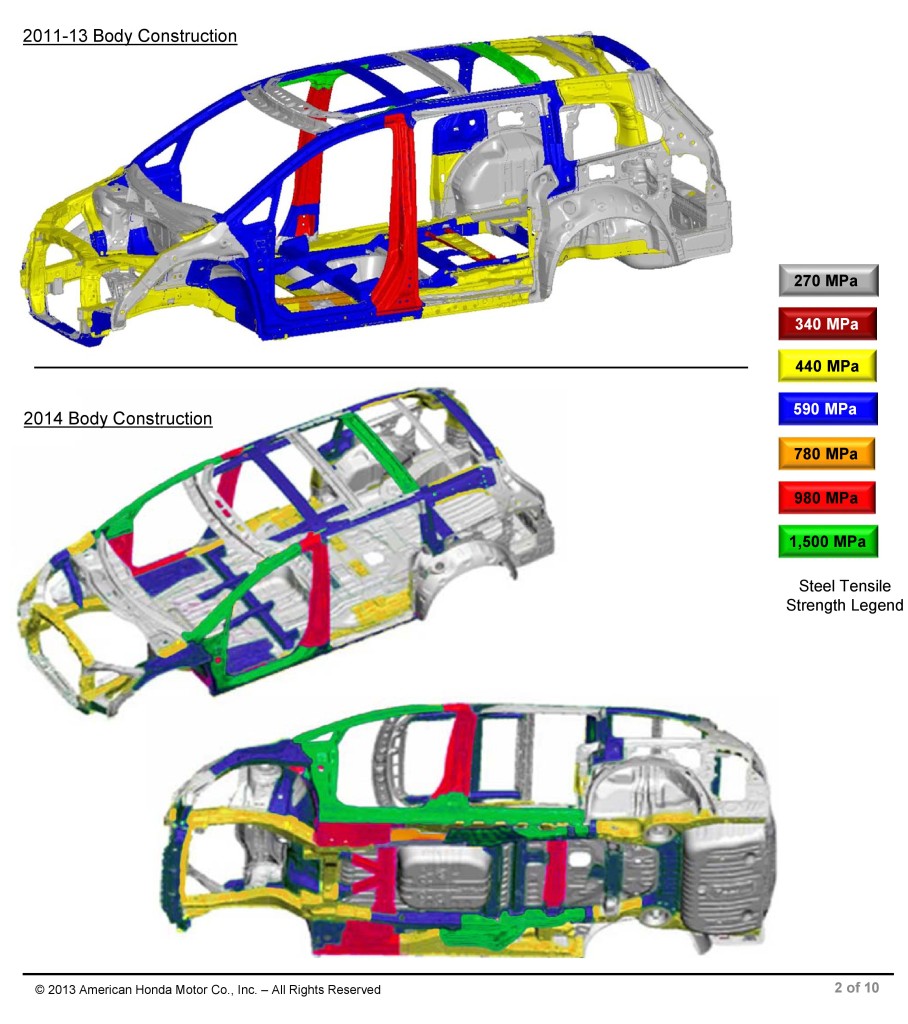 Harrison said Honda didn't dramatically change how it handles small-overlap crashes in the next-generation Odyssey, describing it as "just an evolution" of design for Honda's lightweighted truck platform.
Besides such body design features, body shops will want to pay extremely close attention to the advanced driver assistance systems technology on board.
Honda expects virtually all of the Odysseys it sells to be at at or above a trim which will offer a suite of technology that includes autobraking, adaptive cruise control and lane-keeping. (A similar prediction has been made for the 2017 CR-V.) That means a lot of new sensors and cameras to remember, install and calibrate.
"All 2018 Odysseys in EX and above trims, expected to comprise about 95 percent of all Odyssey sales, will feature the Honda Sensing™ suite of advanced safety and driver-assistive technologies as standard equipment, including Collision Mitigation Braking System (CMBS™), Lane Keeping Assist (LKAS), Road Departure Mitigation (RDM) and Adaptive Cruise Control (ACC)," Honda wrote in a news release.
The EX trim cost $33,000 for model year 2017, and Honda sold nearly 121,000 Odysseys last year.
Other items collision repairers and auto insurers should prepare to see:
New driver and passenger knee airbags on all Odysseys.
An Active Shutter Grille in the front fascia, which opens and closes automatically for better aerodynamics.
The sliding door tracks are "hidden in the lower portion of the rear quarter windows," Honda wrote.
Honda added triple door seals and more sound deadening in the engine compartment and floor and under fenders.
More information:
"All-New 2018 Honda Odyssey Minivan Makes World Debut at 2017 NAIAS"
Honda, Jan. 9, 2017
Honda Body Repair News overviews and positions
Honda collision repair procedures site
Images:
The 2018 Honda Odyssey the day of its reveal, Jan. 9, 2017, at the North American International Auto Show. (John Huetter/Repairer Driven News)
A diagram of the 2017 Honda Ridgeline body's metals. (Provided by Honda)
The Honda Odyssey saw some major internal changes for the 2014 model year. (Provided by Honda)
Share This: