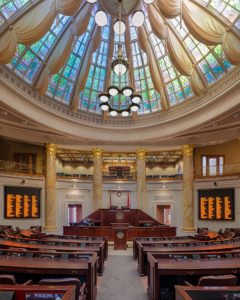 The Arkansas Senate on Monday passed a bill to strip a requirement that OEM parts be used on warrantied cars unless the customer says otherwise.
Senate Bill 291 — introduced less than two weeks ago — now goes to the Arkansas House.
The bill, lead-sponsored by insurance agent Sen. Greg Standridge, R-Russellville, and co-sponsored by seven other senators, passed 21-9 on Monday afternoon. Three more senators voted "present," and another senator did not vote.
The bill would strike Arkansas Code 4-90-306, a 20-year-old law that states: "Whenever repairs are made involving replacement crash parts, as defined in this subchapter, and the vehicle is still under the manufacturer's original warranty, only original equipment manufacturer replacement crash parts may be used by the repair facility unless the owner gives or has given written consent otherwise."
Craig Griffin, owner of Laney Collision Center and a past SCRS board member, has pointed out that while some policyholders who don't want to pay out of pocket might be bound by their policy to consent to aftermarket parts, the existing law might make it harder for third-party claimants to be assigned aftermarket parts by the at-fault party's insurer.
The bill is lead-sponsored in the House by Rep. Charles Collins, R-Fayetteville, who is also chairman of the House Insurance and Commerce Committee.
Be heard: Arkansas legislator contact information can be found here.
Share This: