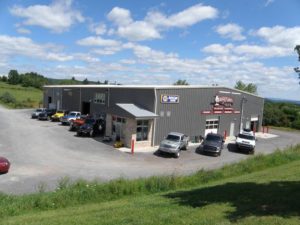 LKQ said Monday it "does not intend" to buy any other auto body shops, describing the acquisition of a Muncy, Pa., repairer as an "exception" focused on the facility's real estate rather than its collision repair business.
Dustin Newman, body shop manager at Apple Hill 4X4 Auto & Collision, confirmed Monday that his Muncy, Pa., facility had been sold to aftermarket and recycled parts giant LKQ.
Asked about the purchase, LKQ investor relations director Joseph Boutross said the Standard & Poor 500 company would stay focused on auto parts.
"Regarding your question, Apple Hill 4×4 & Auto, was acquired primarily to obtain new space to which an existing LKQ Specialty shop could relocate," Boutross wrote in an email. "The new space was attractive because it has capacity for installation of Specialty products. Apple Hill 4×4 & Auto historically had done some auto body work for local fleet vehicles, but such work will not be the focus going forward.  LKQ does not own any body shops (other than this one exception), and LKQ does not intend on acquiring any others; our focus remains parts distribution."
Newman said Apple Hill has a full mechanical shop as well, and its Facebook page describes custom and off-road work.
"Now that everyone has had a chance to talk, it seems like it's going to be very very good for us," he told Autobody News. "It's going to be good for keeping the business growing, the employees are all happy with what's going on and I think it's going to be a good change for us."
Autobody News had reported the sale Friday. On Monday, Newman confirmed most of the details in the magazine's report and referred us to that article. The sale by what the Better Business Bureau reports as owner Aaron Salvatori occurred this month, the magazine reported.
"I think the owner felt he took the business as far as he could himself and wanted to see about getting corporate to be able to further continue growing and getting bigger," Newman told Autobody News.
Apple Hill's Facebook page states the company was founded in 1997 with a 3,000-square-foot building.
The company in 2010 opened a 10,000-square-foot Muncy facility and moved the body shop there in 2013.
"We moved our body shop right in the same, brand new, state of the art building as the shop! With more equipment, room and staff we can get jobs done faster, more efficiently and have more on hand than ever before," the Facebook page states.
More information:
"LKQ Corporation Purchases Pennsylvania Body Shop"
Autobody News, Feb. 17, 2017
Apple Hill 4X4 Auto & Collision LLC Facebook page
Featured image: The body shop manager at Apple Hill Auto & Collision confirmed Monday that his Muncy, Pa., facility had been sold to aftermarket and recycled parts giant LKQ. (Provided by Apple Hill Auto & Collision)
Share This: