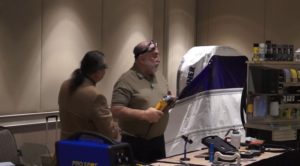 Technicians and owners with a little extra cash should check out a Society of Collision Repair Specialists presentation on "Kool Tools" from last month's SCRS open board meeting and Collision Industry Conference.
SCRS Vice President Kye Yeung and collision repair guru Toby Chess have started an annual tradition of buying tools at SEMA and then showing them during the Palm Springs, Calif., Collision Industry Conference Week two months later. (See our coverage from 2015 and 2016.) With occasional exceptions, the two repairers buy all the gear themselves to ensure objectivity.
Here are some of the highlights from the presentations at the SCRS board meeting and CIC; see all of the featured equipment with the presentation slides here and a video posted to the SCRS account on YouTube.
Cutting and grinding
Chess started with the Malco "Nibbler" Turboshears drill attachment, a battery-operated means of cutting through metal which "fits on any drillbit."
"Nice little tool," he said, calling it useful for estimating purposes like cutting through an door panel to see if the intrusion beam is damaged rather than taking the whole part off then.
Another option for cutting through stuff: the Alpha Ultracut ABM diamond-encrusted cutoff wheel, which Chess said yielded "very little sparks" and was useful on aluminum cuts as well as steel ones. Chess said the company boasts that the wheels will last "20 to 1" as long as regular abrasive wheels, and Yeung said his techs hadn't experienced factors like loss of diameter after a couple of weeks of use.
Asked how long the wheels last, the techs replied, "'We don't know. It just keeps working.,'" Yeung said.
And finally, OEMs are using more labor welds, but techs who cut the welds with a grinding wheel often damage them, according to Chess. Instead, try a Reliable Automotive Equipment Laser Cutter, which is designed specifically for laser welds.
As for grinding, the pair recommended the Camel Grinding flap disc for aluminum, which Yeung said "doesn't gall" the metal and Chess called "faster and better" than trying to use 50 grit and then 80 to finish. Chess and Yeung also recommended SAIT Sand-Light flap discs.
Welding
For a shop's (non-laser) welders, Chess recommended the synergic ProSpot Multivoltage PR-205, which can handle 0.024 welding wire. Set up for 220 single-phase volts, it can be converted to run out of a 110-volt wall socket.
He also recommended a Killer Tools magnetic, flexible-headed light holder, noting that when he welds at shops, "half the time the place is so dark you can't see." Yeung also recommended the tool for technicians facing the "pressure" of a welding certification test.
"Get that thing pinpointed right there," he said.
For even more light, the duo suggested the Car-O-Liner Brilliant Solutions aluminum work bay curtains, which have flexible LED lighting running the width of the material. It even has a remote-control dimmer. Yeung said he was considering installing it at his shop for welders and detailers, too.
Glass
Even glass repairers received a tool suggestion: the WRD PRO6's glass tool enhancement, which is sort of like a multi-handled nightstick attached to a suction cup. (See it in the WRD video below at about the 8-minute mark.) The device allows a technician holding the glass enough leverage to install a pane and not "strain his back," and a single person can install an entire windshield with the device, according to Yeung.
SCRS former Chairman Barry Dorn said his company, Dorn's Body and Paint, bought one to make installing taillights easier as well.
Sanding
Sanding can be made much easier with the R&H True Flex sanders, floppy sanding blocks which can easily countour to vehicle metal curves.
Yeung and Chess also made a plea for shop owners to provide vacuum equipment — now adaptable with sanding station carts like Time Shaver and attachment-ready sanders like Dynabrade's –to prevent dust. Shop cleanliness and employee safety are too important, they said.
"There's no excuse why a body shop should have dust flying all over … now," Yeung said.
Seams and hems
For plastic work, the duo recommended a Wiss hand seamer, which resembles pliers and was originally designed for metal work. "These work great on the plastic repairs," Chess said, and Yeung agreed, calling the tool "almost like an iron."
They also for door skins suggested a beanbag dolly, which doesn't mar a panel surface the way a traditional dolly would and allows much cleaner hem work.
Refinishing
Yeung said he at SEMA watched Presta Products demo its Scuff Stuff plastic bumper prep, which helps solve the shop headache of "why can't OEs just primer their own bumpers and give it to us," Yeung said. He said when combined with a Scotchbrite pad, it "worked a little bit better" than traditional methods in terms of primer adhesion and was a "good thing to have."
And shop owners should think about using the FBS Distributors Super Sprayer, which allows the user to adjust volume of solvent being discharged on something like a molding, according to Yeung. On a traditional pump-and-spray tool, sometimes the solvent "just goes until it stops," Yeung said. But
"You save a ton of material," Yeung said of the Super Sprayer, though it is "expensive initially to buy." However, he called it a good investment given the price of solvent. You can even "pinpoint" the stream and clean paint guns with acetone, he said.
More information:
"SCRS Education Committee Presents – Kool Tools from 2016 SEMA Show"
Society of Collision Repair Specialists via YouTube, Feb. 18, 2017
SCRS, Jan. 11, 2017
Featured image: SCRS Vice President Kye Yeung and collision repair guru Toby Chess present one of their 2017 "Kool Tools" picks at the Society of Collision Repair Specialists open board meeting Jan. 11, 2017. (Screenshot from SCRS video on YouTube)
Share This: