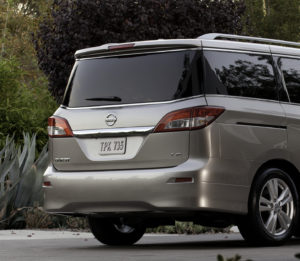 Declaring itself "very concerned" that collision repairs are done correctly, Nissan on Tuesday issued a position statement stressing that no repairs should be done on rear bumper covers "in the general area of the side radars."
Doing so could compromise blind-spot warning technology — which Nissan notes has existed on its vehicles since 2011. The 2011 Nissan Quest LE (pictured) appears to have been the first instance.
"On vehicles equipped with this technology, the side radars, which are responsible for triggering the BSW, sit behind the rear bumper cover at both corners," the OEM wrote in the position statement Tuesday. "For this reason, in a rear end collision scenario, Nissan DOES NOT support any repair, body filler application, or paint work on the rear bumper cover in the general area of the side radars. Nissan's service manuals clearly state: 'Do not attach a sticker (including transparent material), install an accessory or paint work near the side radar'.
"The damaged bumper cover should be instead replaced with a new bumper cover." (Emphasis Nissan's.)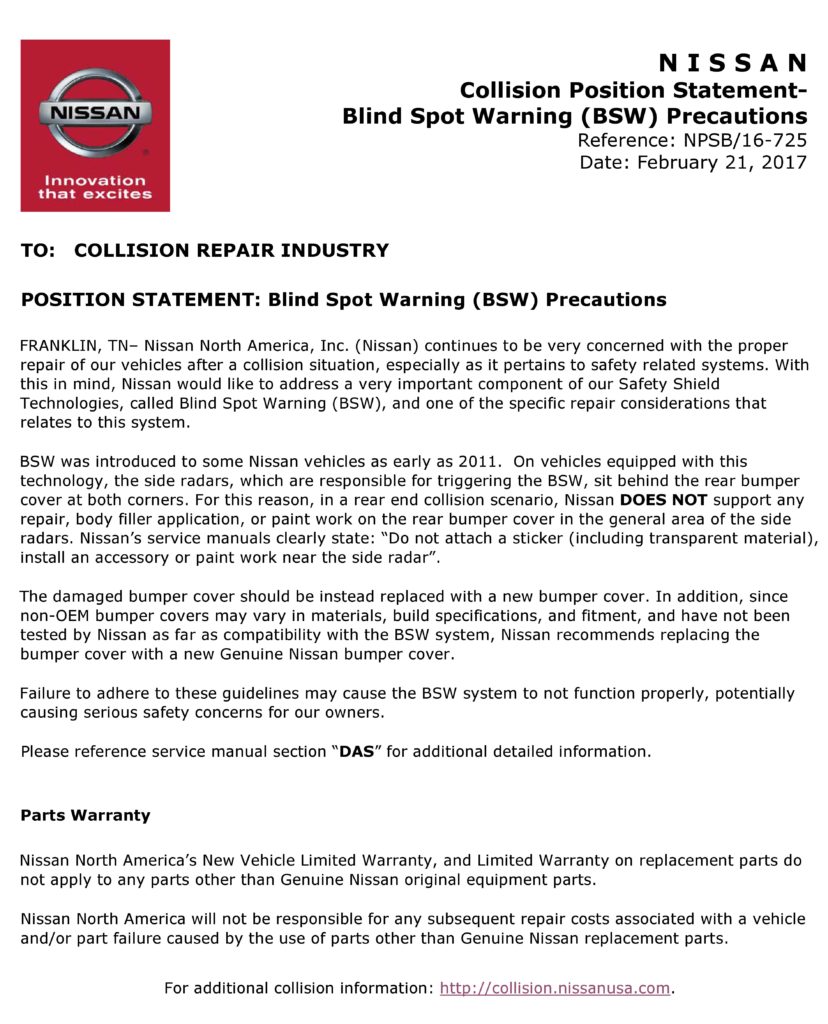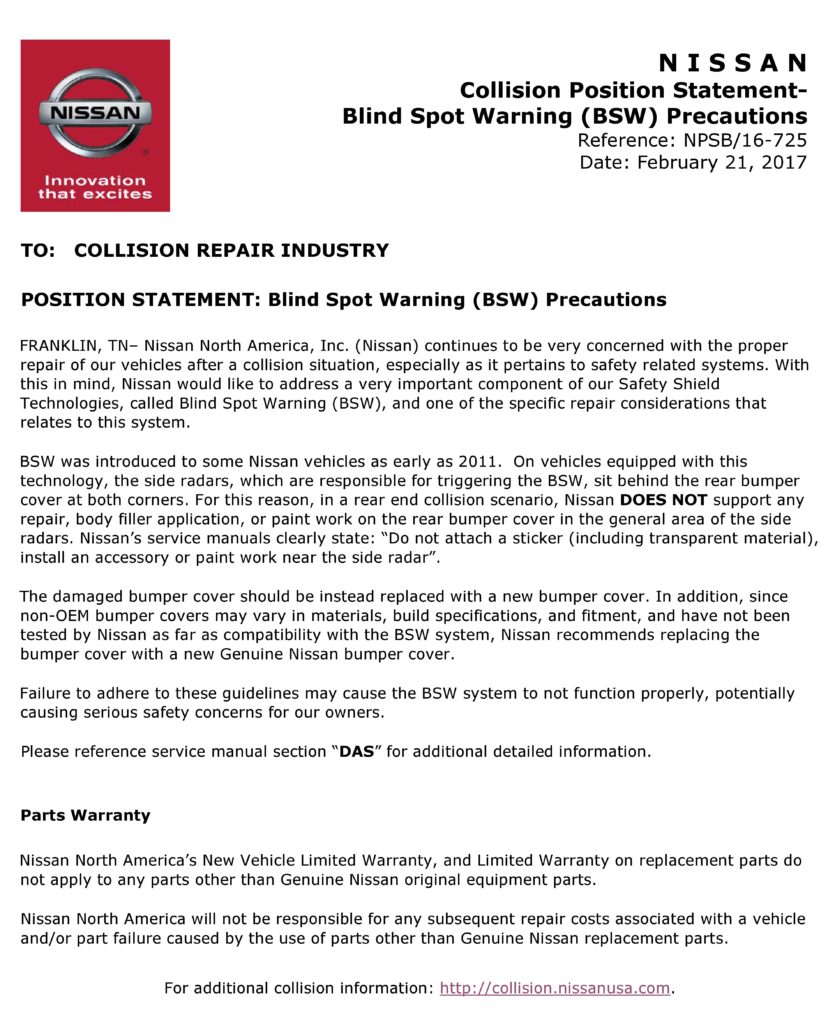 Nissan also warns that it has no way of knowing whether an aftermarket bumper cover will be compatible with the blind-spot warning system and recommends using a new OEM cover. It noted it won't be responsible should a body shop use anything other than new Nissan parts.
"Failure to adhere to these guidelines may cause the BSW system to not function properly, potentially causing serious safety concerns for our owners," Nissan wrote.
Shops who want to learn more should see service manual Section "DAS," Nissan stated.
The statement doesn't appear to be up on OEM1Stop yet Thursday afternoon, but it and all of Nissan's other position statements can be found on the Nissan Collision website, http://collision.nissanusa.com.
Nissan in a 2016 position statement had already warned about the risk of using anything other than new OEM front or rear bumper fascia (including reconditioned and recycled parts). (See service manual Section "SN" for more, it states.)
"Many electronic sonar sensors in front and rear bumper fascia are considered to be part of this Nissan Safety Shield Technology," Nissan wrote in June 2016. "These sensors are engineered to be in very exact positions within the bumper fascia, and if not properly installed, may not function as originally intended. For this reason, Nissan North America DOES NOT approve of the use of aftermarket, reconditioned, or recycled bumper fascia." (Emphasis Nissan's.)
Nissan also warned against technicians "using a rough template" and trying to cut sensor holes themselves in undrilled aftermarket bumper fascia. That the OEM felt the need to say this does not reflect well on elements of the collision repair industry.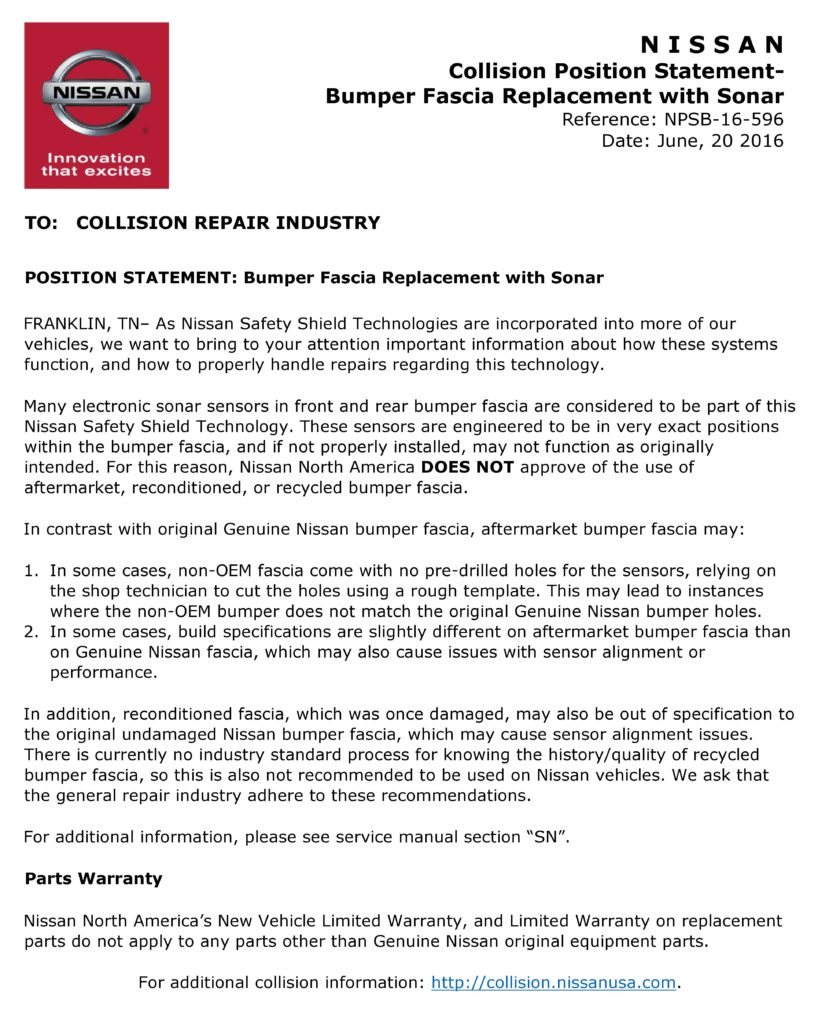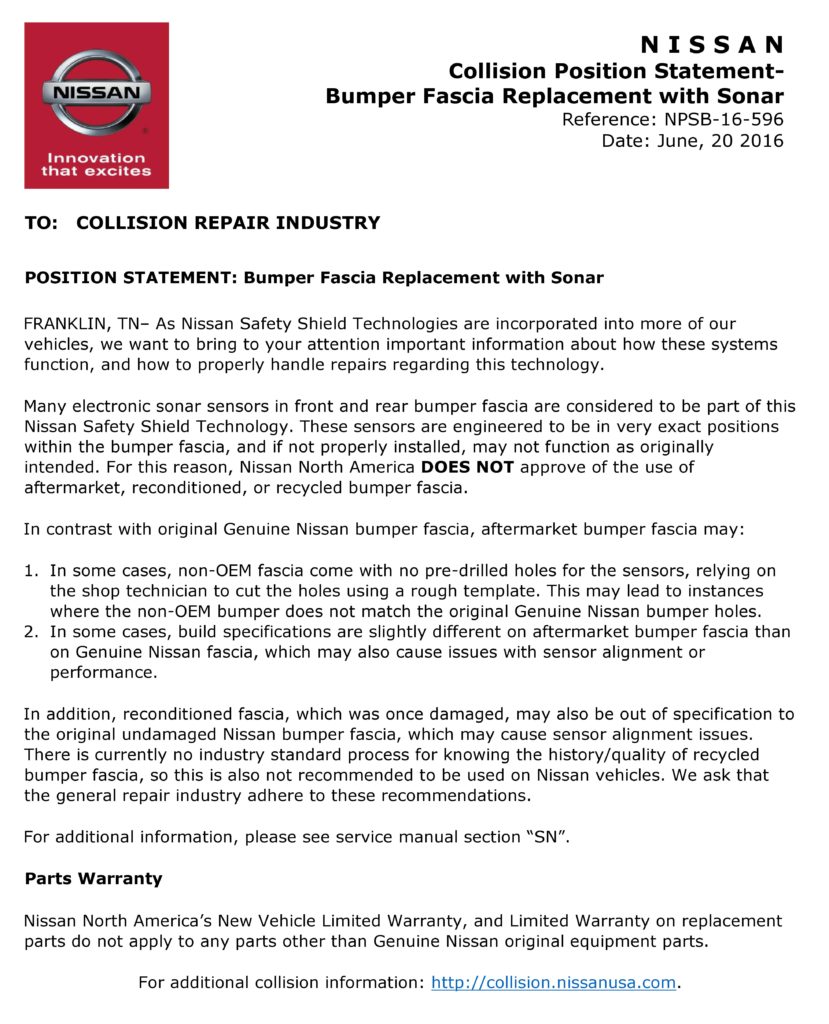 More information:
Nissan Collision website (includes position statements)
"POSITION STATEMENT: Blind Spot Warning (BSW) Precautions"
Nissan, Feb. 21, 2017
"POSITION STATEMENT: Bumper Fascia Replacement with Sonar"
Nissan, June 20, 2016
Images:
The 2011 Nissan Quest LE was apparently the first Nissan model to feature Blind Spot Warning. (Provided by Nissan)
Declaring itself "very concerned" that collision repairs are done correctly, Nissan on Tuesday issued a position statement stressing that no repairs should be done on rear bumper covers "in the general area of the side radars." (Provided by Nissan)
Nissan in a June 2016 position statement warned about the risk of using anything other than new OEM front or rear bumper fascia (including reconditioned and recycled parts). (Provided by Nissan)
Share This: