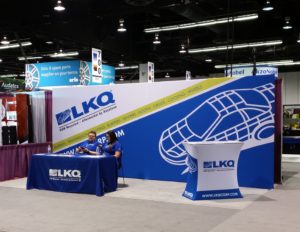 Auto body shops might receive a different sales pitch from LKQ sales representatives under a new incentive initiative announced Thursday by the company.
The company plans to move sales reps from transactional pay — earning commissions on every part sold — to being judged on gains from specific customers.
"This raises the bar for our sales reps," CEO Robert Wagman said.
Wagman said LKQ will through this initiative push product lines which have been "a little soft."
"We're going to go after those customers," he said.
LKQ investor relations director Joseph Boutross later Thursday wrote that he couldn't reveal more about the sales program, citing the need to remain competitive.
Chief Financial Officer Nick Zarcone said core products — headlights, bumpers, hoods, fenders, etc. — grew more than 3 percent, and Wagman said this wholesale Keystone aftermarket core "grew faster than the overall North American growth rate" of 1.5 percent for parts and service.
However, other secondary products, such as paint, aluminum wheels and cooling products declined, Wagman said.
"There were definite spots of strength and spots of weakness," he said. Because of this, LKQ was launching the sales revamp this year, and it was already being rolled out.
The sales initative might also improve operational costs, as LKQ will in theory be delivering more products to the same customer, according to Wagman. He said the company wanted better inventory fill rates and would balance inventory if needed.
As far as delivering those parts, LKQ's Roadnet initiative, which provides better tracking of deliveries for shops and more productivity for LKQ, grew miles per route from 101 to 129, "allowing us to cover eight miles per stop versus a previous average of six, without any significant increase in headcount," according to the company.
That doesn't seem like a lot until you consider that at the end of 2016, Roadnet applied to 319 North American locations, 74,000 routes and 3,900 vehicles traveling 9.6 million miles and making 1.1 million stops each month. Little gains add up.
Because of such gains, LKQ could improve its delivery service for customers, Wagman said.
"I am pleased with the progress of our Roadnet productivity initiative," he said.
In terms of stuff to put on these trucks, LKQ bought 291,000 vehicles for parts in 2016, "a slight increase" over 2015, Wagman said. It grew total collision SKUs 9.8 percent and certified aftermarket parts 17.8 percent last year.
"This trend validates our suppliers' commitment of investing in the development of new tools to manufacture aftermarket parts to support the growth in SAAR in related new model designs.," Wagman said.
The company's CCC "Intelligent Parts Solution" initiative for insurers, announced in 2013, grew revenue 66 percent and purchase orders 63 percent last year, with annualized basis revenue of more than $47 million.
Anecdotal evidence suggested LKQ had a better year than other aftermarket rivals. Zarcone said that in chatting with Taiwanese vendors, the company found that "their non-LKQ sales last year were flat to down."
"We're more than holding our own," Zarcone said; the company continues to take share from its competitors, he said.
More information:
LKQ fourth-quarter 2016 earnings call
LKQ, Feb. 23, 2017
LKQ fourth-quarter earnings call slides
LKQ, Feb. 23, 2017
Featured image: The LKQ booth is shown at NACE 2016. (John Huetter/Repairer Driven News)
Share This: