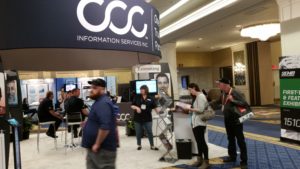 CCC, the No. 1 estimating service, announced Monday night that owners Leonard Green & Partners and TPG Capital have sold the company to Advent International.
Terms of the transaction were not disclosed. Bloomberg reported earlier this month that Leonard Green and TPG had valued CCC at $3 billion.
Messages have been left for Advent and CCC.
"Advent evaluates hundreds of technology businesses and CCC stands out as having built a truly world-class innovation engine," Advent managing director Eric Wei said in a statement. "The company has established itself as a leader in hyperscale cloud computing, machine learning, IoT, mobile, and consumer engagement technologies – all areas we see as becoming increasingly important to the industries that CCC serves. We look forward to partnering with Githesh in supporting the development of high performance products that deliver exceptional results for CCC's insurance carrier, repair facility, and automotive customers."
CCC described Advent as "a global investment firm with deep experience in the technology sector."
"We want to thank our partners LGP and TPG for their tremendous support these past five years, and also welcome our new partner Advent as we begin this next phase of innovation," CCC CEO Githesh Ramamurthy said in a statement. "Throughout our history, whether public or private, we have had one focus – delivering performance for our customers through industry-leading products and technology innovation, backed by the dedication and commitment of CCC's associates. But the bar is being raised higher. With the pace of technology accelerating, we will see more change in the next five years than we have seen in the last fifteen. We look forward to working with Advent to bring new levels of value to CCC's customers."
The deal is expected to close early next quarter.
"We are delighted to have been associated with the CCC team over many years of uninterrupted progress and success and we are tremendously appreciative of CEO Githesh Ramamurthy and the rest of the CCC team for the outstanding job they've done," Leonard Green managing partner John G. Danhakl said in a statement. "We wish for and expect continued success for the entire CCC family supported by Advent, one of the best in our business."
"During our partnership, we have seen on a daily basis why CCC has earned its reputation as a trusted software provider to its customers. CCC has made substantial investments in its technology platform and its people, and is well-positioned for the years ahead," TPG partner Bryan Taylor said in a statement.
Advent's automotive-related investments include interests in Brazil's Fortbras Group, described as a major Brazilian aftermarket auto parts distributor, and No. 1 European insurance intermediary Towergate, which has a few niche auto insurance products.
It also previously owned stakes in Synventive Molding, which sells "hot runner" injection molding solutions for plastic car parts, and Keystone Automotive Operations, which is now LKQ's specialty parts distribution arm (not to be confused with LKQ aftermarket collision parts company Keystone).
But at this point, there appears to be little overlap between CCC and its customers and the rest of Advent's portfolio — certainly nothing like Leonard Green's current ownership of what Fortune says is a half-stake in CCC and a minority piece of Caliber Collision.
CCC was last sold in January 2013, when Leonard Green bought it from Investcorp for more than $550 million and then flipped half of it to TPG, according to Fortune.
The sale announcement comes nearly a year after then-publicly traded competitor Solera, which owns Audatex and AudaExplore, was sold to Vista Equity Partners for $6.5 billion in March 2016.
CCC's other major rival, Mitchell, was last sold in 2013 to KKR by Aurora Capital Group for an undisclosed amount.
More information:
"CCC Begins Next Phase of Innovation with Advent International"
CCC via PRWeb, Feb. 27, 2017
Featured image: CCC's booth at SEMA 2016 is shown. (John Huetter/Repairer Driven News)
Share This: