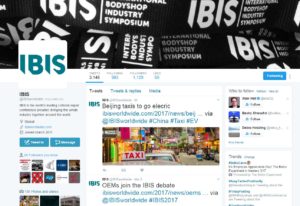 We're guessing that like us, not many of you had an extra couple grand lying around to fly to the International Bodyshop Industry Symposium held last month in Dubai.
Fortunately, the IBIS Twitter feed typically offers enough provocative ideas from the summit to get technicians, shop owners, insurers and OEMs thinking about the future. The feed this year includes videos of presenters offering a sort of "elevator pitch" of their chosen subjects.
Obviously, you're left wanting more. But hey, it's free, and some of these guys will probably make it to NACE, SEMA or a Collision Industry Conference for you to gain more insights in the flesh.
Here are some of the highlights we saw in IBIS' Twitter coverage of the conference and the videos. Learn more by checking out the full IBIS Twitter feed here — the good stuff was posted Feb. 21-22 — and definitely follow @IBISworldwide as well.
Consolidation
Retail Motor Industry Federation Executive Director Jason Moseley noted in an IBIS video that Europe and America are "dramatically consolidating" the collision repair industry.
Jason Moseley discusses consolidation at #IBISME pic.twitter.com/rHZszmvDcp

— IBIS (@IBISworldwide) February 22, 2017
"We're predicting that within the next 10 years, 70 percent of all insurance-based repairs will come from probably four big consolidators," he says on the video.
US sites in 2011-2015: ABRA 112-335; Boyd 167-349; Caliber 94-358; Service King 47-276, but few examples of consolidation in MENA #IBISME

— IBIS (@IBISworldwide) February 22, 2017
New business model?
Qatar Insurance Company Executive Vice President argued that perhaps there was a way dealerships, insurers and repairers could "team up" and result in a scenario where "Average profit goes down, but total profit goes up," according to IBIS.
Summary of QIC proposal at #IBISME pic.twitter.com/N649v7fmKN

— IBIS (@IBISworldwide) February 22, 2017
"We will need to establish trust between the parties," he says in an IBIS video, and have each of the interests be transparent about "at least some parts of their books."
Frederik Bisbjerg of QIC addressed the 'elephant in the room' with a talk on a new ecosystem including dealers, insurers & repairers #IBISME pic.twitter.com/Q6ESQ1RDgB

— IBIS (@IBISworldwide) February 22, 2017
Connected cars will disrupt insurance industry
Echoing a similar speech he made to a Guild 21 call in 2016, SCG Management Consultants President Sean Carey told the IBIS forum that connected cars will be "catastrophic" for insurers, according to IBIS.
IBIS tweeted that he predicted "insurers will be out of the claims business by 2020."
These are likely references to the potential for connected vehicles to detect a collision and immediately connect the driver with an OEM-certified auto body shop — rather than risk a substandard repair by a direct repair program shop obligated to save the insurer money.
In an IBIS video, Carey notes that repairers might have "some learning to do."
Sean Carey of SCG told #IBISME that cost is irrelevant when it comes to car repairs, saying there is only one correct and safe method pic.twitter.com/ciQryZ1Owq

— IBIS (@IBISworldwide) February 22, 2017
"There's only one way to repair a car, the safe and proper way," Carey says on the video. "Provided you're equipped and trained for that, you're in great shape going forward."
Thatcham: Collision repairers should 'wake up'
An expert from Thatcham also offered repair-related guidance to shops, according to the IBIS feed. The organization is like the United Kingdom's Insurance Institute for Highway Safety but also researches auto body repair procedures.
Thatcham repair sector services head Dean Lander told collision repairers that "The biggest impact on your business will be the car itself," according to IBIS.
The car will change more in next 5 years than last 10, but answer is trainimg, technical information, diagnosis and methodology #IBISME

— IBIS (@IBISworldwide) February 22, 2017
In the IBIS video, he says the auto body industry "really needs to wake up and be ready to face these challenges and invest in the future."
Dean Lander of Thatcham was a keynote speaker at #IBISME pic.twitter.com/mEBknK53vr

— IBIS (@IBISworldwide) February 22, 2017
Don't be afraid of data
Amjad Farah, global OEM key account manager at AkzoNobel, tells collision repairers in an IBIS video to embrace data even if the numbers seem intimidating.
"Do not be afraid of it," Farah says on the video. "That data is your friend; it's gonna help you determine what's the right cost for the job, what's the right profitability for your business, and how to get there as well.
Amjad Farah of AkzoNobel spoke about Big Data at #IBISME today pic.twitter.com/heX7Z1QETB

— IBIS (@IBISworldwide) February 22, 2017
More information:
International Bodyshop Industry Symposium Twitter feed
Featured image: The International Bodyshop Industry Symposium Twitter feed typically offers enough provocative ideas from an IBIS summit to get technicians, shop owners, insurers and OEMs thinking about the future. (Screenshot from www.twitter.com/IBISworldwide)
Share This: