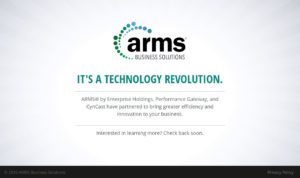 Enterprise Holdings has told collision repairers using its Performance Gateway platform that effective April 12, it will finally merge the company, CynCast and the Automated Rental Management System suite into "ARMS Business Solutions."
Visiting Performance Gateway's website will redirect the user to the new ARMS website, ARMSBusinessSolutions.com starting April 12. A repairer will use the same login information as they did under Performance Gateway.
A Friday email provided to Repairer Driven News outlined the formal change, which had been announced on the ARMS Business Solutions website at least a year ago and was at one point planned for summer 2016.
That site itself was registered in September 2015. ARMS Business Solutions applied for a trademark in February 2016, and the website's privacy policy was dated Jan. 5.
The website Friday still carried the same "coming soon" message it did last year.
In the document Friday, Enterprise describes the new ARMS as an "integrated management suite to insurance carriers, adjusters, collision repair shops, manufacturers and all partners involved in the claims and repair channels" which "enhances automation and communication."
It goes on state:
Why the change?
Enterprise Holdings, the market leader in the insurance replacement industry, has invested in technology to improve efficiency, communication, customer satisfaction, and loss adjustment expense. These technologies include Performance Gateway and CynCast. All products and services are now available in the new software platform, ARMS Business Solutions.
In an email last year, a spokeswoman wrote that the ARMS Business Solutions merger would "bring additional value to insurance and collision industry partners through technology and innovative solutions that positively affects or solves current or emerging issues in the claims handling segment. These solutions will be focused on enhancing the customer's experience, creating efficiencies, improving claims outcomes and reducing expense through performance metrics."
Enterprise also instructed Performance Gateway users to immediately add "support@ARMSBusinessSolutions.com" to their email address book or risk missing "assignment notifications, estimate activities, profile expiration and change notifications." It also cautioned them to adjust email filters accordingly to reflect the new address.
Shops with questions can email support@ARMSBusinessSolutions.com or visit the company's Help Center on the Performance Gateway site.
Email messages to Enterprise early Friday afternoon had not yet been returned.
ARMS, CCC and BMS
The timing of the changeover is interesting in that it occurs the same month as CCC begins transmitting shops' EMS and BMS messages using the controversial Secure Share program — with plans to sunset dissemination of the obsolete, 23-year old Estimate Management Standard in April 2018.
EMS and its successor, the modern Business Management Suite standard, allow an auto body shop's software to communicate with all of its business partners' programs. BMS allows easier encryption, increased customer and vendor privacy and greater digital efficiency. But despite agreeing that BMS is better, critics have challenged the program on cost and control grounds, most publicly at the January Collision Industry Conference.
Without naming CCC, Enterprise Holdings criticized the plan in a January news release — which also suggested the Enterprise's new ARMS platform could also be a method of transmitting BMS messages.
"We firmly believe models that create barriers to vehicle and repair data could be detrimental to the industry," Enterprise business development Vice President Mike Hawkins said in a statement in January. "That's because everyone benefits from an open and level playing field when industry service providers and product suppliers are able to innovate by using industry-generated data."
Arms Business Solutions ("ABS") allows users to convert EMS files into BMS messages for dissemination, Enterprise said then.
"ABS is a comprehensive platform that leverages Enterprise's long-term experience with partner integrations and allows insurance companies, collision repair centers, suppliers and vehicle owners to access relevant data, regardless of technological preferences," Enterprise wrote in January. "This, in turn, enables industry partners to effectively and efficiently manage networks, workflow, communication and performance across a complex multifaceted claims process. Furthermore, the ABS system helps protect insurance companies, collision repair centers and fleet owners by converting their information from EMS (Estimate Management Standard) to a more secure protocol, BMS (Business Message Suite).
"In addition to providing access to critical data at no cost, industry partners can work with Enterprise to purchase customized reporting services and software through ABS' dynamic system."
CCC won't charge body shops to use Secure Share, but it will charge recipients $0.50 an estimate for receiving BMS messages, which has raised concerns of unfair competition and vendors' costs being passed on to auto body shops.
More information:
"Enterprise Rent-A-Car Supports Open, No-Cost Data Platform for Claims Repair Industry"
Enterprise Holdings, Jan. 18, 2017
"Announcing ARMS® Business Solutions" email
Enterprise Holdings email, March 3, 2017
Featured image: Enterprise Holdings has told collision repairers using its Performance Gateway platform that effective April 12, it will finally merge the company, CynCast and the Automated Rental Management System suite into "ARMS Business Solutions." The website as of early Friday afternoon still contained the same "coming soon" message as it did last year. (Screenshot of www.armsbusinesssolutions.com)
Share This: