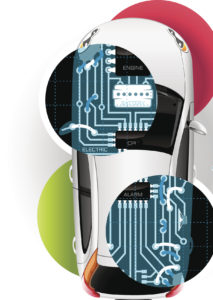 OEMs have cautioned against using aftermarket scan tools, but proper application of right-to-repair agreements could grant third-party devices nearly identical capabilities, the head of the Equipment and Tool Institute argued Tuesday.
In a position statement released Tuesday, the automotive repair technology organization primarily supports automaker pre- and post-repair scanning stances — except to argue that a proper aftermarket diagnostics tool would be a more realistic option for a body shop given the costs of OEM options.
The group's membership includes many major third-party scan tool manufacturers (including all but one of the panelists on the SCRS OEM Collision Repair Technology Summit aftermarket scan tool forum last SEMA) as well as many of the brands of equipment you've probably got in your shop today.
If all automakers met the spirit of right-to-repair agreements, third-party manufacturers could license OEM data and behave just like an OEM tool, according to ETI Executive Manager Greg Potter, who provided additional context and support for his group's collision repair diagnostics position statement in an interview Tuesday. Under this scenario, shops would have less cause to fear something getting missed by an aftermarket device reverse-engineered in a vacuum.
Potter said that under right-to-repair agreements, OEMs are at least once a year are supposed to allow third parties to access their raw diagnostics data — the same slew of files they'd give a factory scan tool manufacturer to create OEM devices for dealerships and body shops. That way, the aftermarket receives the "same functionality."
Under a similar J2534 SAE standard, OEMs must allow compliant devices to reprogram their diagnostics-related modules, just as the automakers do with emissions modules. (OEMs may charge a subscription fee to do so.) Both have a deadline of 2018, which means basically the cars hitting the auto show circuit right now, according to Potter.
It's important to note that ETI isn't telling repairers not to use OEM standards. It even notes that in situations such as new models, there's no choice but to use OEM scan tools to get the job done.
"ETI has no concern with repairers utilizing OEM tools when they are available and endorses their use in situations where they may be needed e.g. vehicles in their early years of service, where coverage may not be implemented in the current aftermarket tool release," the organization wrote.
Instead, it's saying that if an OEM provides the raw data on reasonable terms, an aftermarket manufacturer can incorporate multiple OEM scan tools' capabilities into a single device — saving a shop tens of thousands of dollars in equipment and training and maintenance hassles.
For example, a BMW scan tool might cost $45,000, Potter said. While ETI doesn't have a specific answer for the cost of buying all OEM scan tools, Potter speculated it could climb into six figures.
What ETI's describing as an alternative is kind of like an ALLDATA for scan tools — why learn the ins and outs of multiple OEM technical sites if you can instead access the same information on a single interface?
Unfortunately, "that's the data that's always been a struggle getting," said Potter.
"Some (OEMs) do a very great job," Potter said, citing Ford, Chrysler and Toyota as among those doing a "magnificent job" and providing the data to the aftermarket either free or for a reasonably priced license. (He also mentioned that Toyota releases updates four times a year instead of the minimum once-a-year benchmark.) Other OEMs become far pricier, with annual licensing in the five figures.
"Some of these are not even reasonable," he said.
Potter pointed out that OEMs lack auto body repair capabilities within many of their dealerships, and even a dealership collision repair facility might not be able to afford multiple OEM scan tools. (He cited one in Michigan that still has to outsource scanning.) This would seem to indicate that it's in an OEM's interest to make this information available.
"This is an important concern for collision repair providers as the vast majority are not OEM dealership facilities," ETI wrote. "The need for affordable access to the tools that are essential to perform safe, complete and accurate repairs is extremely important. It is unlikely most shops will be able to justify the purchase cost of multiple OEM scan tools for this procedure since independent body shops work on a great variety of OEM's vehicles. Thus, the importance of having accurate, timely and affordable OEM scan tool data provided to the aftermarket to ensure our members have the information necessary to fully emulate the factory tool functions."
Of course, this assumes that the aftermarket scan tool manufacturer pulled off the emulation correctly. By following OEM repair procedures and using OEM scan tools, a shop probably has a better legal footing should a customer experience a problem with the repair. OEMs can't vouch for third-party scan tool manufacturers in the same way, something ETI and Potter acknowledged.
"While we understand that many of the manufactures do not know the capabilities of all the aftermarket scan tools, we know that many of the higher quality aftermarket tools provide the needed and necessary functions to complete a pre- and post scan properly for a majority of the vehicles they currently service," the ETI wrote.
Potter said the same, that OEMs "have no idea" of aftermarket scan tool performance but did have a "pretty good idea" that their own tools would work.
"'Use our own and we'll tell you that you're covered.'" he paraphrased the OEMs.
ETI's counterpoint: "We're trying to let the industry know, that's fine, but if you did your job right, you wouldn't have to," Potter said. "You could use an aftermarket scan tool. … It'd get done."
Asked if tool manufacturers provided any kind of protection to alleviate the liability concern for collision repairers, Potter couldn't point to any. "I don't think they're liable for it," he said, though he noted that Drew Technologies had begun to warranty its module reprogramming.
Potter acknowledged that some items might slip through the cracks.
"I think every scan tool manufacturer out there will tell you that they don't implement every single thing," Potter said. "… they just don't have the ability to at times."
Instead, third-party manufacturers will cover what they see a demand for in the aftermarket.
"It's a business decision internally," he said.
More information:
"Equipment and Tool Institute Announces Position Statement: Pre- and Post-Repair System Scanning"
Equipment and Tool Institute, March 7, 2017
Share This: