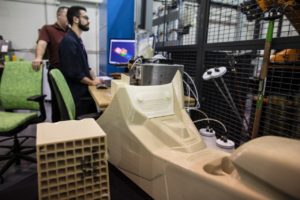 Ford on Monday said it was examining how it could build prototypes and generate actual production parts like spoilers using a gigantic 3-D printer at its Dearborn, Mich., headquarters.
Ford is the first automaker to pilot the Stratasys Infinite Build 3-D printer, a device the size of a room which can spit out "automotive parts of practically any shape or length," according to the OEM. A video mentions a six-foot spoiler.
"With Infinite Build technology, we can print large tools, fixtures and components, making us more nimble in design iterations," Ford additive manufacturing research technical leader Ellen Lee said in a statement. "We're excited to have early access to Stratasys' new technology to help steer development of large-scale printing for automotive applications and requirements."
According to Ford, 3-D printing is highly attractive in the drawing board stage of production:
"Using traditional methods to develop, say, a new intake manifold, an engineer would create a computer model of the part, then have to wait months for prototype tooling to be produced," Ford wrote. "With 3D printing technology, Ford can print the intake manifold in a couple of days, at a significant cost reduction."
Applications like prototyping are certainly fascinating, but additive manufacturing destined for the actual marketplace is what deserves particular attention from the auto body industry.
In this case, Ford hints that lower-volume vehicles could receive 3-D-printed parts — a scenario that completely disrupts automotive aftermarket repair and supply chains should these parts be damaged.
"Capable of printing automotive parts of practically any shape or length, the Stratasys Infinite Build system could be a breakthrough for vehicle manufacturing – providing a more efficient, affordable way to create tooling, prototype parts and components for low-volume vehicles such as Ford Performance products, as well as personalized car parts," Ford wrote in a news release.
"… 3D printing is not yet fast enough for high-volume manufacturing, but it is more cost efficient for low-volume production."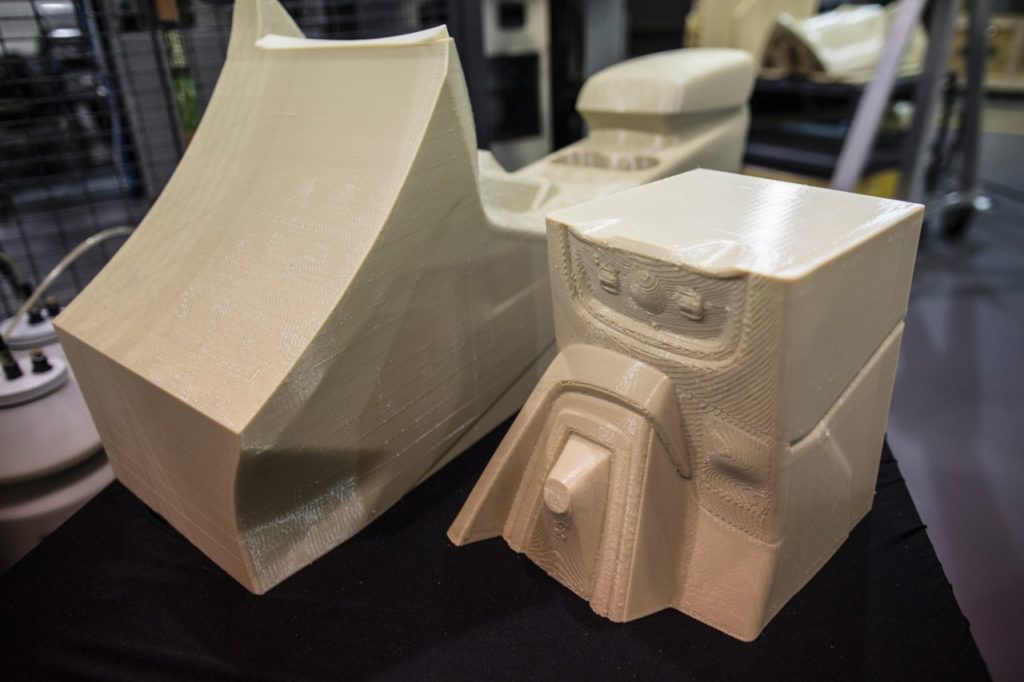 Ford also specifically mentions using 3-D printing larger parts to save weight — a reference to elements of a vehicle that would fall into an auto body shop's wheelhouse.
"3D printing could bring immense benefits for automotive production, including the ability to produce lighter-weight parts that could lead to greater fuel efficiency," Ford wrote. "A 3D-printed spoiler, for instance, may weigh less than half its cast metal counterpart."
There's also the potential for 3-D printing to save weight on metal or plastic parts by allowing light, strong geometries that couldn't exist using traditional casting or stamping methods.
"Additionally, minus the constraints of mass-production processes, 3D-printed parts can be designed to function more efficiently," Ford wrote.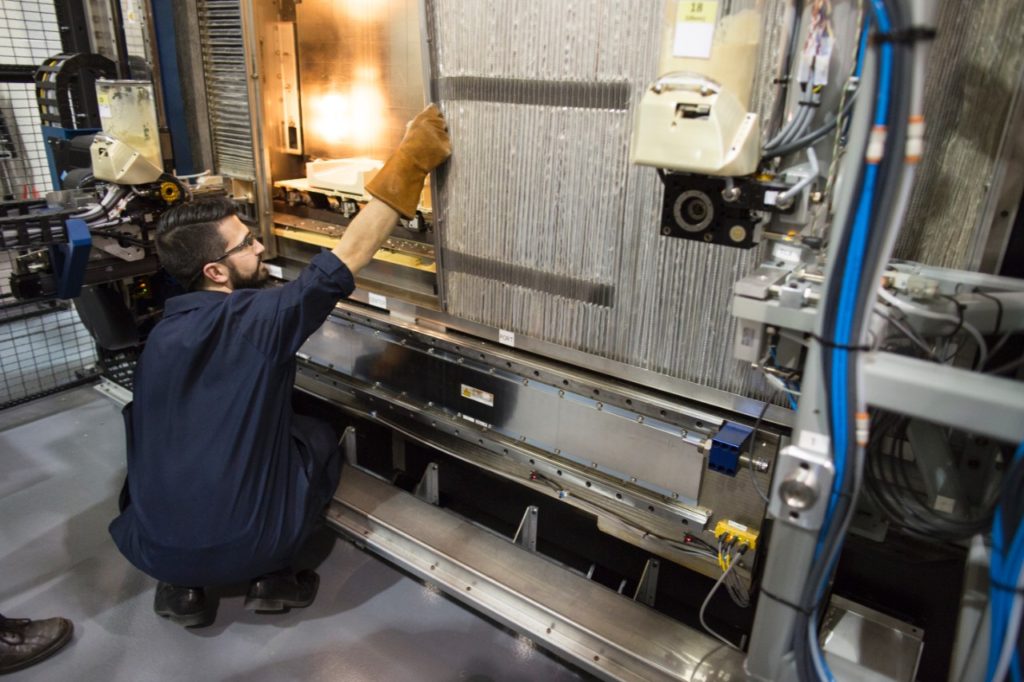 Ford also echoes Daihatsu (which is also working with Stratasys) in raising the potential for 3-D printed vehicle personalization, something that narrows the parameters of "pre-loss" given the uniqueness of a particular vehicle or part.
Global Industry Analysts research suggests a $9.6 billion market for 3-D printing by 2020, according to Ford. In the near-term, don't expect 3-D printed parts on high-volume vehicles like the F-150 or Focus, Ford suggests. (Although customization could be a wild card.) However, a few exotic repairers might eventually start to see the technology trickle onto vehicles, according to Ford.
"The technology is more cost efficient for production of low-volume parts for prototypes and specialized race car components," it wrote. "Additionally, Ford could use 3D printing to make larger tooling and fixtures, along with personalized components."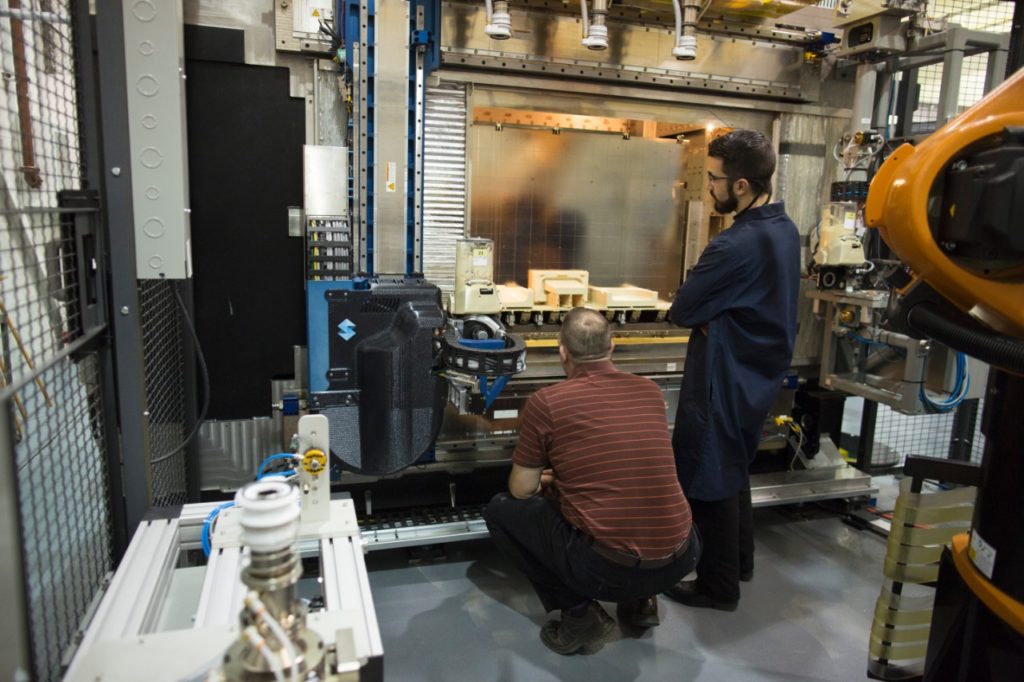 According to Ford, the Stratasys system is self-sufficient enough to be left unattended. Just give it the specifications and the raw material and get out of the way:
With 3D printing, specifications for a part are transferred from the computer-aided design program to the printer's computer, which analyzes the design. The device then goes to work, printing one layer of material at a time, then gradually stacking layers into a finished 3D object.
When the system detects the raw material or supply material canister is empty, a robotic arm automatically replaces it with a full canister. This allows the printer to operate unattended for hours – days, even.
More information:
"FORD TESTS LARGE-SCALE 3D PRINTING WITH LIGHT-WEIGHTING AND PERSONALIZATION IN MIND"
Ford, March 6, 2017
"Ford Pilots Stratasys Infinite Build 3D Printer"
Ford YouTube channel, March 1, 2017
Featured image: Ford on Monday said it was examining how it could build prototypes and generate actual production parts like spoilers using a Stratasys Infinite Build 3-D printer at its Dearborn, Mich., headquarters. (Provided by Ford)
Share This: