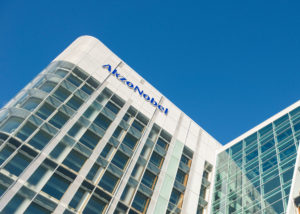 Bloomberg Markets reported Wednesday that PPG might try to buy part or all of AkzoNobel, citing unidentified sources with knowledge of the events.
"There is no certainty an agreement will be reached, they said," Bloomberg wrote. It reported that spokesmen for both paint giants declined to comment.
The Financial Times reported that it was uncertain if PPG was attempting a hostile takeover or if AkzoNobel was open to the idea, but "According to one person close to the Dutch group, Akzo Nobel has sufficient powers to block any hostile approach."
Bloomberg also shared an analysis by Seaport Global Holdings' Mike Harrison that observed that even if both companies like the idea, antitrust regulators in America and the European Union might still object. However, the Financial Times reported that Bernstein analyst Jeremy Redenius felt that the deal would pass regulators if PPG dumped a few lines of business in Europe.
While competition tends to benefit consumers — in this case, shops — the merger might mean more paint choices for shops who through contractual obligations or distributor relationships were locked into Akzo or PPG lines exclusively.
PPG has about 47,000 employees worldwide, including 18,500 in North America. The publicly traded company posted $2.52 billion EBITA in 2015 and had a market capitalization of $27.47 billion as of 4 p.m. Wednesday, according to Investis. AkzoNobel brought in $1.58 billion in earnings in 2016 before interest and taxes and had 46,000 employees. Its market capitalization was $16.25 billion as of 11:35 a.m. Wednesday, according to Investis.
PPG's refinishing products include brands like Aquabase Plus, Envirobase, Deltron, Global Refinish System, Shop-Line, Nexa Autocolor 2K, Omni and Value-Pro. AkzoNobel's brands include Sikkens, Dynacoat, Lesonal and Wanda.
The PPG-AkzoNobel deal rumors come nearly four years after PPG in April 2013 announced it had completed the purchase of AkzoNobel's North American architectural coating segment for $1.05 billion. It was at the time the second-largest purchase in PPG history.
The reports also come nearly one year after Sherwin-Williams announced in March 2016 it would buy Valspar for $11.3 billion, or $113 a share.
That acquisition is still in play, though Sherwin-Williams CEO John Morikis said in a Jan. 26 statement that Sherwin-Williams would have to make a "divestiture" of an unspecified part of its business with revenues of less than $650 billion.
"We now expect a divestiture will be required to gain approval from the FTC to complete the acquisition of Valspar," Morikis said in a statement. "We are moving forward on a divestiture that we believe will allow us to gain approval from the FTC. The expected divestiture has revenues below the $650 million threshold, and we expect to negotiate the divestiture and complete the Valspar transaction at $113 per common share within 90 days."
More information:
"Akzo Nobel and PPG hold talks on potential $42bn combination"
Financial Times, March 8, 2017
"PPG Industries Said toExplore Possible Deal With Akzo Nobel"
Bloomberg Markets, March 8, 2017
"The Sherwin-Williams Company Reports 2016 Year-end Financial Results"
Sherwin-Williams, Jan. 26, 2017
Featured image: AkzoNobel center in Amsterdam is shown. (Provided by AkzoNobel)
Share This: