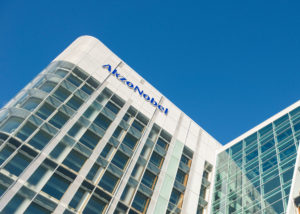 AkzoNobel on Wednesday announced it said no to a nearly $24.2 billion buyout offer from PPG.
"The proposal not only fails to reflect the current and future value of AkzoNobel, it also neglects to address the significant uncertainties and risks for shareholders and other stakeholders," the company wrote in a news release.
PPG had offered about $95.94 a share worth of PPG stock and cash for what at the end of 2016 was 252,176,412 common shares of AkzoNobel.
"This proposal significantly fails to recognize the value of AkzoNobel," AkzoNobel CEO Ton Büchner said in a statement. "Our Boards do not believe it is in the best interest of AkzoNobel's stakeholders, including our shareholders, customers and employees. That is why we have rejected it unanimously.
"We are convinced that AkzoNobel is best placed to unlock the value within our company ourselves. We are executing our plan, including the creation of two focused businesses and new cost structure, and believe this gives us a strong platform for continued profitability and long term value creation for all our stakeholders with substantially less execution risks."
Financial media: PPG, AkzoNobel continue to make takeover moves — including Akzo eyeing Axalta?
PPG on Wednesday noted in a news release that AkzoNobel had rejected the unsolicited offer in a day and "hadn't even accepted multiple invitations to discuss its proposals and negotiate a recommended transaction."
"We believe the revised proposal presents an opportunity for AkzoNobel's shareholders to realize extraordinary value, by any measure, for their shares in AkzoNobel," PPG CEO Michael McGarry said in a statement. "It provides them with a premium valuation and the opportunity to receive substantial and immediate cash consideration and participate in the success of the enterprise through ownership of shares in the combined company."
PPG in a news release seemed to suggest that merging the companies would make for a stronger automotive line by offering a portfolio that combines "PPG's electrocoat, compact process, waterborne and light-weighting technologies with AkzoNobel's advances in sustainable formulations and practices and its global Dulux, Sikkens and International Paint brands."
AkzoNobel said the new deal — like a $22.19 billion PPG offer it shot down earlier this month — still didn't meet the company's needs, both financial and cultural. According to AkzoNobel, the new offer:
Is not in the best interests of shareholders. It substantially undervalues AkzoNobel and fails to reflect the value creating opportunities of the new strategic direction and focus for both the Specialty Chemicals and the Paints and Coatings businesses, allowing them to build further on their respective leadership positions. 
 
Contains significant risks related to the increased stock component and the high leverage of the proposed combined businesses.
 
Would result in a large number of substantial divestitures due to the major geographical and segment overlap of both companies across Decorative Paints and Performance Coatings, bringing into question value leakage. It does not address the significant risk and uncertainty, including timing, of deal completion due to extensive anti-trust concerns.  These anti-trust issues would have a significant negative impact on employees and customers which will affect the integrity of AkzoNobel.
 
Will lead to significant job cuts. It includes synergies which can be expected to result in the restructuring of the combined employee base, leading to job losses.  PPG provides no substantive commitments to employees, creating potential uncertainty for thousands of jobs worldwide.
 
Does not address fundamental stakeholder concerns and uncertainties, nor does it substantiate any tangible solutions in relation to, among others, R&D, pensions and employees.
 
Does not meaningfully address our concerns regarding community contribution and sustainability and the significant culture gap between both companies, including how any issues arising from this would be addressed.
This likely won't be the last we've heard regarding PPG and AkzoNobel. PPG essentially declared "game on" and announced a standing offer to buy AkzoNobel (without actual terms).
"PPG has submitted a proposal to the Boards of AkzoNobel to combine their respective businesses by way of a public offer for all issued and outstanding ordinary shares of AkzoNobel," PPG wrote. "The offer will be subject to pre-offer and offer conditions customary for transactions of this nature, including but not limited to a minimum acceptance level, required regulatory clearances having been obtained, PPG's shareholders having approved the issuance of PPG common stock and no material adverse change having occurred. PPG will determine and confirm the conditions to the offer in accordance with applicable laws."
PPG also stressed that while it would retain a Pittsburgh, Pa., headquarters, it wouldn't yank AkzoNobel out of the Netherlands.
"PPG is willing to reconfirm its commitment to AkzoNobel that, at a minimum, the global protective and marine business leadership will be based in Europe and the global architectural and specialty materials leadership, including their specialty chemicals business would be based in The Netherlands," it wrote Wednesday. (Of course, Axalta is trying to sell off its specialty chemicals business, so that one might be moot.)
More information:
"AkzoNobel rejects second unsolicited proposal from PPG"
AkzoNobel, March 22, 2017
"PPG makes revised proposal to combine with AkzoNobel"
PPG, March 22, 2017
Featured image: AkzoNobel's headquarters in Amsterdam is shown. (Provided by AkzoNobel)
Share This: