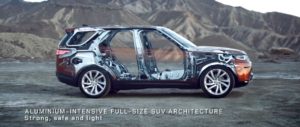 Land Rover-certified collision repairers might get even more use out of their aluminum tools and training with the company's announcements of two affordable-for-a-luxury-car models last fall and this month.
In September 2016, the company announced it cut about 1,000 pounds out of the outgoing "steel ladder" LR4 with its replacement, the predominantly aluminum fifth-generation Discovery.
The new unibody SUV is 85 percent aluminum and weighs 4,835 pounds, according to Land Rover.
Land Rover wrote in a news release that it incorporated more "high-strength aluminum within the crash structure." It also pointed out that it stamped the entire bodyside and the entire underside out of single panels of aluminum, which meant "fewer joints, reduced complexity and improved structural integrity" for the bodyside and "greater structural integrity" for the underside.
As sectioning would seem to compromise these qualities, it'd be interesting to see how the repair procedures shake out.
"The all-new Discovery builds upon the practicality and versatility of the LR4, offering the same supreme breadth of capability that only a Land Rover can," Land Rover product engineering Executive Director Nick Rogers said in a statement. "Our continued drive of pioneering technologies, lightweight aluminum architectures and new advanced powertrains ensure the Discovery family appeals to consumers on multiple levels."
The OEM did point out that it used "optimized steel" for the front and back subframes, producing a better ride. It also used "lightweight high-strength steel" (it didn't elaborate on the grade) for seat structures. (Other seating fun fact: CNET reported in February that the Discovery uses 13 systems and 23,000 lines of code to run the power folding seats.)
"The subframes are also designed to withstand off-road impacts while providing additional protection to the chassis and powertrain systems," Land Rover wrote.
As for other metals, instrument panel/crossbeam is magnesium, as is "a high-precision lightweight casting which supports the grille and front-end components," according to the OEM.
"The all-new Discovery has been designed and engineered around our full-sized SUV architecture to ensure we have built-in our characteristic all-terrain capability," chief product engineer Alex Heslop said in a statement. "The flexible unibody construction also gave us the chance to develop a versatile, spacious seating solution like no other."
CNET reported that the SUV starts at $49,990, which according to a December 2016 Kelley Blue Book luxury car discussion would put it in the realm of something that some of the luxurious in the 99 percent could still buy.
Velar
Land Rover described the Range Rover Velar unveiled March 1 as sitting between the Evoque and Sport in its midsize SUV family. It starts at $49,900 and jumps to $54,700 with the "S" trim.
According to the company, the OEM's Lightweight Aluminum Architecture in this case yielded an "incredibly lightweight and stiff aluminium-intensive body structure" which paired with the suspension system "provides the perfect basis for agile handling, exceptional ride comfort and outstanding refinement."
Land Rover also hinted that elements of the Velar would be found on other future Range Rovers.
"Dual touchscreen infotainment system  called Touch Pro Duo, full color Heads Up Display, super-slim LED headlights, flush deployable door handles and burnished copper detailing offer a glimpse at design trends for future Range Rover models," Land Rover wrote in a news release.
An infographic with the global version of the news release describes structural adhesives and self-piercing rivets which "produce strong, stiff joints."
"The light, stiff, aluminium-intensive body, together with pioneering suspension technologies, provide the perfect basis for refined progress on all terrains," Rogers said in a statement found in the global Velar release.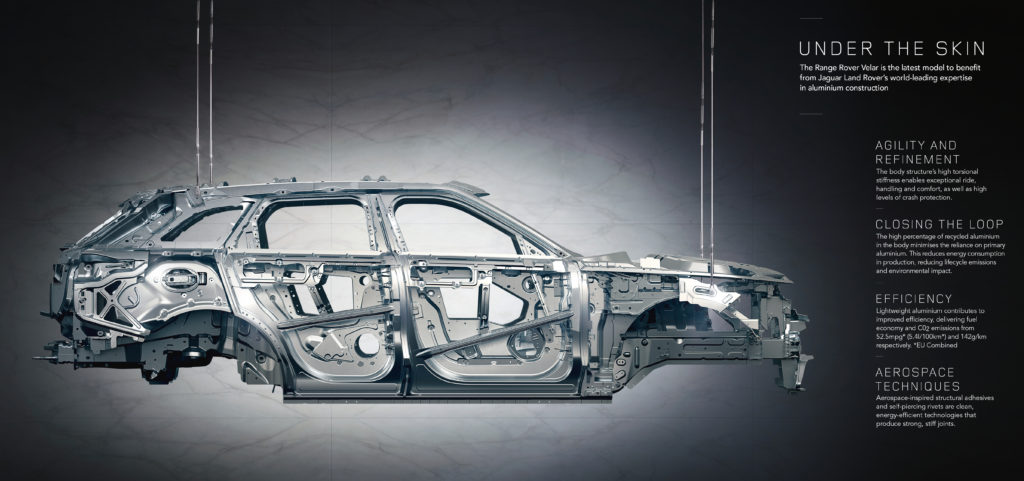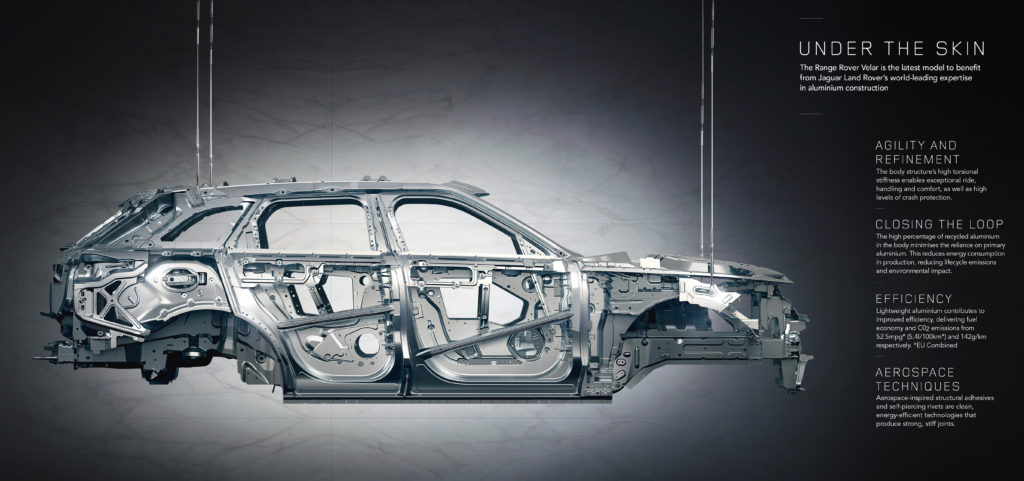 More information:
"EXTENDED PRESS PACK – THE ALL-NEW LAND ROVER DISCOVERY"
Land Rover, Sept. 28, 2016
"LAND ROVER INTRODUCES FOURTH MEMBER OF RANGE ROVER FAMILY, THE RANGE ROVER VELAR"
Land Rover, March 1, 2017
"LAND ROVER PRESENTS THE NEW RANGE ROVER VELAR" (Global release)
Land Rover, March 1, 2017
Images:
This still from a promotional Land Rover video shows the aluminum body-in-white of the new Land Rover Discovery, which replaces the LR4 in the U.S. (Provided by Land Rover)
This Land Rover infographic shows the aluminum body-in-white of the new Range Rover Velar. (Provided by Land Rover)
Share This: