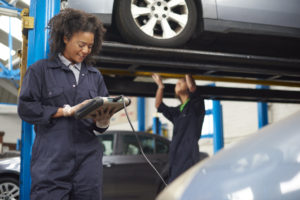 The 2018 model year marks the deadline for full "right to repair" compliance under the infamous Massachusetts law and subsequent nationwide OEM-aftermarket agreement, and the Auto Care Association is watching to ensure automakers live up to the law and bargain.
Under the memorandum of understanding (MOU), automakers were required to sell tools and repair information to non-dealership mechanics and collision repairers at a "fair and reasonable price," Auto Care Association regulatory and government affairs Senior Vice President Aaron Lowe said in a Friday webinar.
OEMs already had to provide diagnostic information and tools to the aftermarket under the 2014 agreement. But by the 2018 model year, the signatories also agreed to allow third-party devices to interact with on-board diagnostic and repair systems (one method is the frequently cited J2534 standard) — the final piece of the 2014 agreement.
2018 model year vehicles should be appearing this summer or fall, but OEMs have been making good on the agreement already.
"We still are monitoring repair facilities in Massachusetts," said AutoZone government and community relations Vice President Ray Pohlman. To the OEMs' credit, observers are "not detecting too many problems" in that state, according to Pohlman.
In February, the Auto Care Association and Coalition for Auto Repair Equality contacted all signatory OEMs for an update on their compliance. About a third responded, all assuring they'd meet the demands of the deal, according to Pohlman.
However, the groups haven't heard from some of the larger OEMs yet, and "that's giving us a little bit of concern," Pohlman said.
They've pushed for a "hearing of compliance" in Massachusetts, and such a forum is planned for around June, Pohlman thought.
"We'll have a better idea" then, he said.
Lowe said that questions still remained over how many model years prior to 2018 will have on-board vehicle diagnostics and repair information available under the terms of the law. Honda, for example, had promised to make older models available, but that's not necessarily going to be the case for all OEMs, he said.
Dorman Products general counsel and Vice President Tom Knoblauch cautioned that a fight still could arise over the embedded software within individual parts, such as control modules.
A few years ago, vehicles had less than 10 control modules. Today, there's several dozen, he said.
What owners and repairers can do with this software isn't settled. (See some discussion of this issue here.)
"We can't forget about this embedded software challenge that we have," Knoblauch said.
While patent law, which applied to mechanical devices, always had a "right to repair doctrine," copyright law isn't so cut-and-dried, according to Lowe. Vehicle owners and technicans aren't sure about their rights, and the copyright office has suggested leaving it to the courts, according to Lowe — a potentially protracted and uncertain process the the Auto Care Association hopes to avoid.
Further out, the prospect of autonomous vehicles raises another repair access question — given the safety implications of an unqualified technician sending a flawed self-driving car back on the road, what happens to the right to repair? We put this to the panel Friday
Lowe said that a right to repair wasn't limited to a specific type of automobile. And he's right; the MOU applies to anything an OEM sells that weighs under 14,000 pounds and isn't a motorcycle or RV/motor home.
"It's much more complicated than ever," Lowe agreed. However, he said the real needs were OEM standardization and availability of calibration techniques, as well ensuring independents can obtain the data from the vehicle.
More information:
Auto Care Association "Right to Repair" webpage
"Software-Enabled Consumer Products"
Copyright Office, December 2016
Featured image: Automakers must keep diagnostics software in the cloud and allow third-party devices to interact with computer systems for the 2018 model year. (sturti/iStock)
Share This: