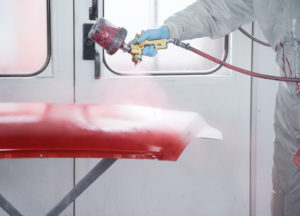 Collision repairers in 2017 were more likely to request reimbursement from insurers for 25 out of 27  "not-included" paint procedures, according to the latest completed "Who Pays for What?" study.
"If you don't bill for it, you will never be paid for it, yet the biggest percentage of shops not billing for these procedures say they never thought of billing for them when they are required as part a repair," study co-author Mike Anderson, CEO of Collision Advice, said in a statement March 31. "These surveys were designed to help raise that awareness."
The only reductions: Fewer shops asked for labor for a second color setup and for extending the clearcoat to the natural breaking point than they did in 2016, according to the January survey of 936 shops conducted by Collision Advice and CRASH Network.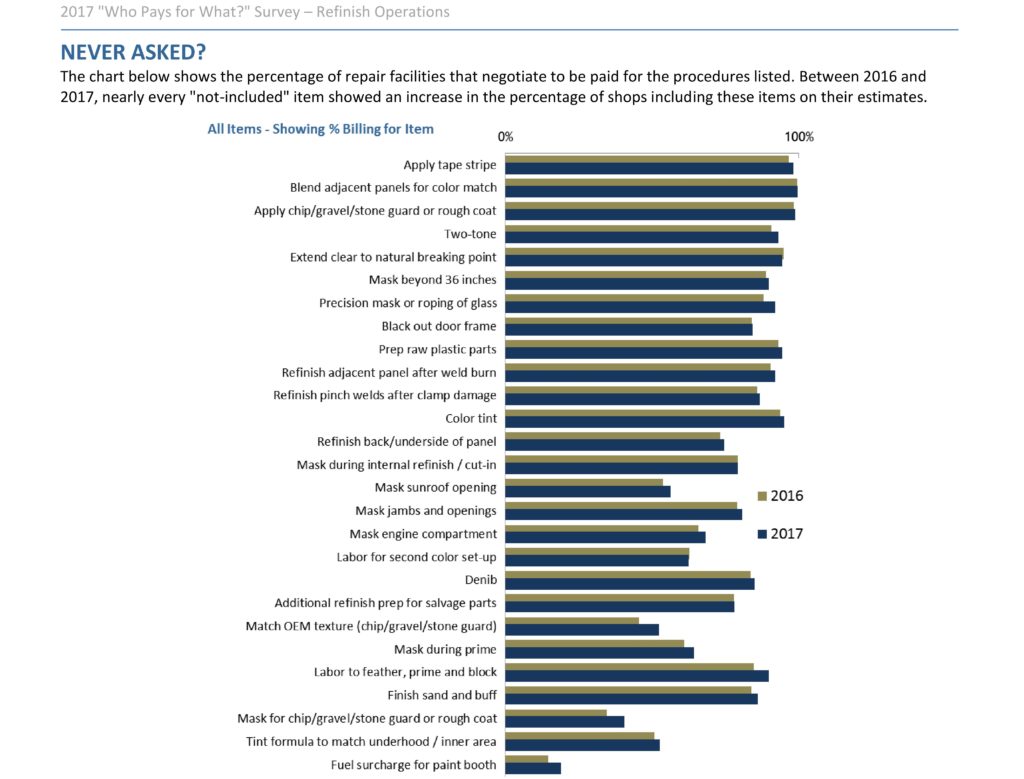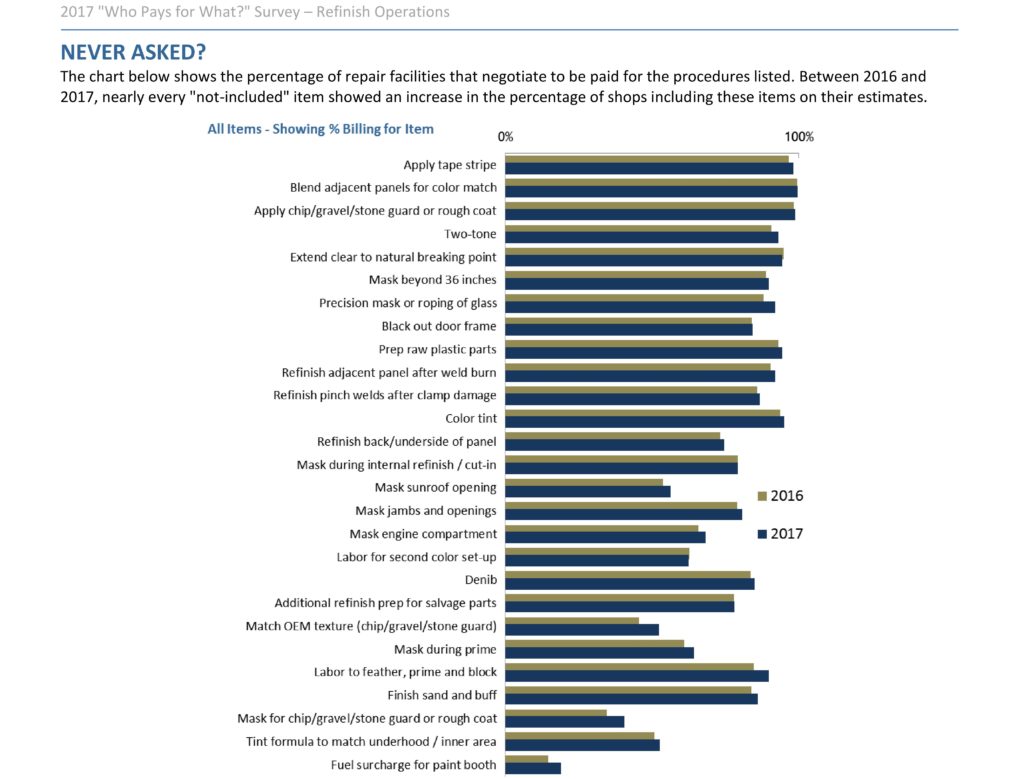 Perhaps reflecting these overall increases in negotiation with insurers, a far higher percentage of shops this year reported success in using prior survey findings to help their business. Anderson said that typically, only about 70 percent of participating shops reported benefits from the studies. The latest tally was a record 84 percent, according to the researchers.
""The fact that a growing number now report the surveys are helping makes me very proud," Anderson said in a statement. "Knowledge is key in this industry."
Overall, the most frequently reimbursed item (when requested) was applying tape stripe, followed by blending adjacent panels and applying chip/grave/stone guard or rough coat. (The closer the metric below reaches 3, representing "always," the more consistently shops which seek reimbursement for the task receive it.)
"Most of the changes from 2016, up or down, were not statistically significant because they fall within the survey's margin of error," the researchers wrote.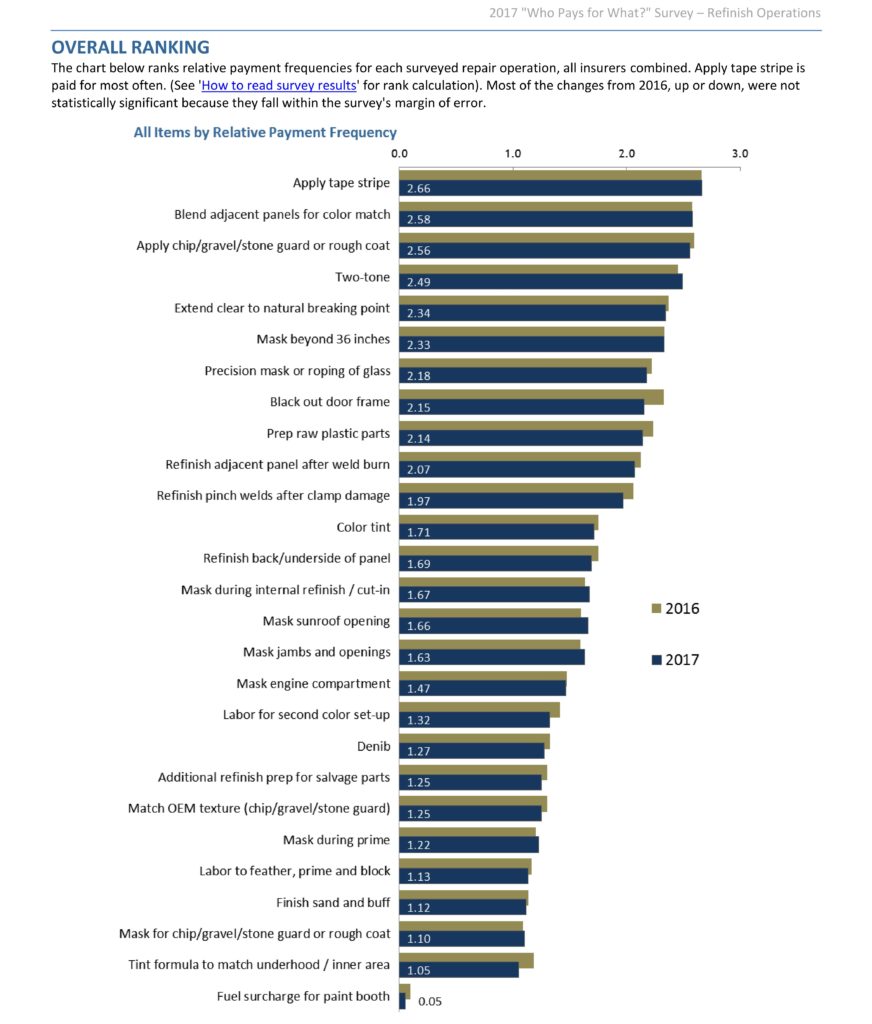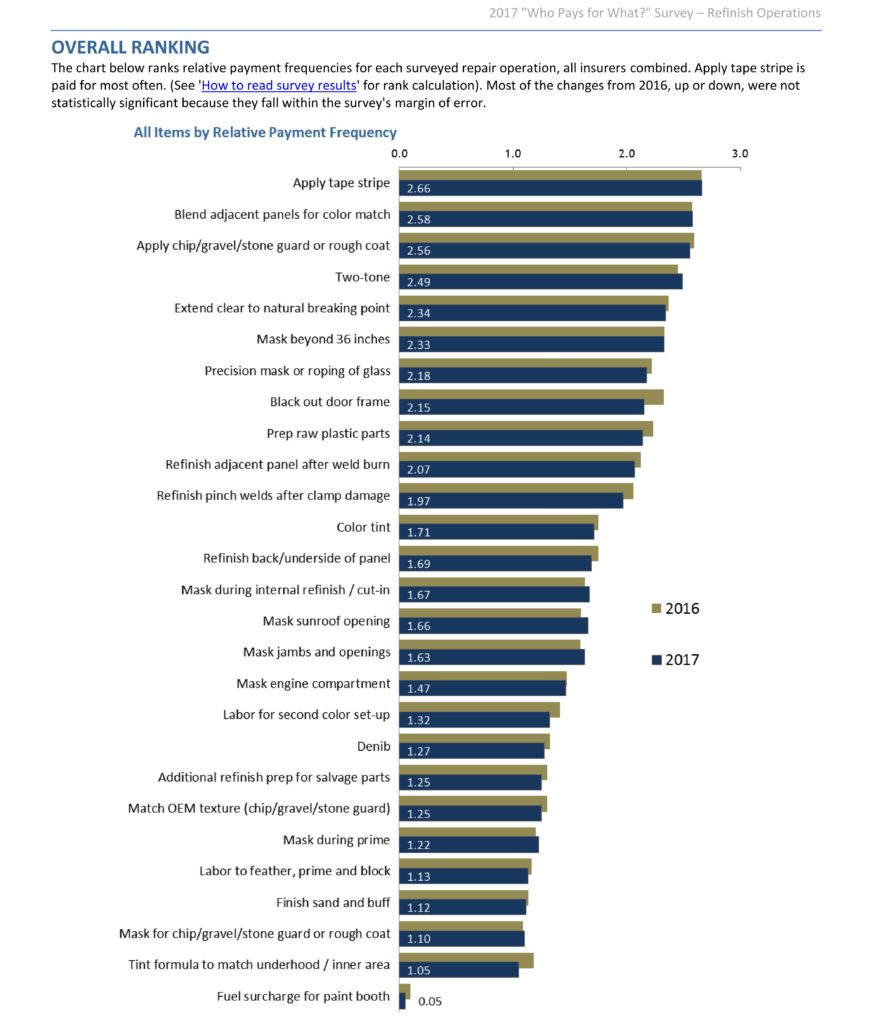 The January 2017 results also caught the researchers' attention by showing that for some carriers, non-direct repair program shops were more consistently being paid when itemizing paint work — "though just barely."
"For the first time in eight surveys, we saw non-DRP shops, among some insurers, report more frequent compensation for not-included items, though just barely," they wrote. "While it is tempting to believe that non-DRP shops are beginning to itemize more not-included procedures on their estimates, that determination will have to wait for future survey findings."


Owners, managers or estimators can take the new "Who Pays?" survey on auto body operations through April 30 here. Participants receive a free copy of the results. Get past data here.
More information:
"Latest "Who Pays for What" quarterly survey asks shops about body labor billing and insurer payment practices"
Collision Advice-CRASH Network, March 31, 2017
Images:
Collision repairers in 2017 were more likely to request reimbursement from insurers for 25 out of 27  "not-included" paint procedures, according to the January 2017 "Who Pays for What?" study. (svetikd/iStock)
Collision repairers in 2017 were more likely to request reimbursement from insurers for 25 out of 27  "not-included" paint procedures, according to the latest completed "Who Pays for What?" study. (Provided by Collision Advice and CRASH Network)
Overall, the most frequently reimbursed item (when requested) was applying tape stripe, followed by blending adjacent panels and applying chip/grave/stone guard or rough coat. The closer the metric below reaches 3, representing "always," the more consistently shops which seek reimbursement for the task receive it. (Provided by Collision Advice and CRASH Network)
The January 2017 results also intrigued the researchers by showing that for some carriers, non-direct repair program shops were more consistently being paid when itemizing paint work — "though just barely. (Provided by Collision Advice and CRASH Network)
Share This: