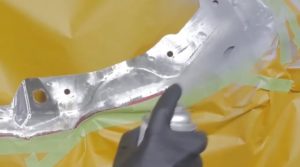 "Corrosion protection" is a process, not a single operation, and failure by a shop to realize this could lead to unfortunate outcomes down the road, SCRS experts suggested in an educational video released this month.
The second in the Society of Collision Repair Specialists' video series on repair procedures was posted on YouTube April 4 and is the first in a three-parter on corrosion protection.
The film, which features SCRS and Collision Industry Conference educator Toby Chess (Kent Automotive), now-SCRS Chairman Kye Yeung (European Motor Car Works) and board members Michael Bradshaw (K&M Collision) and Tim Ronak (AkzoNobel), focuses on primers.
But the opening message served as an introduction to all three videos, which also examined cavity wax/undercoating and seam sealers.
To wit: The term "corrosion protection" is "misused," Chess argued.
"We use it as a line item, and that is incorrect," he said. "We need to look at corrosion protection as a process. … We need to specify for each particular case what we are putting down there."
While work on a part like a fender might involve just one or two corrosion protection operations, a quarter panel might require 8-10, according to Chess.
These steps might even be more than is necessary than in the factory, for the simple reason that a shop can't duplicate factory processes (for example, dipping a car) but must match the result as closely as possible, according to Ronak.
"In many cases, it's more steps and more materials and more effort to put that … corrosion resistant process back in place," he said.
Besides knowing those steps, a shop must know their "sequential order," according to Yeung. "Confusion can set in," and a technician might transpose a step and affect the outcome, he said.
An adjuster or estimator might write a flat "corrosion protection" or "undercoating" while understanding that multiple steps are involved. But Chess and Yeung argued for more complete itemization.
Chess said listing out each line item of corrosion protection on an estimate provided greater customer transparency (the shop's giving a lifetime warranty on corrosion, he noted), and Yeung described it as useful to prevent technicians — who could otherwise go uncompensated for each procedure — from skipping steps.
"It's a natural reaction to try and do the job as fast as you can," Yeung said.
Shops should consider using the same brand's product suite across all of these steps, just as would be advised by a paint OEM, according to Yeung. Otherwise, the results might suffer, he suggested.
Though the video was aimed at collision repairers, insurers might find value in it as well. For example, actuaries and adjusters which are used to seeing a single line of "corrosion protection" procedures should understand that an itemized series of steps is another means of describing the same process — and possibly a more accurate one as well. This knowledge might help avoid friction in the claims adjusting process and more accurate calculation of risk potential in the underwriting process.
More information:
"SCRS Education Committee Presents – Corrosion Protection Part 1 of 3 – Primers"
Society of Collision Repair Specialists via YouTube, April 4, 2017
"SCRS Education Committee Presents – Corrosion Protection Part 2 of 3 – Seam Sealers"
SCRS YouTube channel, April 4, 2017
"SCRS Education Committee Presents – Corrosion Protection Part 3 of 3 – Cavity Wax and Undercoating"
SCRS YouTube channel, April 4, 2017
Featured image: Weld-through primer is applied in this screenshot from a Society of Collision Repair Specialists video on corrosion protection. (Screenshot from SCRS video on YouTube)
Share This: