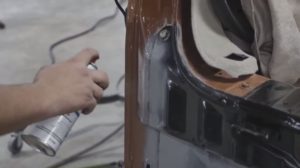 Using a brush and applying products before body filler were among two of the tips offered for certain corrosion-protection primers in a new Society of Collision Repair Specialists video.
The April 4 primer video was the first in a three-part YouTube series on corrosion protection. It also set up the series by pointing out that "corrosion protection" was often a series of steps, not really a single procedure.
Besides this point, the discussion featuring Toby Chess (Kent Automotive), now-SCRS Chairman Kye Yeung (European Motor Car Works) and board members Michael Bradshaw (K&M Collision) and Tim Ronak (AkzoNobel) examined characteristics and strategies for substances like weld-through, epoxy, etch, and aerosol two-stage primers.
Chess said weld-through primers on the market are copper or zinc, and there are "good and bad (points) for both."
He said it's advised that "where you are actually welding, you want to clean off that weld-through primer because it does have a tendency to spatter it." Zinc weld-through primers aren't the best corrosion protection, and need to be removed before refinishing, he also said.
Etch and epoxy primers
In general, etch primer uses phosphoric acid and must be used on bare metal, Chess said.
"You cannot use them where Bondo is present," he said.
A shop must wait for the acid to dissipate, "which now can affect your cycle time," according to Chess.
He called epoxy primer the "best quality material," and recommending applying it with a "little foam brush."
"Guys think that it needs to be sprayed," he said. But use the brush, and "it's dry in 20 minutes," he said.
There's no lag time for the painter, and unlike etch primer, there's no concern with acid contaminating seam sealer.
Bradshaw asked Toby about a few potential areas to use epoxy primer, such as flanges, welded seams and the backside or repair area of a panel receiving body work.
"Personally, I would just use epoxy primer in most of the areas," Chess said.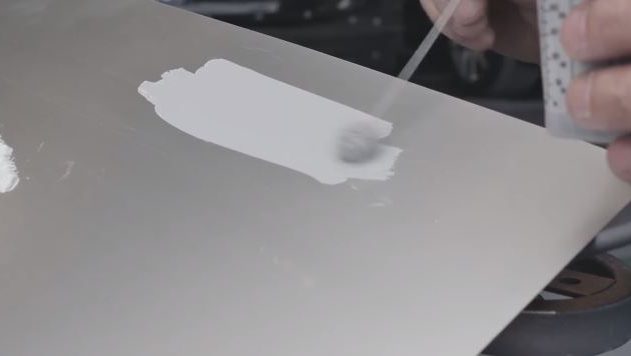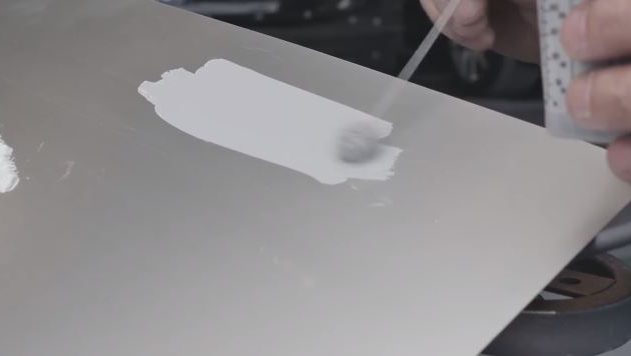 There is a cost factor, however.
"It's a little bit more expensive, so you gotta take that into consideration," he said. "Make sure you charge for it accordingly."
But there wasn't anything wrong with etch primer so long as it was applied correctly and the procedures followed. Both were tools in a "toolbox," he said.
"Understand your products and what the situation is," he said.
As with the etch primer discussed above, Chess noted that epoxy primer must be applied before body filler, according to at least one OEM manual. Yeung said epoxy primer should be first before any repairs.
Bradshaw said that body filler and vehicle manufacturer instructions can be contradictory on these points. OEMs want it applied before filler, and body filler manufacturers sell it as "direct to metal."
"That's not what we're supposed to be doing," he said.
Chess said that moisture or contaminants could be trapped between the filler and primer by following the filler guidance — defer to the vehicle OEM's procedures above all others, he advised. "What is our Bible?" he said.
Two-stage aerosol
Asked about two-part aerosol primers activated within a can, Chess said they can work on both aluminum or steel.
However, he cautioned that "it does have a shelf life" — sometimes just a few days, depending on climate — and "it's not cheap."
"It does have its advantages," Yeung said, noting the time saved from not having to mix the materials.
Bradshaw said the product could be charged to the job, as likely that's all you'd be able to use it for before the shelf life of the can ran out. That's in contrast to traditional epoxy, which must be mixed, measured on a scale, and billed accordingly.
More information:
"SCRS Education Committee Presents – Corrosion Protection Part 1 of 3 – Primers"
Society of Collision Repair Specialists via YouTube, April 4, 2017
"SCRS Education Committee Presents – Corrosion Protection Part 2 of 3 – Seam Sealers"
SCRS YouTube channel, April 4, 2017
"SCRS Education Committee Presents – Corrosion Protection Part 3 of 3 – Cavity Wax and Undercoating"
SCRS YouTube channel, April 4, 2017
Images:
SCRS and Collision Industry Conference educator Toby Chess (Kent Automotive) said weld-through primers on the market are copper or zinc, and there are "good and bad (points) for both." (Screenshot of Society of Collision Repair Specialists video on YouTube)
In a 2017 SCRS video, Toby Chess of Kent Automotive called epoxy primer the "best quality material," and recommending applying it with a "little foam brush." (Screenshot of Society of Collision Repair Specialists video on YouTube)
Share This: