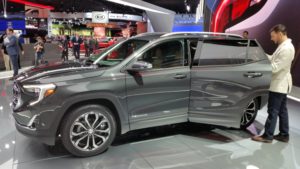 The next-generation, lighter 2018 GMC Terrain is about to go on sale in a couple of months, confronting repairers with more ultra-high-strength steel and potentially more repair considerations than its predecessor.
The 400 pounds of weight savings from the prior generation was accomplished by what General Motors executive chief engineer for crossovers and SUVs Rick Spina called "traditional" for GM: a mix of mild and higher-strength steels, including what on the Terrain is more press-hardened steel than its predecessor. ("Traditional" in this case refers to about the past decade or two, rather than the first 90-100 years.)
Such ultra-high-strength PHS steel is light but tough — GM's is at least 700 megapascals — and it carries major sectioning and repair restrictions. Some of the other grades of higher-strength steel in the vehicle likely have special considerations as well; learn more on GM's free collision repair webpages.
"All of the new Terrain's crash-avoiding and passenger-protecting technologies are built into a stronger body structure that incorporates high-strength steel in key areas to help prevent intrusion into the passenger compartment," GMC wrote in January.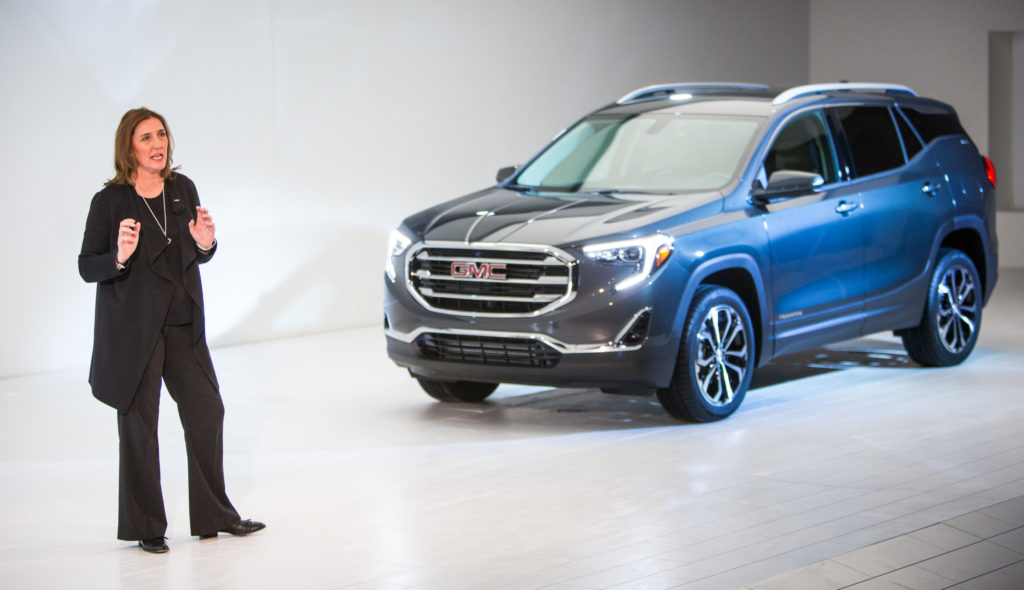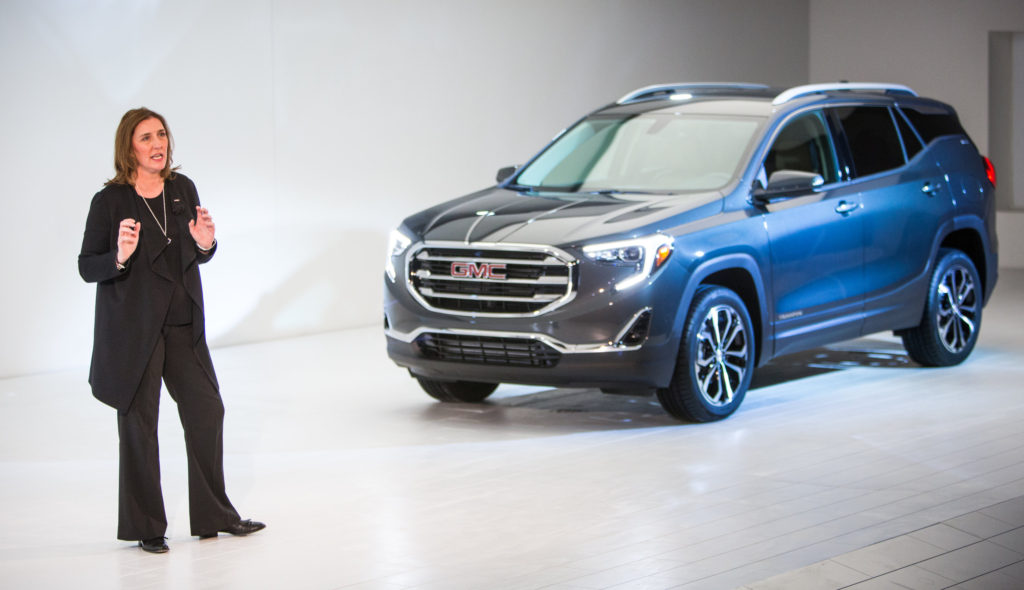 A GMC Terrain spokeswoman confirmed in May no exterior body panels were made of aluminum — including the liftgate Spina initially suggested might be. Other more exotic substrates, such as composites or magnesium, weren't present, he said.
Spina said GM didn't use any "overly sexy joining" in the factory that he could recall — just welding and structural adhesive. It's possible that different joining techniques would be required by GM for the aftermarket, of course — again, check those repair procedures.
The Terrain uses the front "splayed-rail concept" of the next-generation Chevrolet Equinox, another massive seller for GM, Spina said Jan. 9 at the North American International Auto Show, a day after the Terrain's unveiling elsewhere in Detroit. Given the volume of both vehicles, collision repairers will "get used to it pretty fast," he said.
General Motors sold 87,925 Terrains in 2016, a major decline from 2015. However, Terrains were up 14 percent in March — and the next-generation model isn't even out yet.
The front bumper beam itself is welded, not bolted, to those splayed rails, Spina said. "That all becomes part of the (crash) energy box," he said.
The engine mounts provide another interesting piece of crash energy engineering — and something shops will need to restore in a repaired Terrain.
"Additionally, the front suspension cradle is hard-mounted to the body structure at six points, enabling better front end crash energy management across a wide spectrum of impact severities," GMC wrote. "It features a two-stage release strategy that allows the middle and rear mounts to disengage separately depending on the crash situation. This design is key to help preserve the integrity of the occupants' safety cage during collisions."
Spina explained that this meant that the engine mounts — the cradles are hard-mounted, not insulated rubber, he said — are engineered to break in a controlled manner during a crash.
"We release them in a certain order," he said. The engine is pushed under the front-end dash, sending the load "down there rather than up high" and subsequently better protecting the passengers.
Cosmetically, shops and carriers also should be aware that aftermarket headlights might not be an option for at least some trims. The headlamps shown on the Terrain SLT and Terrain Denali trims at the 2017 auto show noticeably stated "GMC" and "Terrain."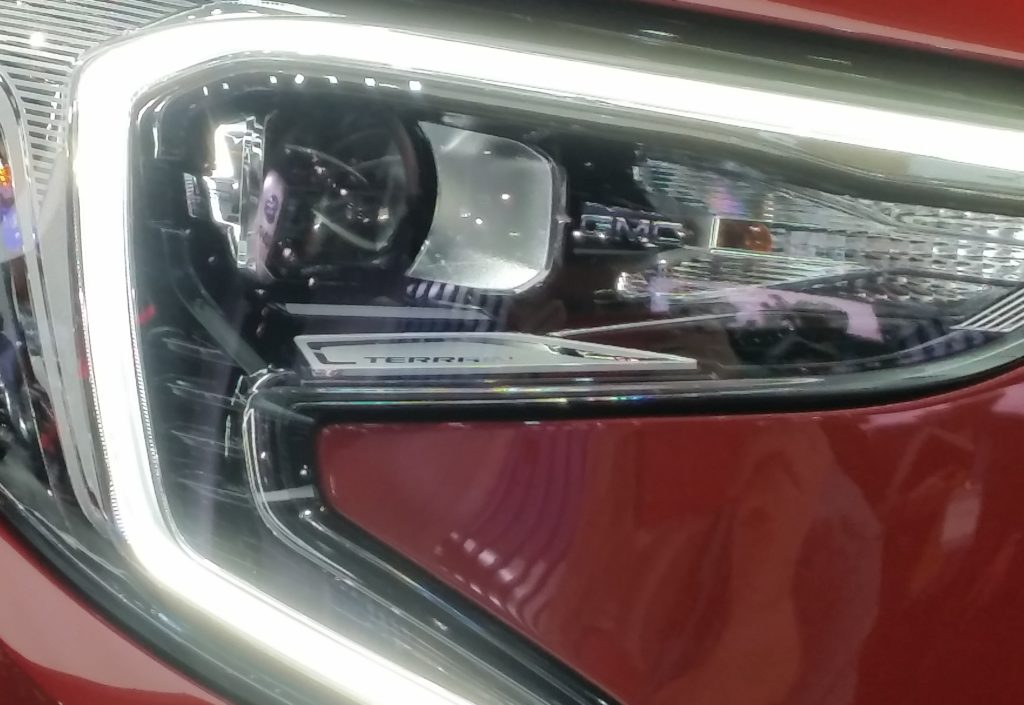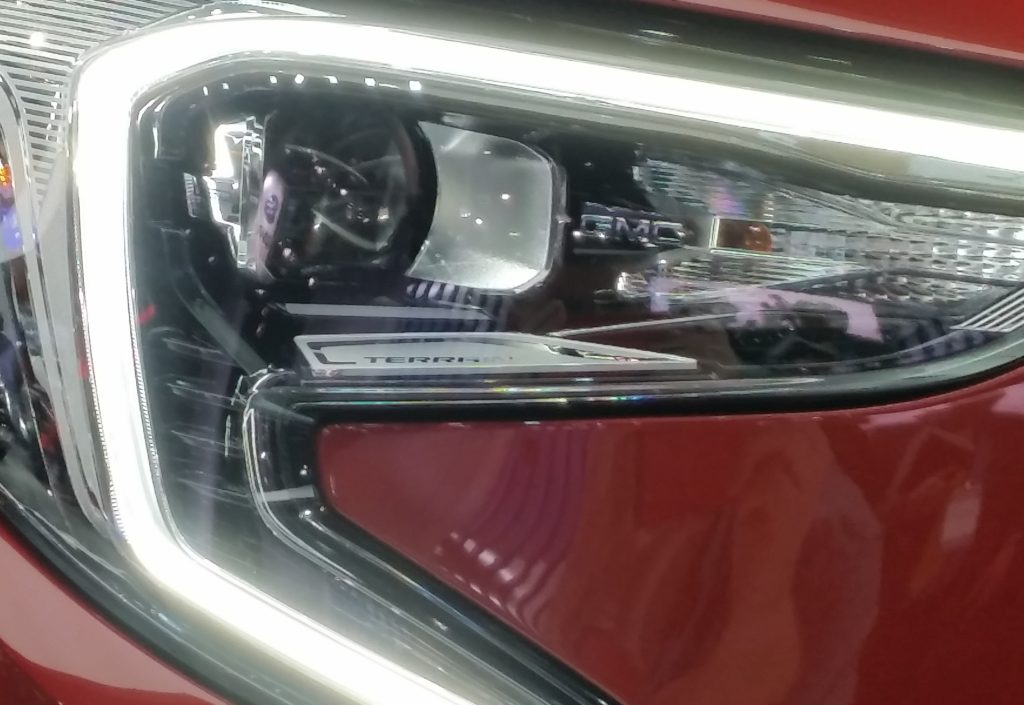 Also cosmetically, make sure to double-check to avoid buying Denali components for the three lesser SL, SLE and SLT trims.
"Elevating GMC's new design, the all-new Terrain Denali will feature its signature chrome grille along with Denali-specific accents including body-color fascias and lower trim, plus chrome roof rails, door handles, side mirror caps and body-side molding," GMC wrote. "Additionally, LED headlamps and 19-inch ultra-bright machined aluminum wheels are standard on Denali."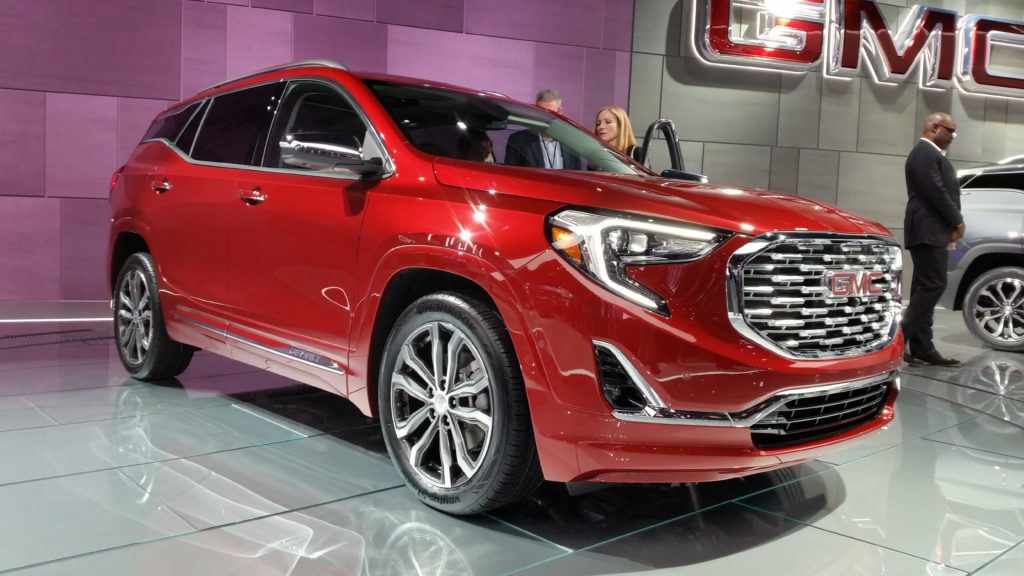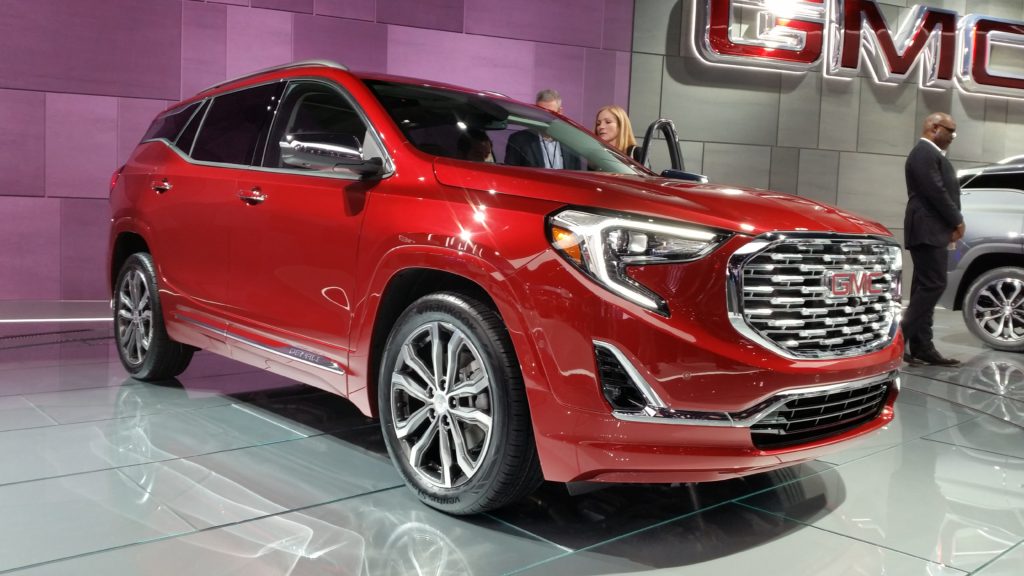 UPDATE: A General Motors spokeswoman has confirmed that none of the exterior body panels on the Terrain are aluminum — even the liftgate an executive suggested in January might be. The article has been updated to reflect this.
More information:
"GMC Introduces Modern, Bold Design on 2018 Terrain"
GMC, Jan. 8, 2017
GMC, Jan. 8, 2017
Images:
The 2018 GMC Terrain SLT stands at the 2017 North American International Auto Show in Detroit on Jan. 9, 2017. (John Huetter/Repairer Driven News)
Global GMC design Executive Director Helen Emsley speaks at the reveal of the 2018 GMC Terrain (trim unknown) Jan. 8, 2017, before the North American International Auto Show in Detroit, Michigan. (Jeffrey Sauger for GMC/Copyright General Motors)
The headlights on the 2018 GMC Terrain Denali clearly state "GMC" and Terrain." (John Huetter/Repairer Driven News)
The 2018 GMC Terrain Denali stands at the 2017 North American International Auto Show in Detroit on Jan. 9, 2017. (John Huetter/Repairer Driven News)
Share This: