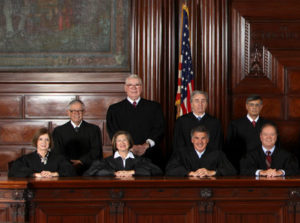 The Pennsylvania Superior Court said Monday it will rehear Nationwide's appeal of a $21 million bad faith verdict over allegedly returning a 1996 Jeep Grand Cherokee it knew had structural damage to a customer.
The panel of Justice James Fitzgerald III and Judges Jack Panella and Victor Stabile declared it was "unable to reach a majority decision" over the matter. A representative of the court indicated the deliberations are private and no record of the three judges' views would be available.
Law360 reported Monday that Panella said before oral argument that he realized his daughter worked for Nationwide and asked if either side wanted him recused. Both defendants and plaintiffs said no, but Panella ultimately recused himself anyway, and the other two judges couldn't agree, according to Law360.
The case will be put before another panel of Superior Court judges first convening Oct. 10 — more than 20 years after the collision which started it all and following the death of one of the plaintiffs involved (for reasons apparently unrelated to the collision). Fitzgerald, Panella and Stabile heard the case Feb. 2, 2016.
Last month, collision repair attorney Erica Eversman highlighted the case during an Alliance of Automotive Service Providers-Pennsylvania event CIC Week.
She called it an "absolutely horrendous" case showing the auto insurance world at its worst. Documents provided by the Mayerson Injury Law firm, which represented the plantiffs, and Eversman's account paint an incredibly appalling picture.
Nationwide had suggested Daniel and Sheryl Berg have their 3-month-old, leased 1996 Jeep Grand Cherokee repaired at one of its direct repair program shops following a 1996 crash, according to Eversman and Mayerson Law.
The Blue Ribbon repair facility said the Grand Cherokee was a total loss, given the frame damage. Nationwide disagreed, saying it "will never recover the difference in salvage value" if it totaled the Jeep, according to Eversman.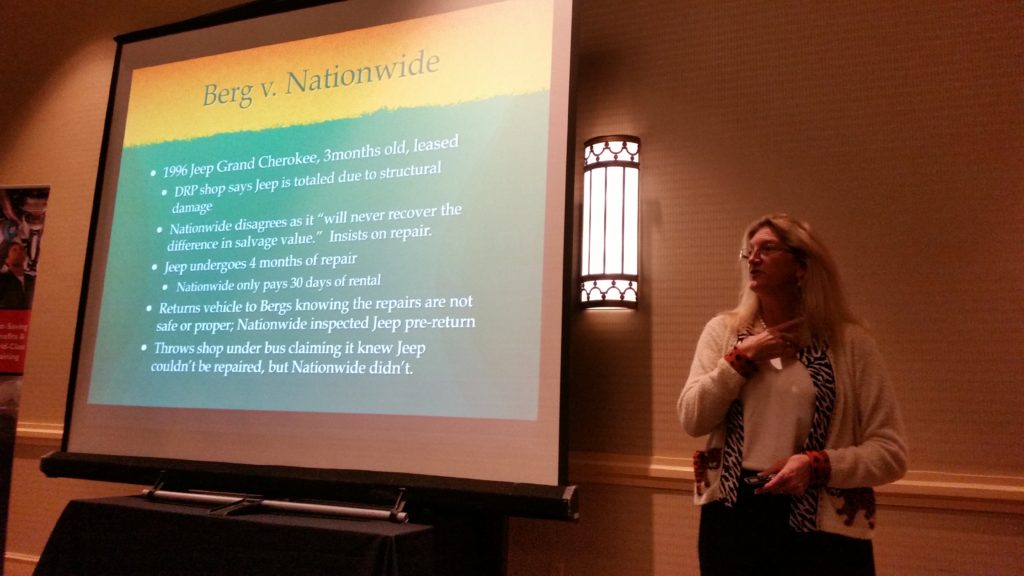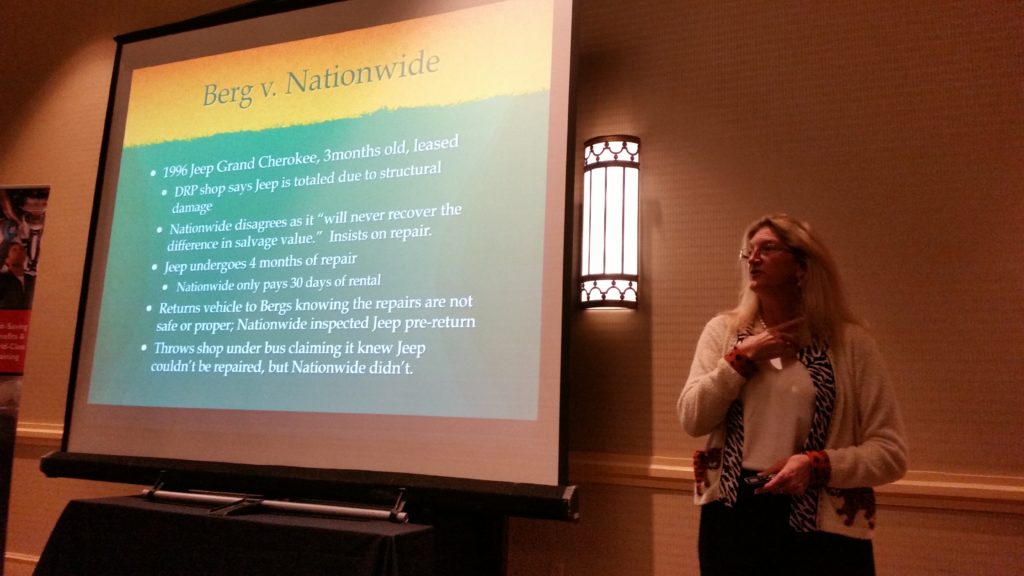 Four months later, the Jeep Grand Cherokee work was finished. It was unsafe but Nationwide either didn't inspect it as it should have or did inspect it and didn't tell the Bergs, Berks County Common Pleas Judge Jeffrey Sprecher concluded in 2014.
Sprecher's 2015 opinion decries Nationwide's attempt to use a "scorched earth" litigation policy costing $3 million in its own attorneys fees and notes"several legal duties and fiduciary obligations that it recklessly disregarded."
Among the bad-faith behavior highlighted in that ruling: Nationwide's refusal to sell the Jeep to the Bergs' attorney followed by its destruction of that piece of "vital evidence." Sprecher also declared it bad faith that Nationwide waited until the Bergs had finished all lease payments on the Grand Cherokee to total it.
Sprecher noted in the opinion from Mayerson Law that $18 million in punitive damages is 0.2 percent of Nationwide's $9 billion in statuatory surplus. (The other $3 million of the ruling gave Mayerson Law the same attorney's fees incurred by Nationwide's legal team, and the ruling suggests that the plaintiffs attorney would not collect any of the punitive damages.)
Law360 in 2016 reported that Nationwide attorney Robert Heim questioned the judgement given an earlier $295 jury ruling on a consumer protection claim. Heim also accused Sprecher of a "tantrum" and stated, "The judge was on a mission and was not trying to look at the evidence fairly," according to Law360.
According to Eversman, Nationwide's position was that the Bergs drove the vehicle and never experienced another collision, so what was the big deal?
More information:
Judge Jeffrey Sprecher's 2015 opinion in Berg v. Nationwide
Berks County Common Pleas Court, July 22, 2015 (via Mayerson Injury Law)
Berg v. Nationwide on Mayerson Injury Law
Berg v. Nationwide Pennsylvania Superior Court docket (and notice of rehearing)
"Nationwide Says Judge Had 'Tantrum' In $21M Bad Faith Row"
Law360, Feb. 2, 2016
"Pa. Appeals Court Deadlocks On $21M Bad Faith Award"
Law360, May 1, 2017
Images:
Two of the three judges in a Pennsylvania Superior Court panel deadlocked on the Berg v. Nationwide case can be seen here. Second from left, top row: Justice James Fitzgerald. Third from left, bottom row: Judge Victor Stabile. (Provided by Pennsylvania Superior Court)
Collision repair attorney Erica Eversman highlighted the Berg v. Nationwide case during an Alliance of Automotive Service Providers-Pennsylvania event April 18, 2017, during CIC Week. (John Huetter/Repairer Driven News)
Share This: