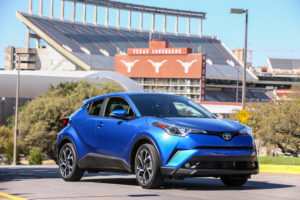 The 2018 Toyota C-HR just went on sale in April, at a low enough price and a fun enough look to sell well enough that a shop would see one.
Toyota in its news release didn't particularly trumpet the body structure, aside to say it uses the TNGA global platform found on the new Camry and Prius, to name just a few.
But though the C-HR ("Coupe High-Rider") just hit dealerships, Toyota already had a collision repair manual ready to go. It reveals a body-in-white made up of a lot of high-strength steel — and ultra-high-strength steel.
980- and 1,500-megapascal steel can be found on both a A- and B-pillars, roof rails, frame rails, A-pillar reinforcement, the center roof rail, and in a variety of other locations.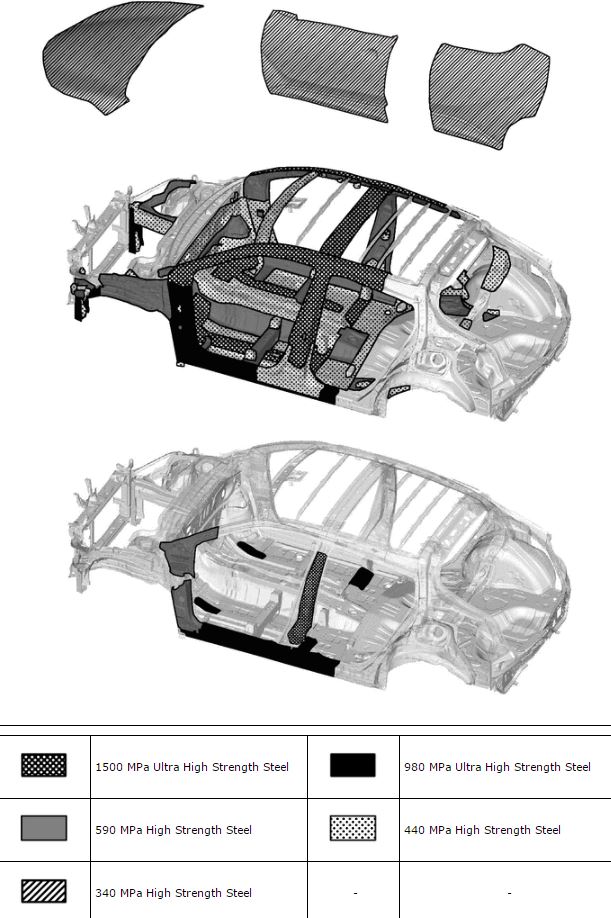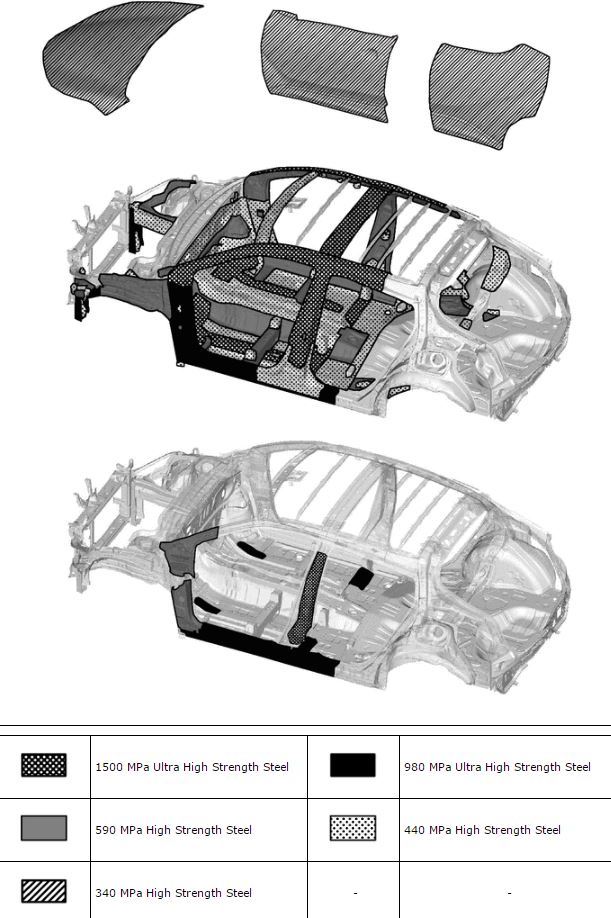 Such steel typically has far greater restrictions than the mild steel of older vehicles (and found in the C-HR as well); Toyota's include no sectioning or hot or cold straightening. Toyota applies the same restrictions to its 590 MPa advanced high-strength steel as well, and it bars sectioning of any of its 440 MPa high-strength steel except in specified locations.
"This recommendation is based on a reduction in reinforcement strength and crash energy management revealed during research and testing conducted by Toyota Motor Corporation," Toyota wrote. "Repaired and/or improperly sectioned reinforcements failed to exhibit the strength and performance ratings of genuine new original equipment service parts installed to specification. Therefore damaged occupant cabin reinforcements must be replaced."
(For more steel do's and don'ts — such as those related to welding and heat sensitivity — visit Toyota's repair procedures on its Technical Information System, and its position statements and CRIB bulletins on the Collision Repair and Refinish Training website.)
The bumper reinforcement beams are aluminum — and note that the C-HR has a second front bumper beam. Toyota bans repairing reinforcements.
"The bumper reinforcement is designed so that it performs at 100% in its original shape," Toyota writes in its repair procedures. "However, if the bumper reinforcement is repaired, its performance may not be the same as before the accident."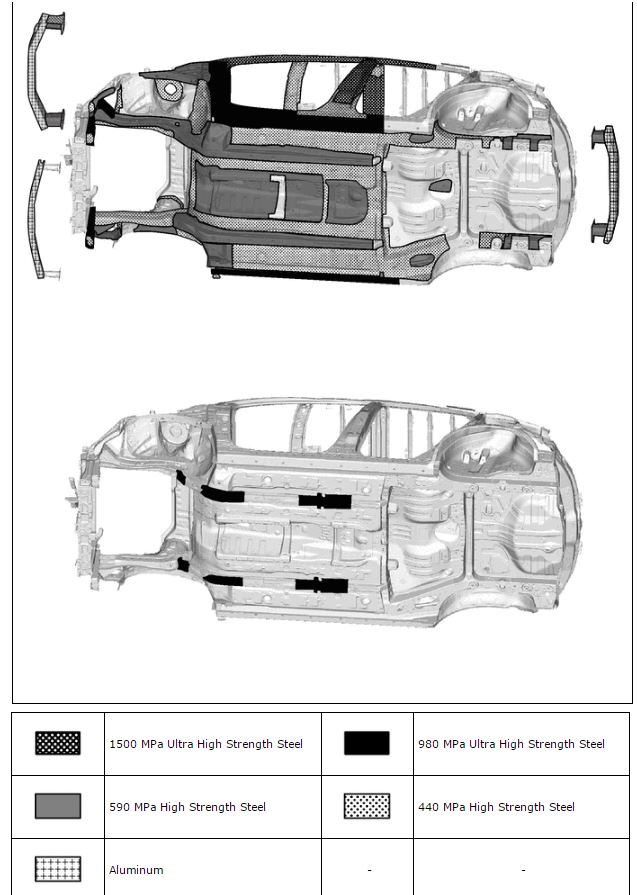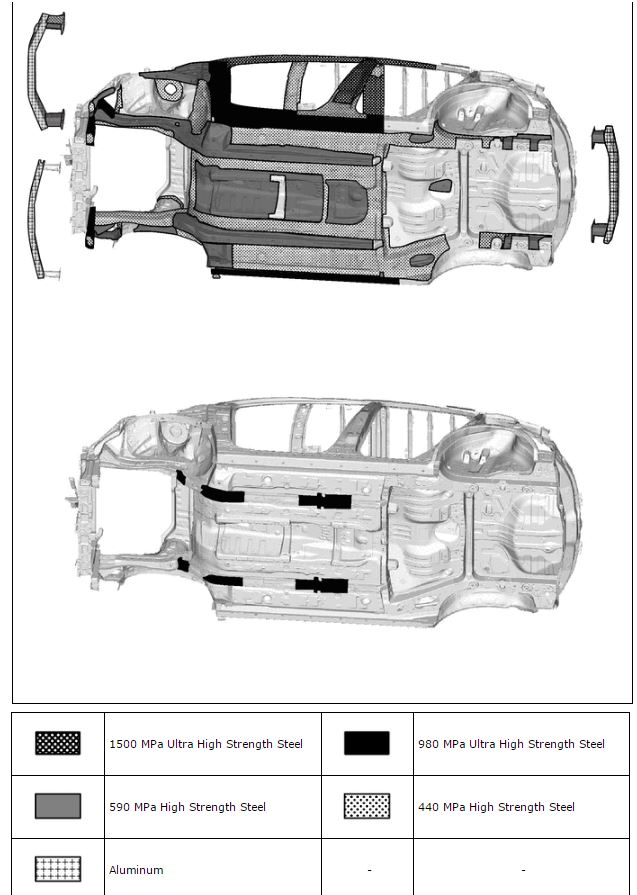 But don't worry, painters — the C-HR has a consideration for you too. For an extra $500, Toyota will allow a customer a second paint color on the top half of the crossover.
"For a bigger dose of individuality, the C-HR can be outfitted in R-Code, a special paintjob that pairs body color with a white-painted roof, side mirrors, and A-pillar for a truly custom look," Toyota writes. "Available pairings include Blue Eclipse Metallic R-Code, Ruby Flare Pearl R-Code, and Radiant Green Mica R-Code. Radiant Green Mica can only be had in R-Code configuration."
Toyota referred aftermarket painters seeking more information about the C-HR's two-tone paint to the training site's Painters Corner webpage.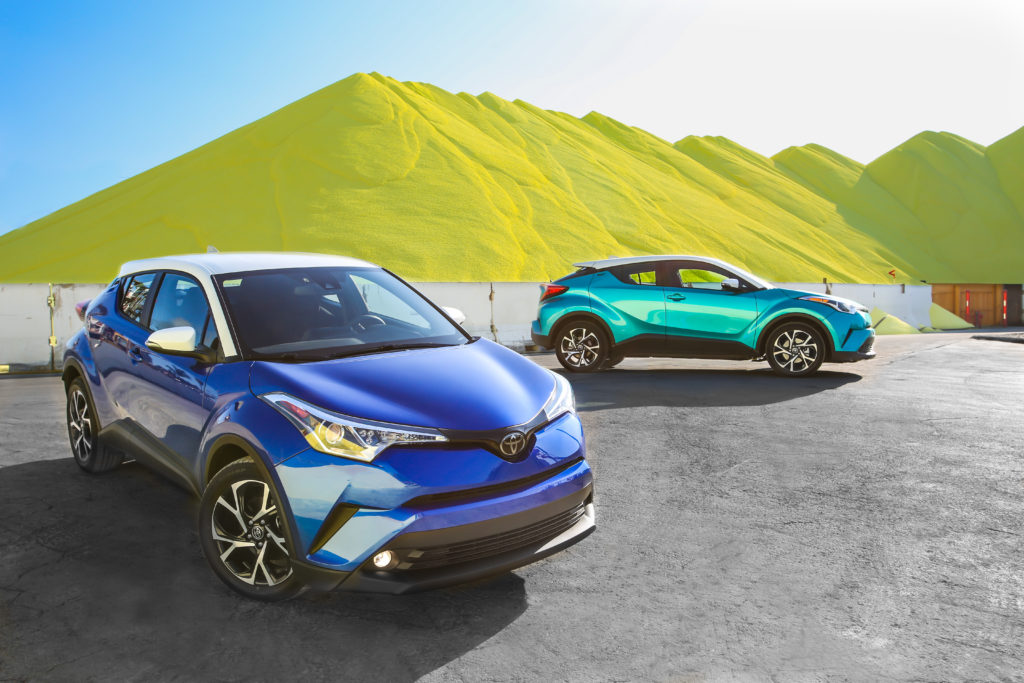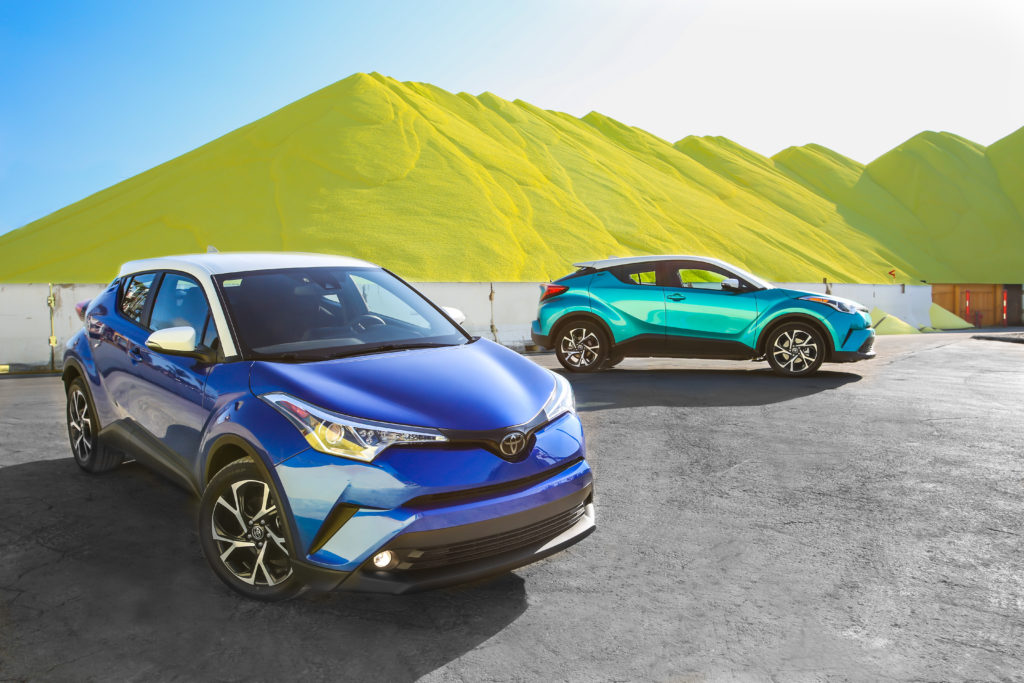 Among other features potentially of interest to collision repairers:
The C-HR won't let a driver select certain multimedia menus while the vehicle is moving under what's known as Driver Distraction Secure Audio. Toyota writes that this was meant to comply with the National Highway Traffic Safety Administration's Driver Distraction Guidelines. It'll be interesting to see if this has any significant effect upon collisions or if smartphone use ends up being to blame.
The car can stay braked even with less pressure on the brake pedal under "Brake Hold Function." Once a driver comes to a full stop, the system holds all four wheels braked, and only a press of the accelerator will start the car.
Aerodynamics and the body: "Canards on the rear quarter panels, front and rear spats, a streamlined rear lower bumper, and stabilizing fins integrated into the taillights all manage critical airflow in and around the body. Underneath, a bevy of rigid covers – on the engine, floor, fuel tank, and aft of the rear wheels – cull turbulence, and in doing so, help enhance vehicle control and fuel efficiency."
The XLE premium's puddle lights can project the words "Toyota C-HR."
Aftermarket glass might make for a louder ride? Passengers can easily converse thanks in large part to the acoustic noise-reducing front windshield.
And like basically everything else Toyota produces for the 2018 model year, an ADAS safety suite comes standard. Scanning and calibration will be even more crucial.
More information:
"2018 Toyota C-HR Shifts the CUV Paradigm With Stunning Style, Driving Dynamics and Versatility"
Toyota, March 8, 2017
Toyota Collision Repair and Refinish Training (includes CRIBs and TSBs)
Images:
The 2018 Toyota C-HR is shown. (Provided by Toyota)
The 2018 Toyota C-HR body-in-white includes a lot of high-strength steel — and ultra-high-strength steel. (Provided by Toyota)
The 2018 Toyota C-HR with the R-Code paint job is shown. (Provided by Toyota)
Share This: