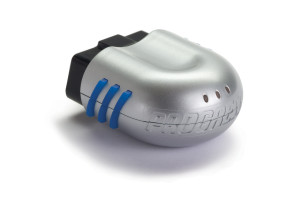 Progressive expects that usage-based insurance — which judges drivers based upon their actual driving habits — will become the primary means of automotive underwriting, its CEO wrote to investors last week, and it's moving towards tracking customers with phones and vehicle data.
"Snapshot® has been and will continue to be a critical component of this advantage. We believe that with the evolution in technology, usage-based insurance (UBI) will be the norm over time," Progressive CEO Tricia Griffith wrote in an annual letter to shareholders. "Having first mover advantage with UBI allows us to use those data capabilities to quickly evolve as necessary. We debuted our mobile device UBI application in 2016 and will continue with a countrywide roll out in 2017. We continue to make significant investments in R&D across the enterprise. The application of telematics for commercial vehicles, to improve segmentation and effectively underwrite and price small fleets, is a space where we are enthusiastic about playing in the future."
It makes sense from an insurer perspective. Carriers in the past had to rely on empirically valid but indirect means of scoring risk — credit scores, sex, age, marital status, and the like. This raises criticism of discrimination (The EU in 2012 banned different rates for men and women, for example), even if the statistics bear out the insurers' broad assumptions about various demographics (Men are crappier drivers, at least in the U.S.). It also leads to undercharging or overcharging customers who fall outside such generalizations.
Telematics changes all that, allowing carriers to examine how a person actually drives. Under usage-based insurance (UBI), however, a teenage boy (one of the most notoriously bad driving demographics in the U.S., according to the CDC) who drives safely and flawlessly in America can theoretically avoid being pigeonholed with less responsible peers — thereby saving himself or his parents higher rates. Conversely, a member of a seemingly low-risk demographic who in actuality drives like a manic can be tagged with higher premiums before they get in a wreck.
UBI also can encompass "pay-as-you-drive" insurance — which only charges a customer based on actual miles driven. Let's say you own a car in a big city but rarely drive it. Such a policy wouldn't bill you for the time it sits idle in a garage.
UBI technology can be in the form of a "dongle" plugged into the OBD-II port, contained within an app (your phone, after all, can measure and detect motion) or come from the car itself.
Going to the phones
Griffith said Thursday that the company was replacing the Snapshot plug-ins with smartphone app editions of the service.
"It collects the same things," she said of the app: miles driven, time of day and hard braking. She added that "only for research and development, we collect GPS."
Progressive started with Snapshot Mobile in four states in December 2016, and Griffin announced that as of Thursday, the software would replace the plug-ins in 22 other states.
The company had a "pretty aggressive timeline" for a national rollout, she said.
About 35 percent of Progressive's direct customers — those who buy policies without using an agent — were on Snapshot already, up from around 33 percent last year, according to Griffith.
"We are excited about mobile for a couple of reasons," Griffith said. Among then, there's "much less expense on our side" — there's no need to manufacture and ship the plug-ins.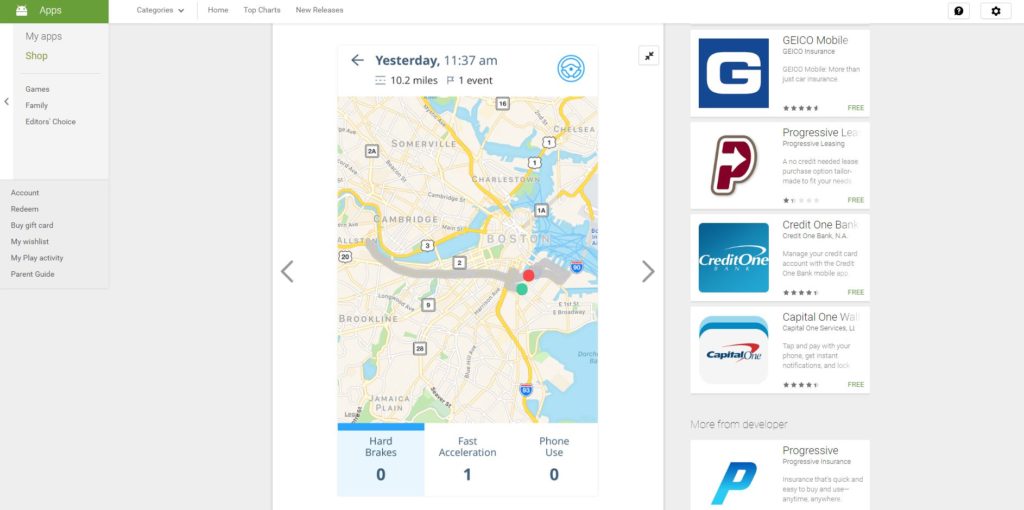 Progressive should eventually be able to see and estimate how your phone usage affects your driving, according to Griffith. Though the concept was in its infancy, she described potential "segmentation enhancements" along the lines of "talking on the phone, hand-held, whether you're on the phone, or on an application."
Smartphones ought to provide "much more insight into actual distraction" and confirm the hypothesis that distracted driving is producing more frequency, according to Griffith.
The company was seeing some "interesting data" from smartphones, she said.
"We are excited about that," she said.
But the smartphone app will likely only be a temporary means as well.
"Ultimately, we'll get that data from the car," Griffith said.
Progressive has a deal with General Motors to obtain data directly from GM vehicles model years 2016 and newer. Under that partnership, customers can opt in to have Progressive track their driving habits and offer them a quote based upon that behavior.
"It's been in pilot mode," ASI Vice President of finance Trevor Hillier said, according to a Seeking Alpha transcript. But this month, Progressive and GM were going to a "more active mode," he said, according to Seeking Alpha.
Asked if Progressive was talking to other automakers, Griffith said "we're always interested" but she couldn't discuss it further.
Better security, less privacy
The smartphone and in-vehicle data collection from an OEM raise serious, serious questions about privacy and data ownership, even on an opt-in basis.
However, the Progressive-GM partnership also seems to solve some issues raised by relying on a cellphone or dongle.
Pulling data from the car itself is going to produce higher precision than Progressive's cellphone telematics, at least based on CCC's experiences developing its Drive telematics solution. (OBD-II devices and in-vehicle data are more accurate than phones, CCC said. On the other hand, Progressive wants to also study how your phone usage affects your driving.)
And having an OEM license and transmit customer data — with their permission, of course — to third-party services like Progressive might solve a major vehicle cybersecurity concern. (So does the phone-based telematics, of course — as long as the phone isn't communicating with the vehicle. Then all bets might be off.) Because having a zillion third-party dongles vying for an unsecured OBD-II port is a recipe for disaster, experts have said.
Either hackers will infiltrate the car through security flaws in that device or, in the tradition of email scams, they'll send you something that looks like a legitimate dongle but breaks all hell loose once plugged into your car. Such hacking doesn't even need to be the worst-case control-your-car-remotely scenario to hurt you. The amount of personal data being shared with your vehicle also could be a target.
How does UBI affect a shop?
For collision repairers, there are a few considerations. There's the possibility that greater scrutiny leads to better driving — though Progressive said Thursday that wasn't the case.
Griffith said there's "very little" difference in driver behavior once they switch to Snapshot and Progressive's watching. (A bad driver is just a bad driver, apparently.)
Distracted-driver software has shown some promise in correcting bad behavior in that front, so it'll be interesting to see if Progressive makes any headway there.
What seems more plausible under UBI is those bad drivers receive higher premiums and leave their carrier for a less technologically savvy or less expensive one. For a direct repair program shop, that's potentially problematic. If you partner with an insurer with the ability to identify bad drivers and shed them through disincentives before a crash happens, will you see your referral volume decrease?
But the biggest disruption from UBI to collision repair will likely be the accompanying capability for electronic first notice of loss. The telematics fueling UBI provide the capability for a carrier to detect a collision, gauge if the car has light, medium, heavy or total-loss damage and immediately tow the car straight to a salvage yard or start pitching an appropriate direct repair shop. OEMs, meanwhile, will be doing the same with certified repairer networks.
More information:
Progressive annual letter to shareholders
Progressive, May 4, 2017
Progressive 2016 and first-quarter earnings call
Progressive, May 4, 2017
Seeking Alpha transcript of 2016 and first-quarter earnings call
Seeking Alpha, May 4, 2017
Images:
Progressive's Snapshot is seen in this image provided by the insurer. (Provided by Progressive)
This screenshot from Google Play shows Progressive's Snapshot app. (Screenshot from play.google.com)
Share This: