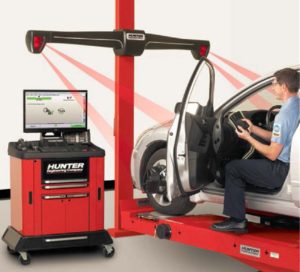 Hunter, which has called attention to the lack of consistency among OEM advanced safety system recalibration procedures, has been working on an aftermarket method able to handle multiple automakers' vehicles.
The company had already been chosen by Nissan to provide factory tooling for recalibrating the OEM's adaptive cruise control and forward collision warning systems. It has developed software support to recalibrate Ford and Chrysler.
However, though the hardware is identical to the OEM's for Nissan recalibrations, Hunter developed its own software for Nissan and the other two OEMs for aftermarket use.
For a collision repairer, this raises the usual dilemma over aftermarket tools or parts: With a safety system — and ultimately, a computer driver — controlling a 3,000-pound, 60 mph block of metal carrying human beings, can you afford to take the risk of an imitation?
However, there are precedents for OEMs giving aftermarket equipment a blessing for usage on their vehicles — or at least a method of ensuring some equivalency. Automakers review manufacturers' tools for use in collision repair — rivet guns being one high-profile recent example. The J2534 Society of Automotive Engineers standard offers aftermarket scan tools access to some — but not all — OEM reprogramming.
Hunter's wheel service products also undergo OEM approval, Hunter alignment senior product manager Kaleb Silver said. U.S. and Asian automakers often opt for a more basic approval of equipment for entry into a catalogue, he said: OEMs look at the device, decide it performs the relevant function, and the tool manufacturer is cleared for the equipment program.
Others, typically German OEMs, demand a "rigorous testing scenario," and Silver said Hunter is the only wheel alignment manufacturer to obtain OKs from all three of the Volkswagen-Audi, BMW and Mercedes groups.
The aftermarket question
But on other pieces of equipment, Hunter's in the same boat as aftermarket scan tools: It might seem to work great, but from a liability perspective, the repairer lacks the papal blessing of the OEM, and there's no way to be truly sure the device didn't miss anything.
Back in the mid-2000s, Hunter started to support electronic power steering and electronic stability control calibrations, both of which are often required after a wheel alignment, Silver said. He added later that aftermarket shops have been quick to adopt Hunter's solution, even without OE blessings, and praise the lengths Hunter goes to in making the reset procedure simple and easy to follow with onscreen instructions.
In 2009, Hunter began selling the CodeLink tool, an OBD-II interface to allow calibration of steering angle sensors as well as any other sensors (yaw, torque, etc.) needing it after a wheel alignment. In 2013, it released a second-generation CodeLink. They use OEM documentation to duplicate OEM reset procedures.
OEMs must build vehicles that satisfy consumer demand for safety systems, real or perceived, and get that technology to market before the competition. The advanced driver assistance systems must also work well enough to keep regulators (or worse, lawyers) coming after it should the technology fail.
As Silver and others have indicated, once an OEM hits upon this solution, it's going to move on and not spend time and money trying to develop a plan B to make a body shop or tool manufacturer's life easier.
This could change to follow 2016 National Highway Transportation Safety Administration guidance that OEMs should beware of impractical calibration requirements that lead to "predictable abuse." To some degree, this is what the NHTSA was investigating with the high-profile Tesla Autopilot crash — did Tesla build in enough safeguards to guard against human nature?
In this case, the NHTSA appears to agree with public comments from Hunter arguing that shops will either make mistakes or fail to calibrate safety and autonomous systems altogether should the OEMs throw too many different and expensive requirements at them.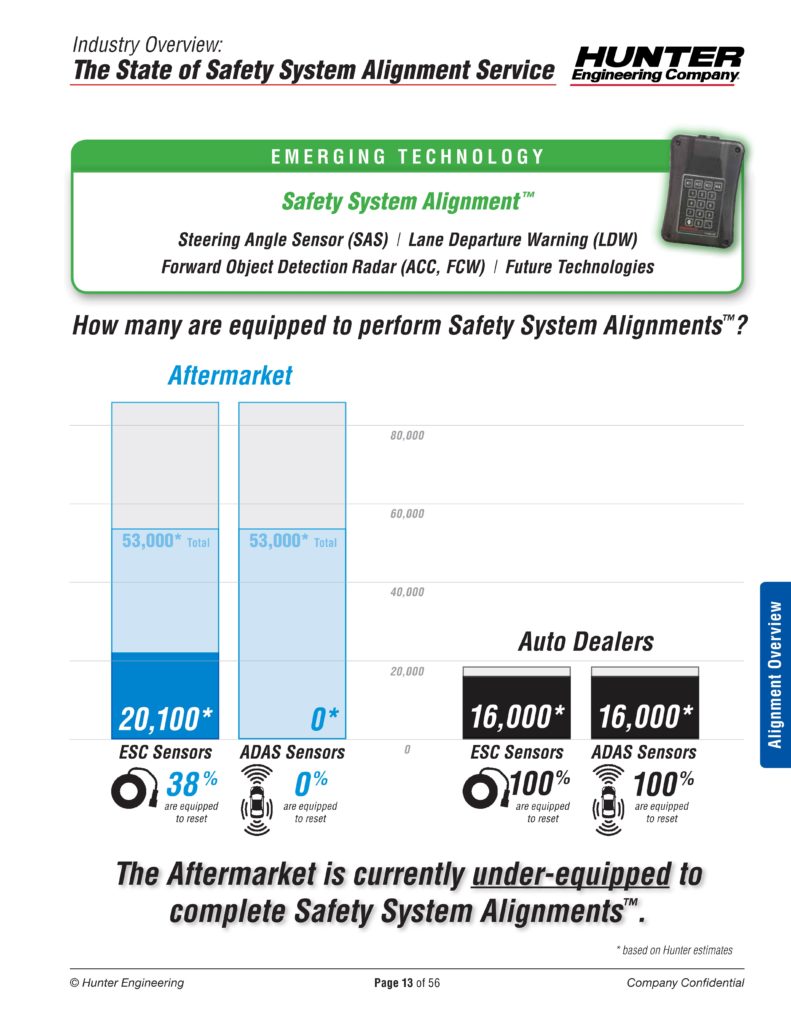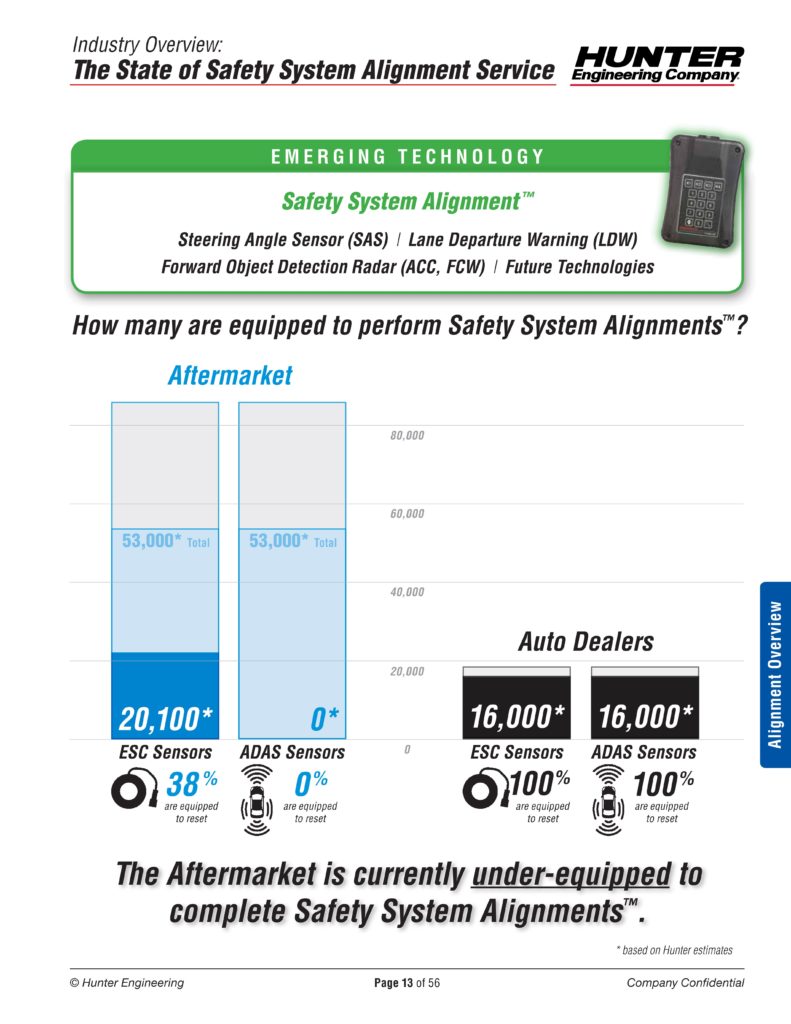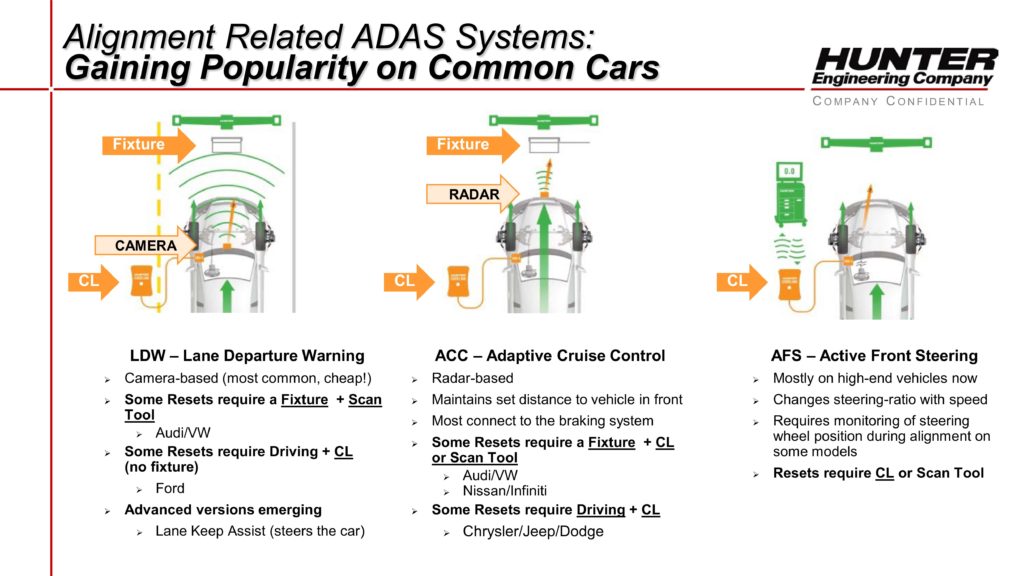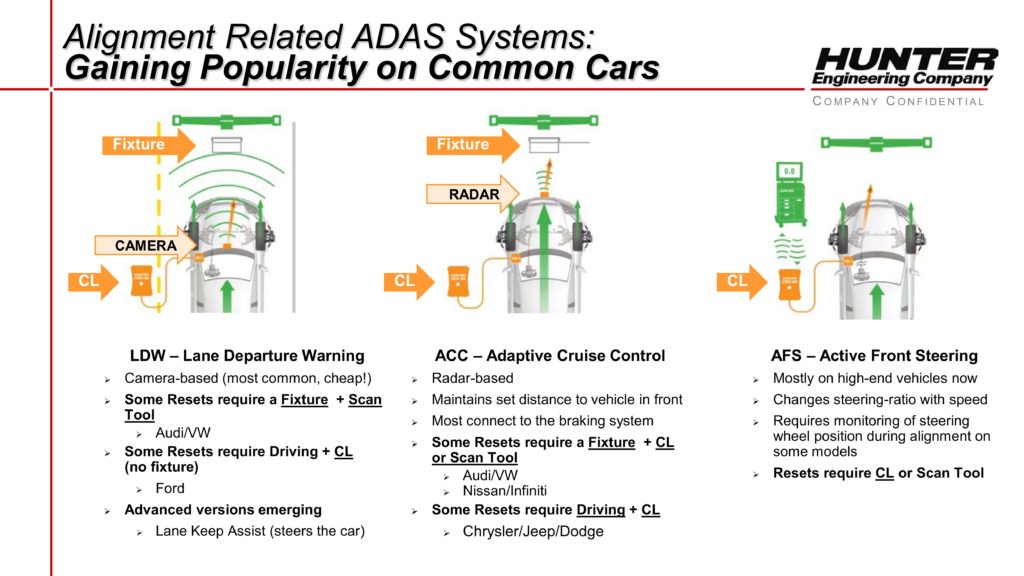 An aftermarket device is one solution, and other suppliers might be following Hunter's lead and producing a third-party means of calibration. Safelite has mentioned working with Bosch to develop a method for preparing ADAS systems following the glass company's windshield replacements (which can affect cameras mounted in rear-view mirrors).
Other glass companies are rolling out similar recalibration mandates, though it's unclear if they're using an OEM or aftermarket option to do so. (Any shop can buy OEM calibration equipment. It just gets expensive.)
Silver said that Hunter's system should match an OEM's. There's not the same "lead-time" concern reported for other aftermarket technology, such as scan tools which can lack diagnostics capabilities for later model years.
"The timing of that is less than a concern," Silver said. In that regard, "we're not doing anything differently than the OE would," he said.
The Hunter tool's specifications and commands are the same as the OEMs', Silver said. And even if an OEM changed its calibration procedures (a la Tesla's over-the-air updates), "they're not likely to have changed the command to run it" — which is what Hunter is sending to the vehicle to start the process.
Should an OEM change the command, though, Hunter would need additional development to catch up, Silver said. However, "we keep a watch for" OEM changes and test equipment on actual vehicles, he said.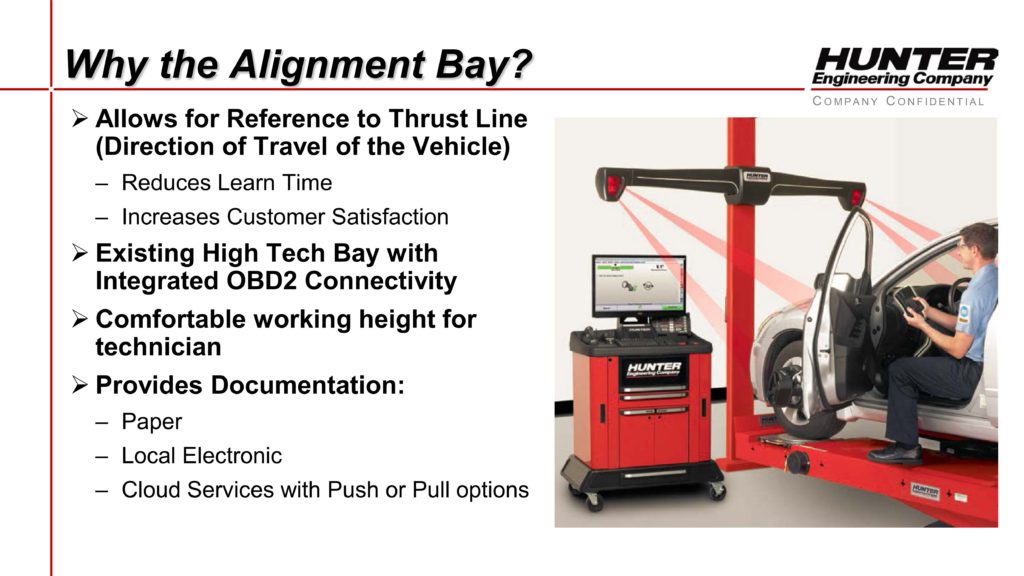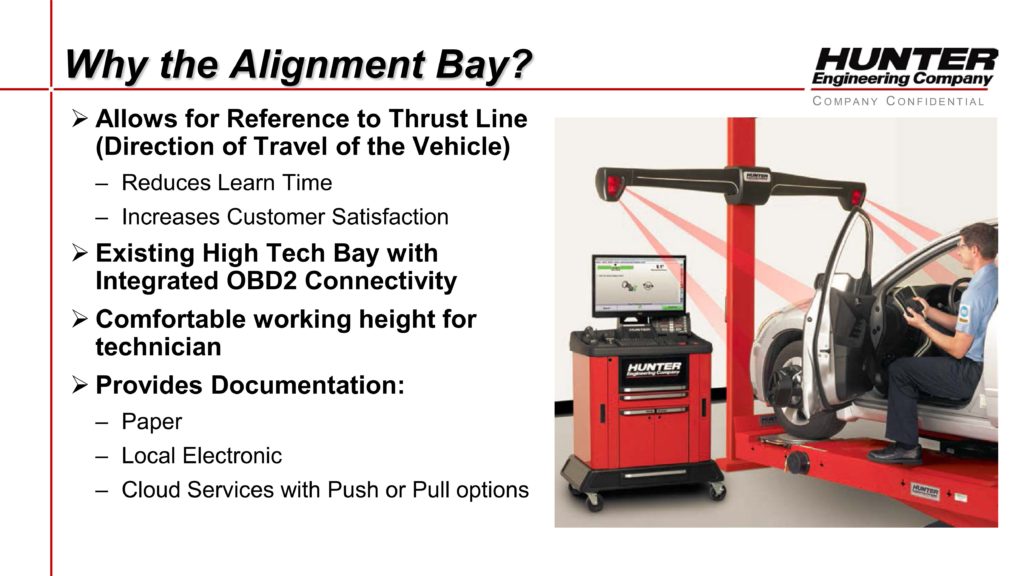 Functionality test
The need for certainty could be met should OEMs develop a means of testing functionality of advanced safety systems. Silver advocated for this capability, a concept which also has seen support from the Society of Collision Repair Specialists and SEMA. Is a system like automatic braking working properly following a wheel alignment, collision repair or customization work?
A functionality test might be necessary regardless of if OEMs allow aftermarket recalibration tools or insist on their in-house techniques. Unlike a mechanical, physical quality like wheel alignment, it's impossible to tell from looking at a car whether ADAS systems are behaving correctly.
A shop might have done everything recommended by a manufacturer in good faith but still thrown off the car's perception through some error or another. The technicians — and a vehicle owner — need a way of knowing that the vehicle is indeed safe to operate in autonomous or ADAS modes.
"That's a big piece that's missing from all this," Silver said.
Hunter's system at least logs the vehicle' status message after a reset, calibration or alignment is complete. The company can report that as well as the before and after conditions, similar to what is displayed with a wheel alignment.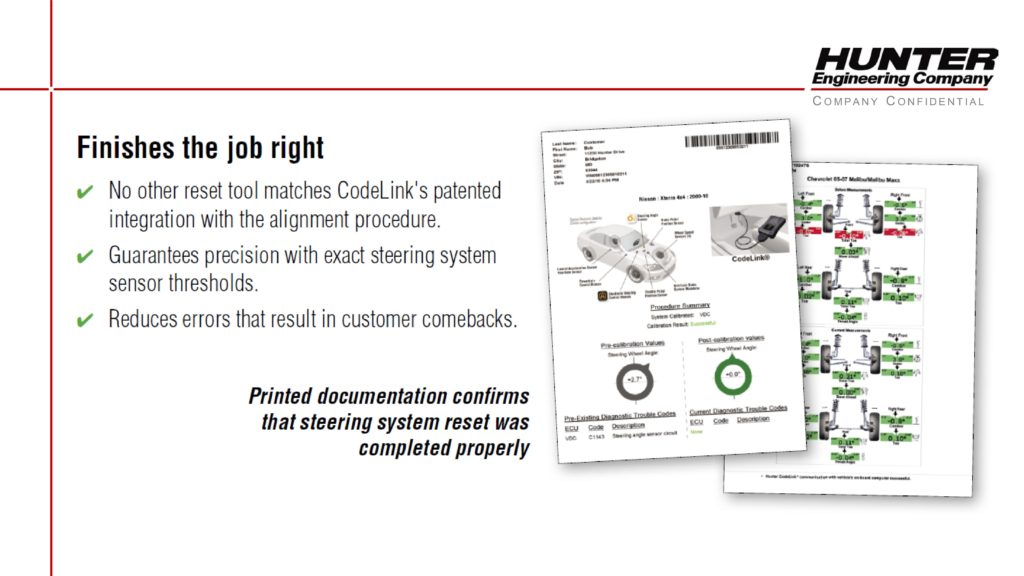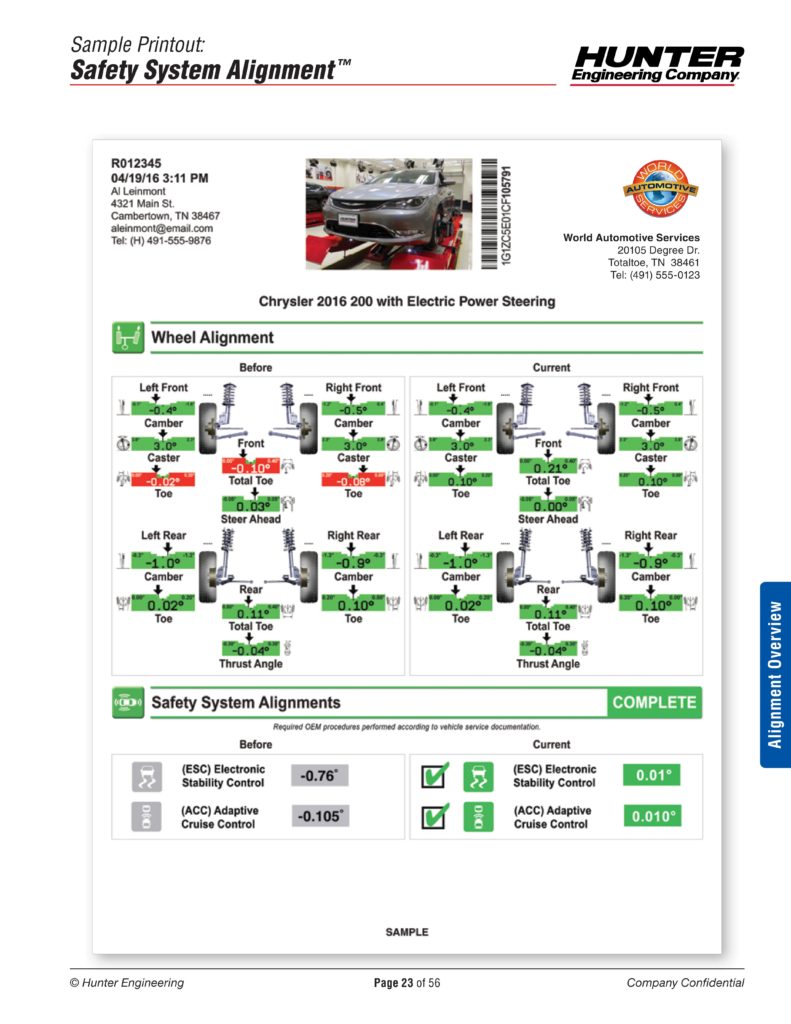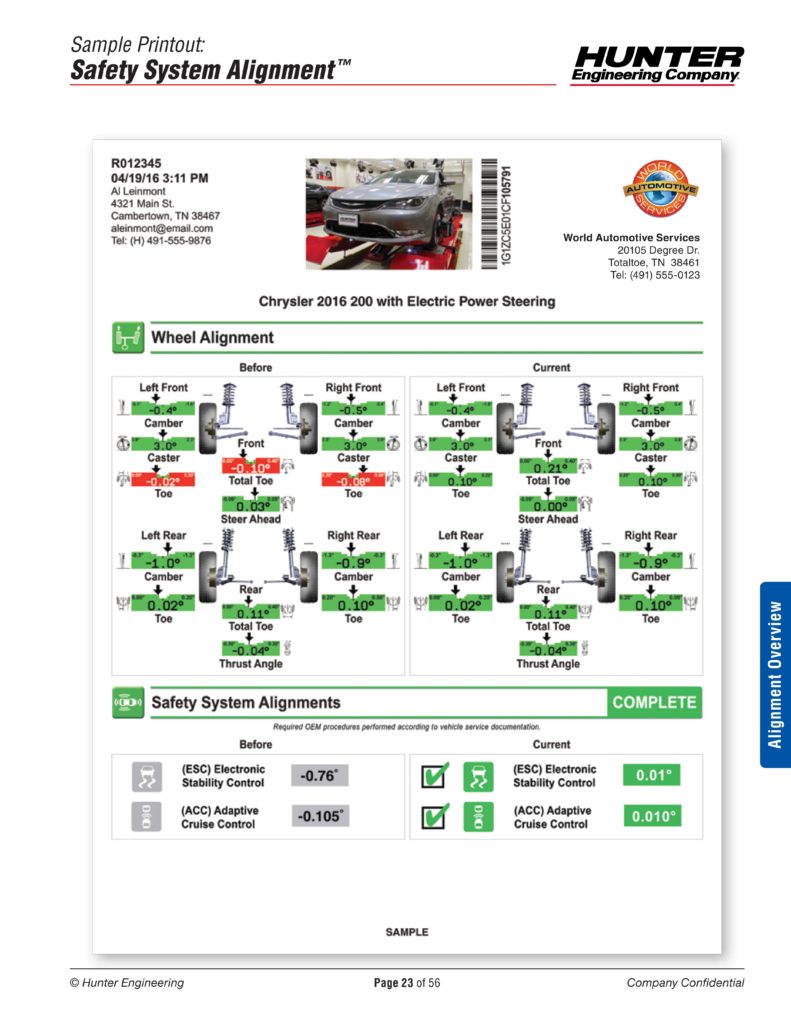 That provides some legal cover for a repairer. For if a tire shop aligns wheels but fails to reset an ADAS system, and the ADAS technology later malfunctions, "where does the liability lie?" he asked.
In this vein, even a shop which correctly recalibrated safety technology but lacks proof could face customer service or even legal headaches down the road should a complaint arise. (This is the high-tech version of "the vehicle was working fine until your repair" claims.) " '
Silver said another advantage to using Hunter's version involves its association with wheel alignment. An OEM might instruct a repairer to steer straight ahead to calibrate a system. But Hunter's option can actually measure what "straight ahead" actually means and confirm it's been achieved — rather than having a technician eyeball it and say "looks close enough," according to Silver. For a steering angle sensor reset, such precision is "a big deal," he said.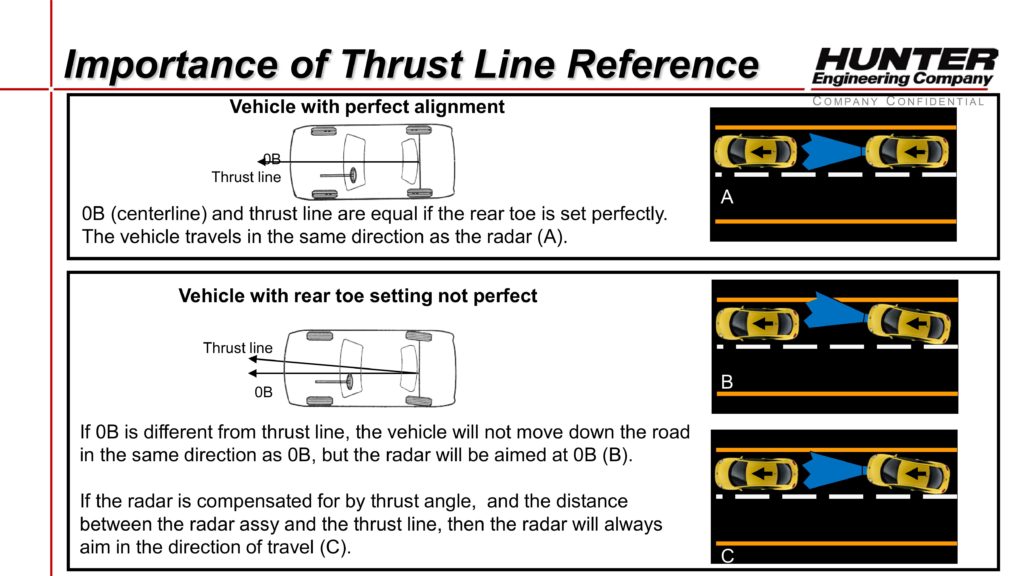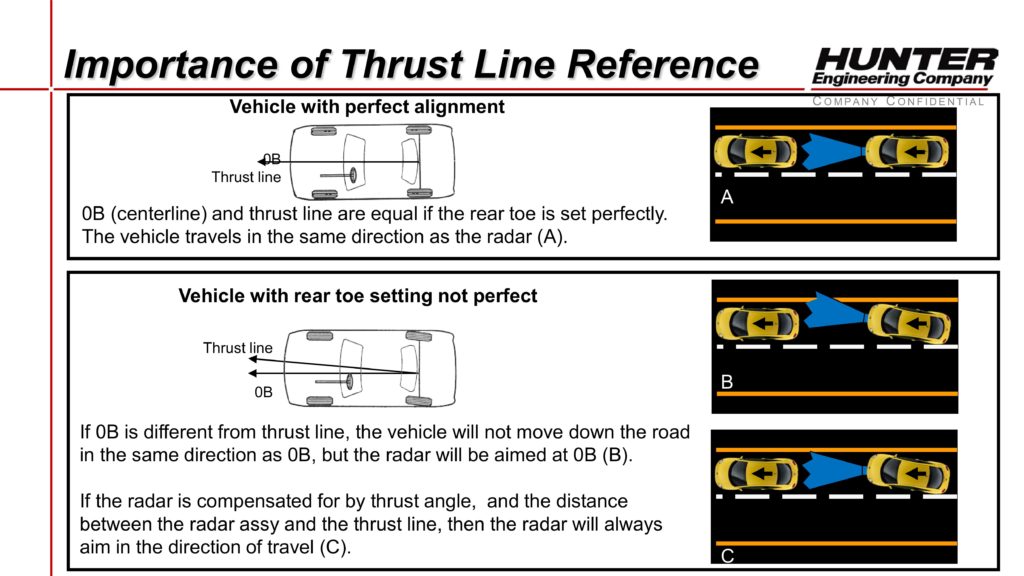 More information:
Hunter Learning Channel on YouTube
IIHS overview of electronic stability control
"Guidance: Safety-Related Defects and Automated Safety Technologies"
National Highway Traffic Safety Administration, Sept. 23, 2016
Comment from Nicholas Colarelli III for Hunter Engineering
Hunter via NHTSA, May 2, 2016
Alliance of Automobile Manufacturers, Automotive Service Association, Auto Care Association et al, Dec. 13, 2016
Images:
Images 1, 4: Hunter Engineering, which has called attention to the lack of consistency among OEM advanced safety system recalibration procedures, has been working on an aftermarket method able to handle multiple automakers' vehicles. (Provided by Hunter)
Images 2, 3: For shops that sublet wheel alignment, it's vital to confirm one's business partner is and has been performing such electronic stability control checks. For shops performing the work in-house, the responsibility lies with the repairer.  (Provided by Hunter)
Images 4-5: Hunter's aftermarket steering angle sensor calibration system at  logs the vehicle' status message after a reset, calibration or alignment is complete. The company can report that as well as the before and after conditions, similar to what is displayed with a wheel alignment. (Provided by Hunter)
An OEM might instruct a repairer to steer straight ahead to calibrate a system. But Hunter Engineering can actually measure what "straight ahead" on a vehicle actually means and confirm it's been achieved — rather than having a technician eyeball it and say "looks close enough," according to Hunter alignment senior product manager Kaleb Silver. For a steering angle sensor reset, such precision is "a big deal," he said. (Provided by Hunter)
Share This: