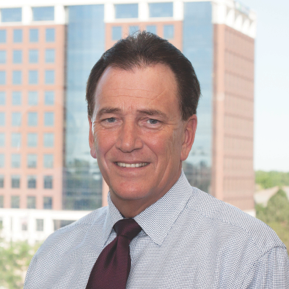 Phoenix Solutions Group President and founder Steve Schoolcraft, who took up the challenge of marketing the "on-demand product" of collision repair and built that success into a 700-shop client base, died suddenly last week, a colleague said.
Schoolcraft was 61.
Body Shop Booster CEO Ryan Taylor, whose product is exclusively distributed by Phoenix and who had worked closely with Schoolcraft, said his colleague died unexpectly in his sleep sometime between Thursday night and Friday morning.
"He was a healthy guy," Taylor said. "… He could outrun me at 61."
The two men had dined just hours prior to Schoolcraft's passing, excitedly discussing future speaking engagements. ("He's got all these big plans," Taylor recalled.)
They were scheduled to speak that Saturday to the Coyote Vision Group, and "you can't imagine how hard it was" to break the news, Taylor said.
Marketing legacy
Schoolcraft graduated from the Lake Forest Graduate School of Management and worked 25 years for Sun Chemical — where he was responsible for more than 3,500 people — and Illinois Tool Works, according to Taylor and a 2015 PPG MVP event biography.
"Today he is a sought after speaker and author," the PPG MVP bio states. "His numerous white papers have been instrumental in dimensioning what factors influence collision sales growth and are a must read."
"The guy was really an iconic figure in our industry," Taylor said.
Schoolcraft's Phoenix began marketing to collision repairers in 1989, and began to exclusively focus on that industry in 1997. In 2015, Phoenix handled marketing for 500 collision repair facilities, according to the PPG MVP copy. Today, that number was up to about 700 shops, Taylor said Monday.
"Steve was a marketing genius," Axalta North American strategic accounts manager Steve Trapp wrote on a "The Secrets of America's Greatest Body Shops" Facebook post remembering Schoolcraft.
"I will miss him greatly."
Taylor said he thought the intellectual challenge of auto body marketing had kept Schoolcraft in the business.
Body shops pose a marketing dilemma, for conventional advertising focused on an "impulse buy" just doesn't work, according to Taylor. Collision repair is an "on-demand product," one that a consumer would never research ahead of time, he said.
"It's a completely different mindset," Taylor said.
Ironically, Schoolcraft initially had bluntly rejected the idea of collision repair marketing when existing Illinois dealership clients asked him about expanding to promote their auto body shops, according to Taylor. The Phoenix founder felt that the dealerships' collision centers were too small to be worth his time, Taylor said.
But the dealerships "coerced him," and Schoolcraft realized "nobody is in this place," Taylor said.
Talyor said he first realized Schoolcraft's marketing skill when he began selling Body Shop Booster. Some of his customers never saw sales improvements, some did OK — and others were "absolutely crushing it." He looked closer and discovered all of the top-performing shops had Steve Schoolcraft handling their marketing.
Thanks to Schoolcraft's advice, Phoenix shops have doubled — and even tripled — their business, Taylor said.
"It's truly, truly amazing," he said.
He said one of Schoolcraft's greatest abilities was providing shops with "actionable intelligence" about trends and how to prepare for them.
"That's really what Steve was masterful at," Taylor said, calling it like a "magic trick" how Schoolcraft would predict something a year before it occurred thanks to research, scrutiny, and an intelligence network.
Satisfied customers
One of Phoenix's hundreds of clients was Minnesota MSO LaMettry's Collision, and Vice President of operations Darrell Amberson on Tuesday recalled Schoolcraft and Phoenix's contributions to the chain.
The business relationship began a few years ago, Amberson remembered, and LaMettry's saw "a very measurable improvement in our CSI scores" from the partnership.
Schoolcraft himself would visit the shop twice a year to present and review CSI metrics for an audience of LaMettry's entire administrative team "and then some," according to Amberson; even some technicians attended.
"He was a great presenter," Amberson said, remembering Schoolcraft had a "great sense of humor" and "loved to have fun."
"He'd always show up with some funny stories," Amberson said,
Phoenix also offered a more complex product than some of its competitors, drilling far down into the data, and Schoolcraft would use this to assist LaMettry's.
"He would put a lot of analysis into it," he said.
Amberson also remembered Schoolcraft as a "student of the industry."
Phoenix endures
Schoolcraft's current role at Phoenix involved higher-level oversight and numerous speaking engagements, having built "a machine that ran by itself," according to Taylor.
He said Phoenix client development Vice President Tina Biancalana — the "brains of the operation" — would oversee the company until the Schoolcraft family has a chance to make more formal decisions about the firm.
Taylor said Schoolcraft had put together a "masterful team," which while reeling would continue to deliver results to clients and preserve Schoolcraft's vision, a point he repeatedly stressed.
"I call him the Steve Jobs of the collision era," Taylor said: Like Jobs' Apple, Phoenix will endure despite the loss of a visionary leader, he said.
"It'll carry on, his legacy," Taylor said of Schoolcraft. "But gosh, what a heartbreak to lose him."
Schoolcraft is succeeded by his wife, Alexis; sons, Michael and Nicholas; and one granddaughter. A funeral is planned 11:30 a.m. Thursday. Continue to check Repairer Driven News for more details from Phoenix.
Featured image: Steve Schoolcraft, the late founder and President of Phoenix Solutions Group. (Provided by Body Shop Booster)
Share This: