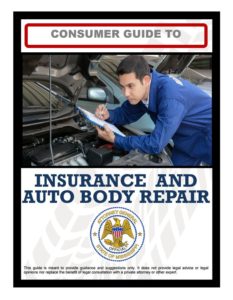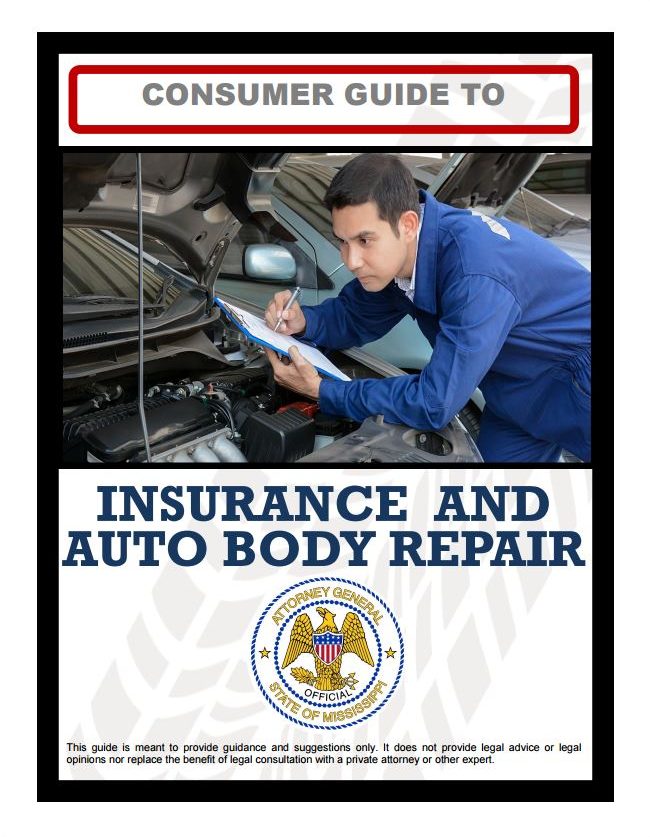 After nearly a year of work by a low-profile but high-powered task force made up of insurers, collision repairers, OEMs, aftermarket parts manufacturers and Mississippi's attorney general and insurance commissioner, the state has released a "Consumer Guide to Insurance and Auto Body Repair."
"To say this is a monumental day would be an understatement," the Mississippi Collision Repair Association wrote on Facebook Thursday. "Please follow the below link to the document, print copies to keep at your shop to provide to customers. This is a testament to the good that can come when shops, insurance companies, parts makers, and regulators come to the table for the good of consumers."
The document announced Thursday by Democratic Attorney General Jim Hood is a straightforward, short booklet that clearly explains and defines some aspects of auto body repair which can be muddled during the claims process.
It stresses that customers can pick their own shop but offers considerations before doing so and questions to ask before the repair, and it provides a list of items to inspect upon receiving a repaired vehicle.
It notably declares OEM procedures to be the proper way to fix a car — and advises customers to ask a shop if they're using them.
Ask the shop about the repair process for your vehicle and how those compare to manufacturer guidelines for those procedures. …
A proper repair is performed pursuant to the original equipment manufacturers' ("OEM") repair procedures and using OEM or OEM equivalent parts that have been properly tested pursuant to or meet the manufacturers' specifications.
It also follows up the "OEM repair procedures = proper repair" definition by defining the shop and insurer's roles — roles that both sides seem to forget from time to time.
"It is the duty of your insurance company (or the third party's insurance company) to pay for a proper repair," the guide states. "It is the auto body repair shop's responsibility to make the proper repair."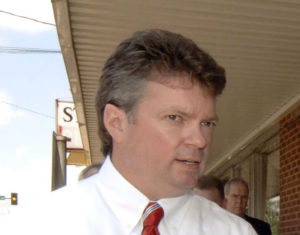 Hood's office on Thursday said the goal of the Mississippi Auto Repair Task Force was to "give consumers some guidance on navigating the relationship between the collision repair and insurance industry" — a diplomatic way of putting it.
"Our Consumer Protection Division receives complaints from consumers about disputes between insurance companies and collision repair shops," Hood said in a statement. "Due to the lighter space age materials used in newer model cars, the repair procedures, machines, and training for collision repair technicians are very technical and expensive.  In order to place a vehicle back in its pre-accident condition, some body shops have to buy expensive machines or tools and have their technicians trained and certified on the repair procedures for certain makes of vehicles.  Some collision repair shops which do not obtain these certifications and tools, may offer to do a repair cheaper.  The goal of the insurance companies is to keep repair prices as low as possible.  Therein lies the conflict for consumers to navigate.  Our goal is to help consumers be aware of issues and understand their rights in the repair process."
The task force, assembled by Hood in August 2016, "met to find common ground on best practices for the future and discuss concerns and desires to better meet the needs of consumers."
Clinton Body Shop owner John Mosley praised the consumer guide on Facebook Thursday and called working on the task force a "privilege and pleasure."
"The days of 'the cheapest price is the price we pay' has reached an end," wrote Mosley, who ran unsuccessfully against fellow task force member Insurance Commissioner Mike Chaney out of frustration with the Insurance Department's handling of collision repair issues. "When you need collision repairs, do your research and make your shop choice based on reputation. Don't stop there; educate yourself to your vehicle's needs. Find out if the shop is capable of making a proper repair. This guide will help you understand your choices and your options."
"We as an association are proud of the end product this over year long study group has produced," MSCRA Executive Director John Morgan Hughes wrote in an email. "I hope this document serves as a testament to the power of shops, insurance companies, parts makers, and regulators all coming to the table for the benefit of consumers. Our members are committed to making safe and proper repairs and this document will be a great educational tool to let consumers know their rights. We thank Attorney General Hood and Commissioner Chaney for their leadership and courage to tackle this issue head on."
The Property Casualty Insurance Association of America refused to support the consumer guide.
"While PCI generally appreciates all efforts to educate consumers on auto body repairs, we are disappointed with the Consumer Guide to Auto Body Repair recently issued by Attorney General Hood," Joe Woods, PCI state government relations vice president, said in a statement Thursday. "Principally, PCI is concerned that the Guide may confuse and mislead consumers and body shops because it differs significantly from repair requirements proscribed by Mississippi law and from directives issued by the Mississippi Department of Insurance.
"Moreover, the Guide does not recognize that insurers and consumers share the same goals following an accident — ensuring the consumer's well-being and the prompt and proper repair of the damaged vehicle. Nor does the Guide note the important role insurers play in protecting consumers from being taken advantage of when estimates include excessive charges or operations that are not necessary to properly repair a vehicle.
"Because of the likelihood of confusion for consumers, PCI cannot sign on to or otherwise support the Guide."
More information:
"AG HOOD, AUTO REPAIR TASK FORCE RELEASE CONSUMER GUIDE FOR INSURANCE AND AUTO BODY REPAIR"
Mississippi Attorney General's Office, May 25, 2017
Mississippi Consumer Guide to Insurance and Auto Body Repair
Mississippi Attorney General's Office, May 25, 2017
"Insurers Respond to Mississippi Auto Body Repair Consumer Guide"
Property Casualty Insurers Association of America, May 25, 2017
Images:
After nearly a year of work, a low-profile but high-powered task force made up of insurers, collision repairers, OEMs, aftermarket parts manufacturers and Mississippi's attorney general and insurance commissioner has finished and released a "Consumer's Guide to Insurance and Auto Body Repair." (Provided bu Mississippi Attorney General's Office)
Mississippi Attorney General Jim Hood. (Marianne Todd/Getty Images)
Share This: