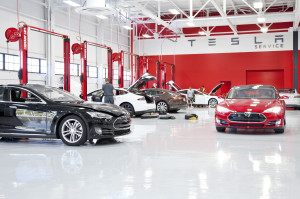 State Farm correspondence seems to suggest that AudaExplore's exclusive deal with Tesla is ending and CCC will also have the OEM's repair procedure labor times starting in July.
An email from an State Farm estimatics team manager provided to Repairer Driven News declares that the Model S database will be available with CCC's July DVD. The Model X will follow the next month, and the Model 3 data will come in the fall.
The email encourages the information to be disseminated to unspecified teams.
"I think this will really be great and will be so helpful to resolve the issue of Select Service repairers having to run Audatex and then a base/duplicate on CCC in order to get the images and an estimate up into the queue," the email states.
Asked for comment and confirmation of the timeline, CCC replied in a statement Tuesday, "CCC can't comment on email correspondence taking place within another company and doesn't have any announcements to make at this time."
Tesla press and auto body representatives did not respond to a Thursday request for comment.
Asked if it was in talks with Tesla about that information as well, Mitchell auto physical damage sales and service, repair Vice President Jack Rozint wrote Friday, "It would be accurate to report that Mitchell is in ongoing discussions with Tesla on issues related to vehicle data."
Solera Global Automotive Center OEM relations Vice President Gary Gumushian in 2015 would not discuss the duration of the exclusivity deal, which was announced Aug. 3 of that year. He said then that Tesla picked Solera because of its global reach; the OEM planned to roll out the integration not only in North America but Europe and China.
OEM repair instructions for Tesla are still unavailable to uncertified collision repairers outside of Massachusetts. The AudaExplore (and now CCC) deal merely delivers Tesla's data on how long those procedures are expected to take for estimating purposes.
But the expansion of the Tesla times to other information providers would certainly avoid rekeying hassles as well as insurer-repairer disputes over how an estimate had been translated from one estimating system's architecture to another's. It also gives Tesla-certified shops a greater choice of which IP to buy for their shop.
Hopefully, the contracts for any certified shop who bought AudaExplore in 2015 solely for Tesla synced up with the exclusivity timeline or at least were told in confidence how long that exclusivity would last. Otherwise, it'd be kind of unfair if those Tesla shops were unknowingly locked in longer to Solera than Tesla was.
More information:
"Tesla Motors Selects Solera as the Sole Provider of Collision and Customer Communication Services"
Solera via PRNewswire, Aug. 3, 2015
Featured image: A Tesla service center is shown in this undated photograph provided by Tesla in 2012. (Provided by Tesla)
Share This: