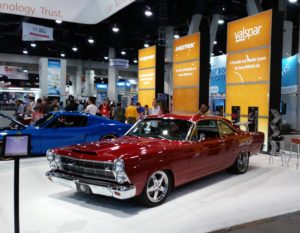 Calling it Valspar Automotive's largest project ever, Valspar on Thursday announced that its $10 million worth of expansions in Texas and Pittsburgh will grow its automotive refinish output 200 percent.
"The stage is set for our commercial organization to deliver products on time and at the required level of quality to grow our business over the next five years," Valspar Automotive North America business director Dave Brunori said in a statement.
The timing is fortuitous — for Sherwin-Williams. The competitor plans to buy Valspar for $11.3 billion in a friendly takeover, and the merger appears to be nearing fruition.
Valspar and Sherwin-Williams announced April 12 they would sell Valspar's North American industrial wood coatings segment to Axalta for $420 million — a divestment intended to placate the Federal Trade Commission and Canadian Competition Bureau, which review corporate acquisitions to ensure competition is preserved.
"With this agreement, we believe that we have addressed regulatory concerns appropriately and we are moving forward to obtain approval for our acquisition of Valspar," Sherwin-Williams CEO John Morikis said in a statement.
The two companies had in March extended their merger agreement to June 21 while they looked to sell off an unspecified business (apparently the wood coatings line).
"This extension, especially in light of the agreement announced today, is expected to provide more than sufficient time to complete the Valspar acquisition," Valspar and Sherwin-Williams wrote in a news release announcing the wood coatings sale.
An April 20 Seeking Alpha transcript of Sherwin-Williams' first-quarter earnings call suggests that Wall Street and Morikis are confident the company will indeed be able to buy Valspar.
"Our expectation would be that it is most likely to close before the June 21 date, it doesn't, we have not given that as the date of close," Morikis said, according to the Seeking Alpha transcript. "So the agreement that we that that we had signed originally with Valspar provided for to a provision a three-month extension, it happened to land on June 21 that was the three-month extension. So our hope and expectation as we move through that process is that we'll be able to close before then.
Valspar wrote in a news release the upgrades in Texas and Pennslyvania " have significantly increased manufacturing volumes, and filling and storage capacity for select brands within the Valspar Automotive portfolio, including: DeBeer® Refinish, Valspar® Refinish, Prospray® Finishes and Matrix®Automotive Finishes."
Valspar's Garland, Texas, plant is now up to 1.3 million cans filled a year, up from 450,000 — but "with the capability to grow to more than 3 million," according to Valspar.
The company has also nearly doubled its production of activator and hardener in Pittsburgh.
"We're filling more cans and we're doing it more efficiently," Valspar Automotive global director of supply chain Sue Byrne.
However, the expansion could help collision repairers beyond simply more product being available.
"New technology and equipment automates a number of processes and delivers immediate and greater efficiencies, as well as enhanced quality control, faster filling and mixing times, safer workplaces, and more environmentally-friendly practices," Valspar wrote.
"With automated, in-line equipment there's little-to-no manual intervention in the production process, improving consistency in filling and packaging cans," Byrne said.
Valspar said that it also had increased its storage space by about 300 percent.
The paint manufacturer said the growth was part of integrating automotive and industrial coatings company Quest Specialty Chemicals, which Valspar bought in 2015 for an unspecified amount. The company owned refinishing brands USC, Matrix and Prospray and sold $190 million overall in 2014.
More information:
"The Valspar Corporation Expands Production Capacity for Automotive Refinish Coatings"
Valspar, May 25, 2017
"Sherwin-Williams and Valspar Reach Agreement to Sell Valspar's North American Industrial Wood Coatings Business to Axalta Coatings Systems"
Sherwin-Williams and Valspar, April 12, 2017
"SHERWIN-WILLIAMS AND VALSPAR EXTEND TERM OF MERGER AGREEMENT"
Sherwin-Williams and Valspar, March 21, 2017
Sherwin-Williams first-quarter 2017 earnings call transcript
Seeking Alpha, April 20, 2017
Featured image: Valspar's 2016 SEMA booth is shown. (John Huetter/Repairer Driven News)
Share This: