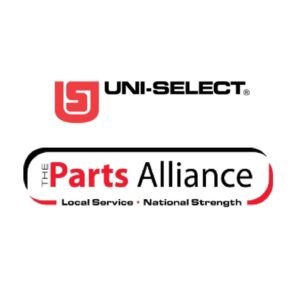 Uni-Select told investors Thursday that its $265 million purchase of the Parts Alliance from Hg Capital was an opportunity to start up a "third pillar" and consolidate the automotive aftermarket parts market in the United Kingdom.
Or even expand elsewhere in Europe, Uni-Select CEO Henry Buckley said, though cautioning: "I want to be clear, we are very focused on the U.K. at this time."
However, the company gave no indication it desired to re-enter that aftermarket parts market in the U.S., instead notifying analysts that it would continue to aggressively pursue its paint, body and equipment and industrial coatings in America. Uni-Select, which owns FinishMaster, is already No. 1 in PBE for the country.
Buckley called Uni-Select's "acquisition pipeline" in the U.S., Canada and U.K. "robust." Asked if he planned on dialing back the company's industrial paint strategy in the U.S. to focus on the U.K., Buckley said no — nor would it stop focusing on its "overall refinish business.'
"Nothing is stopping in that realm at all," Buckley said. Parts Alliance was merely "a runway for future growth," he said.
He repeated this sentiment when asked by another caller if the purchase meant the end of Uni-Select's North America merger and acquisition activity.
"That's 180 degrees from where our head's at," he said.
"We've got a very good runway … in the U.S.," he said, and the company also had plans for both organic and acquisition growth of its industrial business.
"We've got lots of runway to grow at FinishMaster in the U.S.A.," he said.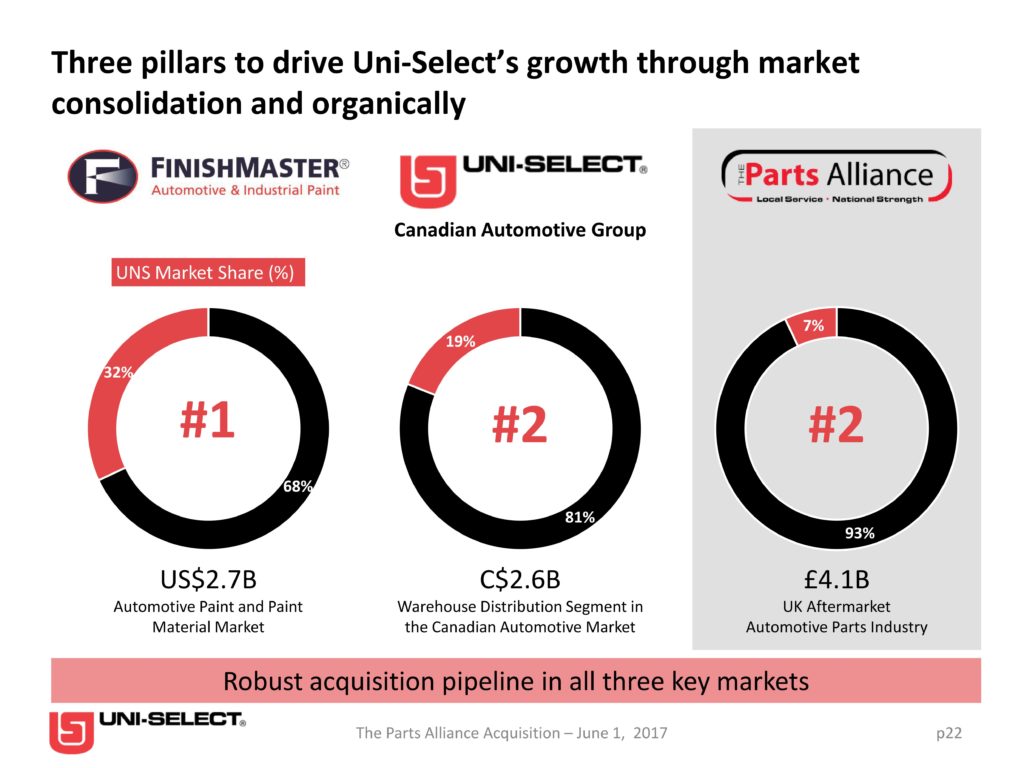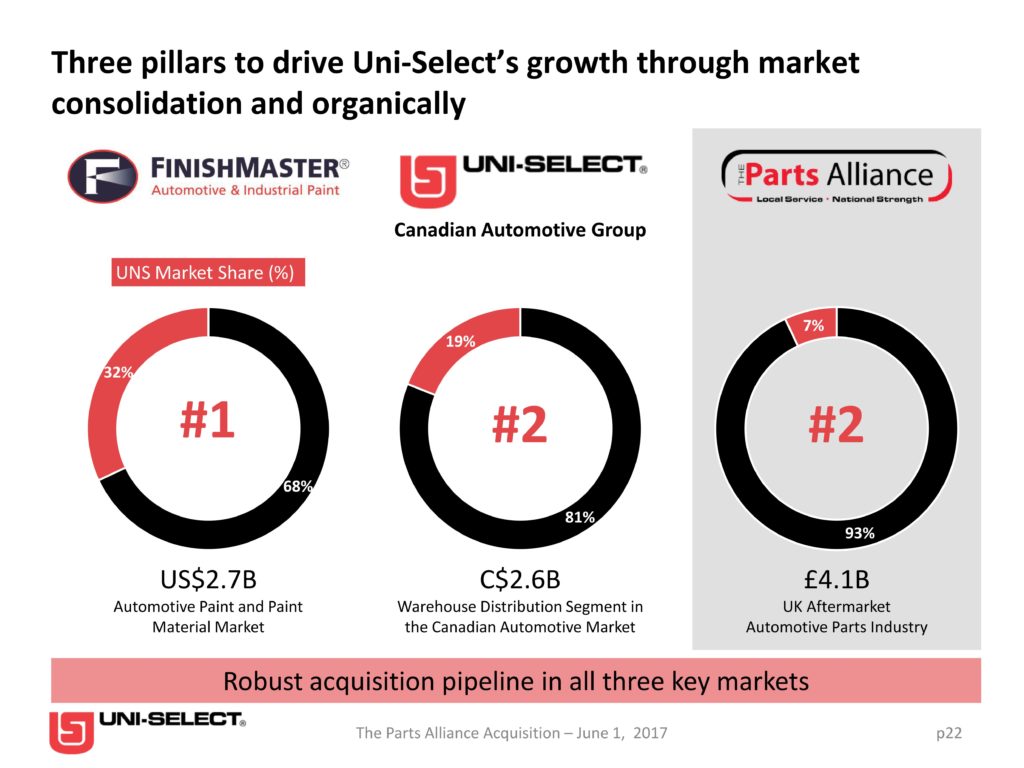 Uni-Select will be leveraged about 3.5 times the combined company to finance the Parts Alliance deal, which works out to be about 9.7 times Parts Alliance's run rate adjusted EBITDA.
That leverage sits at the high end of what Uni-Select Chief Financial Officer Eric Bussières  was comfortable borrowing, but Uni-Select was confident the company's cash flow would be enough to rapidly cut down that debt — and free up more money to buy things in the U.S., Canada and Europe.
Uni-Select Chief Financial Officer Eric Bussières said there'd still be enough flexibility to buy "stuck-ons," and the 3.5X leverage wasn't a hard ceiling — though he didn't sound eager to go much higher.
"Could we go a bit north of that? Maybe," Bussières said, but continued that he felt that using cash to deleverage would give the company "sufficient room" to execute on the company's M&A plans.
"We are generating a healthy cash flow," he said
In discussing the Parts Alliance U.K. deal, Buckley also seemed to imply Uni-Select had no appetite for returning to the U.S. automotive parts business, where it had been No. 5.
"We sold the one segment, which was a big U.S. market, for obvious reasons," he said. "No. 5 player in that market. Really hard to gain share in that business."
This left Uni-Select with two segments: PBE in the U.S., and aftermarket parts in Canada. It wanted a third segment again — and Parts Alliance presented a sweet opportunity, Buckley said.
The reasons why Uni-Select exited the U.S. parts segment in the U.S. are "not there in the U.K.," he said.
Buckley called the United Kingdom the fourth-largest aftermarket parts market in Europe but the most fragmented — evident by Parts Alliance being No. 2 with only a 7 percent market share and the top 3 companies only having a 38 percent share combined. (No. 1 is LKQ subsidiary Euro Car Parts, which Buckley said was nearing "critical mass" in the U.K. and might be looking elsewhere in Europe for growth.)
Parts Alliances' private equity owner Hg Capital had been nearing the point when it would sell the company and move on to another investment, as is typical for such private equity firms, according to Buckley. He said his networking relationship with a Parts Alliance executive allowed Uni-Select to have a "pre-emptive" crack at the acquisition ahead of when Hg Capital had planned to formally start shopping Parts Alliance around.
More information:
"Uni-Select acquires The Parts Alliance, a leading and rapidly growing automotive aftermarket parts distributor in the UK"
Uni-Select, June 1, 2017
"HgCapital announces sale of Parts Alliance to Uni-Select Inc."
Hg Capital, June 1, 2017
Uni-Select conference call with investors about Parts Alliance deal
Uni-Select, June 1, 2017
Uni-Select investor presentation on Parts Alliance deal
Uni-Select, June 1, 2017
Images:
Uni-Select will pay $265 million to buy the Parts Alliance from Hg Capital. (Provided by Uni-Select, Parts Alliance)
Uni-Select told investors on June 1 that it had bought the Parts Alliance, the No. 2 automotive aftermarket parts company in the U.K. (Provided by Uni-Select)
Share This: