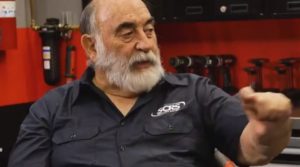 Without the proper application of cavity wax, water will corrode some of the fine auto body work a shop has done — and thanks to the existence of boroscopes, the shop's culpability can be detected, according to an SCRS panel.
Panelists Michael Bradshaw (K&M Collision), Tim Ronak (AkzoNobel), Kye Yeung (European Motor Car Works) and Toby Chess (Kent Automotive) advised shops on considerations for applying cavity wax as well as undercoating in the third part of a free Society of Collision Repair Specialists trilogy on corrosion protection.
Released in April, the three videos (which also include films on seam sealer and primers) are part of the association's free YouTube education series.
Cavity waxes are for use in areas "where water can be trapped," Chess explained. Locations might include the hood, rails, door skins, B-pillars, quarter panels, and deck lids, and anywhere else an OEM specifies, he said. (Toyota, for example, calls for cavity wax between the hood hinge and front reinforcement, he said.)
As you'd expect, a shop would apply the wax after the paint department had completed refinishing.
"Make sure we don't put it on beforehand, because it's like trying to paint over grease or oil," Chess said.
The substance used to be applied with large, awkward guns, but manufacturers now sell aerosol versions with long, flexible wands, according to Chess and Bradshaw. A repairer can easily apply heavy coatings in areas out of normal reach, Bradshaw said.
"There's no excuse" not to use cavity wax, Chess said. And yet, shops still don't, even if it's "one of the easiest things to do at the end," according to Bradshaw.
"In my eyes, that's one of the things we see most commonly omitted from the repair procedure," Bradshaw said.
Post-repair inspections using a boroscope frequently reveal an absence of cavity wax. If the e-coat has been burned off by welding during the collision repair, rust might be present as well.
Ronak suggested that shops skipped the step because there was no way they could be held accountable in the past short of ripping into the vehicle to see what had or hadn't been done. But the development of non-invasive technology like boroscopes changes that, he said. (For a couple of hundred dollars, anyone can snake a camera inside a vehicle's nooks and crannies and check your work.)
"It's creating an opportunity for people to be a little liable for their repairs into the future," he said. If a customer hangs onto the vehicle long enough, "they're going to be held accountable," Ronak said.
Cars don't rust the way they used to anymore thanks to factory and aftermarket techniques, which could make a customer suspicious of its presence after a collision repair. (Check out this 3M comparison of 1,500 hours of salt spray with and without cavity wax. That's only 2 months.) It'd be particularly hard for a body shop to protest its innocence and blame the weather if only the part of the car the shop worked on corroded.
However, sometimes a shop can get too zealous with the cavity wax, and that can also cause problems, according to Yeung. Some panels have areas designed to let out moisture, he said.
"A technician has to be aware of those where not too much cavity wax goes in," he said — otherwise, the shop might mistakenly seal a drainage hole.
"We've seen that quite a bit" on post-repair inspections, Yeung said.
Undercoating
Another portion of the video examined undercoating, which is typically applied in areas like underneath rear body panels, wheelhouses and strut towers, Bradshaw said.
The purpose is shock absorption, according to Chess. "They're not designed for hiding bad bodywork," he said.
"They're used a lot for that," Bradshaw said, and Chess agreed.
Noting that some of the better undercoatings are a thinner material, Chess recommended testing multiple layers of the substance first on a let-down panel to find a good texture match.
Bradshaw wrapped up the video and the entire trilogy by repeating that corrosion protection is a "process" — a series of steps at various times during the entire repair.
"It's not one line, it's not one item, it's not one operation," he said. "It's a process."
A shop should consider factors like how long each of these steps will take, the cumulative total of that time, and what materials are needed, he said.
"Does one line really cover all that expense and all that time that's been invested in that?" he said.
rimer guidelines.
More information:
"SCRS Education Committee Presents – Corrosion Protection Part 1 of 3 – Primers"
Society of Collision Repair Specialists via YouTube, April 4, 2017
"SCRS Education Committee Presents – Corrosion Protection Part 2 of 3 – Seam Sealers"
SCRS YouTube channel, April 4, 2017
"SCRS Education Committee Presents – Corrosion Protection Part 3 of 3 – Cavity Wax and Undercoating"
SCRS YouTube channel, April 4, 2017
Featured image: Toby Chess (Kent Automotive) advised shops on considerations for applying cavity wax as well as undercoating in the third part of a free Society of Collision Repair Specialists trilogy on corrosion protection. (Screenshot from SCRS video on YouTube)
Share This: