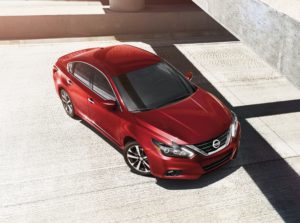 Nissan announced Thursday that six of its most popular vehicles and the Leaf would receive automatic braking standard for the 2018 model year — four years before the deadline self-imposed on the auto industry.
The upgrade of more than a million vehicles on American roads with the proven crash-preventing technology is likely to hasten the projected erosion of collision repair volume by ADAS tech. However, it will add additional complexity (and severity) to the repairs which still occur due to the need to calibrate and repair/replace the technology.
The Insurance Institute for Highway Safety also tweeted Thursday that 34 of the 197 model year-2017  vehicles it tested had autobraking standard. That's 17.26 percent. Even if you figure many of these are higher-end, that's still remarkable — and another bad bit of news for repairer volume as the cars near the average crash age of 6-7 years.
34 of the 197 US MY2017 vehicles we evaluate come with standard autonomous emergency braking. pic.twitter.com/JcWehG7SG2

— IIHS (@IIHS_autosafety) June 8, 2017
The research center also tweeted that autobraking's success rate can now reach a 50 percent reduction in police-reported crashes.
Autonomous emergency braking (AEB) has been shown to reduce front-into-rear police-reported crashes by 50%. pic.twitter.com/ByHIvCQBWP

— IIHS (@IIHS_autosafety) June 8, 2017
Nissan follows the lead of Toyota, which in 2016 promised a technology suite made up of autobraking and other advanced driver assistance systems standard on nearly all Toyota and Lexus model by the end of this year. Unlike Toyota, Nissan's decisions only applies to autobraking, though it offers similar ADAS technology standard or optional on various models and trims.
The 2018 Nissan Altima, Leaf, Maxima, Murano, Pathfinder, Rogue (and Rogue Sport) and Sentra will all carry the technology. The only exceptions will be the stick-shift and NISMO versions of those vehicles.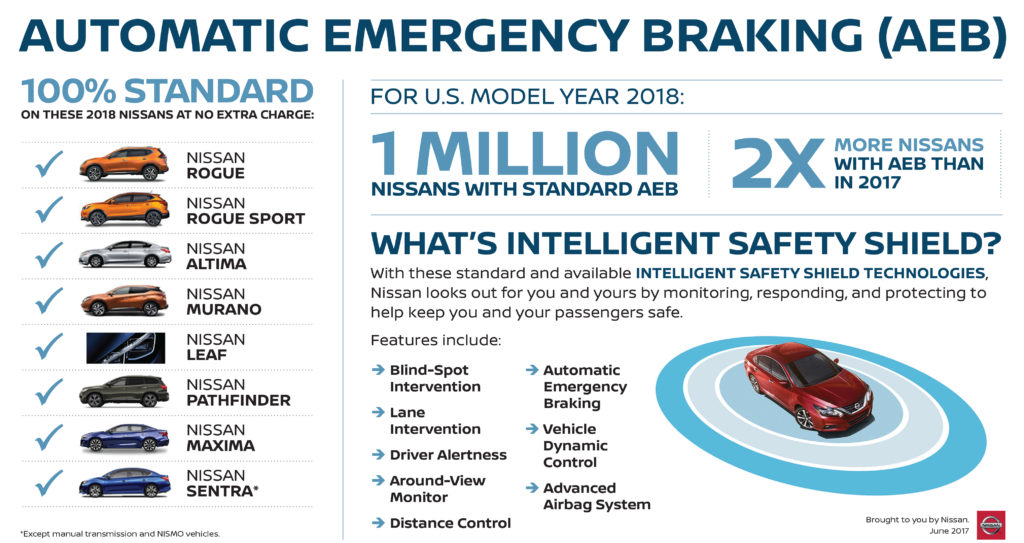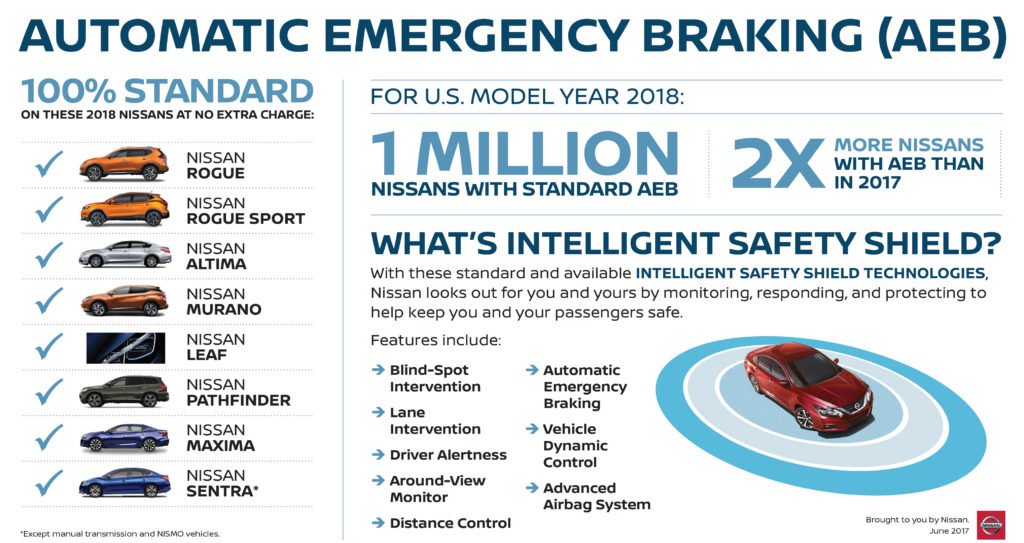 That's six of Nissan's Top 10-selling models in 2016, including Nos. 1-3 and 5. The only absences are the Versa, Frontier, Titan and Juke. (Since Nissan only reports overall model sales, we're lumping in the manual and NISMO sales here, but the back-of-the-napkin-math point stands.)
The Leaf only sold 14,006 last year — but the next generation of the electric car is coming soon, and according to Green Car Reports, Nissan confirmed it will be "at or above 200 miles" of range — the weight class of Teslas and the Chevy Bolt. That should keep it a contender for city fleets — which are likely more rear-ending prone than the typical vehicle.
Together, the seven vehicles sold more than a million in 2016, and Nissan said the vehicles could together do as well this year. Nissan also said it'll put autobraking on some Armadas.
It's another gauntlet for all of the rest of the OEMs, which last year committed to bundle the technology standard into all new cars, trucks and SUVs sold in the U.S. in 2022 but for now continue to sell it as an option.
The Insurance Institute for Highway Safety estimates autobraking cuts about 39 percent of rear-ending crashes — about 13 percent of all the crashes in America, though Nissan cited 2013 National Highway Traffic Safety Administration statistics that found a third of all police-reported crashes were rear-endings.
As Toyota pointed out in its own announcement, most rear-ending happens between 7-50 mph, and autobraking tends to work well in that range. And remember, even if the collision still occurs, the injuries — which can be far more expensive for a carrier than property damage — and vehicle damage might be less than it would have been without it.
Nissan on Thursday said its autobraking relies on a radar, shown in images accompanying the announcement to be somewhere in the front end of the vehicle. It's unclear if the system also relies on a camera behind the windshield, which would affect auto glass repairs.
More information:
"Nissan to offer standard Automatic Emergency Braking (AEB) on one million U.S. vehicles in 2018 model year"
Nissan, June 8, 2017
Images:
The 2017 Nissan Altima is shown. (Provided by Nissan)
Nissan announced June 8, 2017, that seven models and some Armadas would receive automatic braking for the 2018 model year. (Provided by Nissan)
Share This: