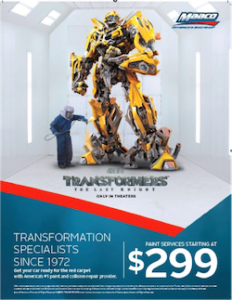 Maaco, which brought back its "Uh-oh" tagline in 2015, said Thursday it will use it in a network commercial directed by Michael Bay set to tie in with "Transformers: The Last Knight."
In the ad, an angry girlfriend spray-paints what she thinks is her ex's yellow Camaro. If you've seen any of the "Transformers" films, you can guess how this plays out.
"This was a unique creative opportunity to work with two iconic brands and explore their shared equity around cars," Dooley Tombras, executive vice president of ad agency, Tombras Group, said in a statement. "We also wanted to leverage the tagline 'UH-OH Better Get Maaco' in a fun and unexpected way.  The work was designed to recruit new Maaco customers and generate excitement for the movie release."
Maaco will use the "Transformers" spot to plug a $299 paint job (single coat, enamel, according to the fine print), which might mean collision repairers might have to explain to customers for a while why the refinishing process at their shops is different and costs more.
"We've been transformation specialists for 45 years, so the partnership with 'Transformers: The Last Knight' is ideal for us," Maaco President Jason Ryan said in a statement. "Consumers of all ages love the heroic action of the Transformers movies, and this provides a way to build new awareness of the Maaco brand. It also provides an excellent new vehicle to reach the millennials as an entirely new generation of customers."
A Maaco spokeswoman wrote in an email Friday that the ad would appear on "all major networks and cable outlets."
Maaco might have to sell a lot of paint jobs. Michael Bay, who made Forbes' highest paid celebrities list in 2014, probably doesn't come cheap, and then there's whatever it's paying Hasbro and the studio for the partnership.
Other MSOs pay for high-profile promotions as well, most notably perhaps Service King's naming rights to an entire NASCAR event. But being part of the third-party advertising blitz tied to a franchise summer blockbuster and a famous director seemed noteworthy, even if the retail, out-of-pocket-focused Maaco has a different business model than other large body and paint outfits.
Granted, Maaco also did a tie-in with the summer popcorn flick "Pixels" in 2015, but a) that movie was reportedly awful and was likely never going to have the pull of "Transformers" anyway, and b) the "Pixels" ad is just movie footage, not anything independently directed — and certainly not by someone with the name recognition of Michael Bay.
More information:
"Maaco Announces National Partnership with New Movie, 'Transformers: The Last Knight,' from Director Michael Bay"
Maaco via PRWeb, June 15, 2017
"Maaco 'Transformers: The Last Knight' Commercial – Brad Decision"
Maaco YouTube channel, June 9, 2017
Featured image: Maaco, which brought back its "Uh-oh" tagline in 2015, said Thursday it will use it in a network commercial directed by Michael Bay set to tie in with "Transformers: The Last Knight." (Provided by Maaco)
Share This: