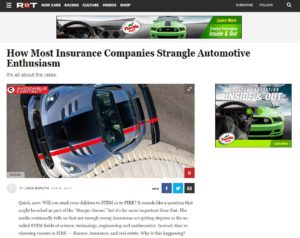 Road & Track last week featured a humorous rant by Jack Baruth on why insurers have a rigged market that kills the fun of driving, and it might resonate with collision repairers and their mutual customers during the claims process.
The piece appears to be inspired by Automotive News' coverage of AAA raising rates on the Tesla Model X and S. The carrier cited Highway Loss Data Institute statistics indicating the large luxury SUV and sedan produced higher collision frequency and severity than peers.
"Never mind the fact that American insurance companies, as a whole, earned almost half a trillion dollars in net profit over the past decade," Baruth wrote. "There's always room for a couple more dollars in the hopper. So the premiums on Teslas will rise by a third." (Emphasis his.)
Baruth chastises carriers who make similar business decisions to AAA, blaming insurers who "decided that two-seat cars should be charged higher premiums" for killing that entire segment of vehicle, and continues:
Take a look at the list of the cheapest and most expensive vehicles to insure. The insurance companies love dog-slow tippy-toe misery-mobiles. I guess maybe rollover accidents aren't such a big deal after all, because every single vehicle on the low-cost list has a hip point well above that of a Honda Accord.
The list of the most expensive-to-insure vehicles, on the other hand, reads like a dream garage …  But it's the rankings in-between that truly rankle. Did you know that the Lexus IS350 is about ten percent more expensive to insure than the ES350? Why would that be, other than the fact that the IS350 is a delight to drive compared to its staid front-wheel-drive showroom compatriot?
Baruth presents the decisions as arbitrary, but the real issue is probably that insurers have to rely on imperfect data based on the vehicle and American population as a whole. Say you're an actuary looking at Highway Loss Data Institute stats showing the ES350 produces lower claim bills (compare the two in the midsize luxury sedan segment here) than the IS350 and has better crash test ratings. Even if there's incomplete information on the IS350, there's a case for a higher rate.
(Find out how a collision repairer can use such IIHS data to anticipate severity trends for their own market here. This might be particularly useful for explaining that one's severity is actually appropriate for the vehicle mix coming in through the door versus an industry average.)
Usage-based insurance will probably level the playing field on this one to some degree, allowing vehicles to compete on their individual driver's merits. Of course, its telematics nature opens the door to either OEM or insurer steering from the moment a crash is detected, but that's a conversation for another time.
However, Baruth makes a great point about how state and federal regulations create an unfair playing field for insurers compared to OEMs and their own customers. (And the collision repair industry, a shop might argue.)
None of this would truly matter if we had a genuine free market when it came to auto insurance–but we don't. You're required to purchase it, by the state and by your financial institution. The rates are difficult to compare and subject to change with little notice after you start your policy. Virtually anything you do, from getting a ticket to getting divorced, will raise your rates. …
But given that we live in an era where a lot of attention is being paid to how "fair" and "equal" everything is, at some point there is going to have to be a national conversation about the fact that our regulations are written to benefit the (Finance, Insurance and Real Estate) folks at the expense of the (Science, Technology, Engineering and Mathematics) people. It shouldn't be less risky to insure a car than it is to design, engineer, build, market, distribute, and warranty it.
This combined with his discussion of insurer profitability and alleged mileage games should make the column a great piece of ammo a shop can pull out to a customer or lawmaker when an adjuster or lobbyist is being difficult.
More information:
"How Most Insurance Companies Strangle Automotive Enthusiasm"
Jack Baruth in Road & Track, June 8, 2017
Featured image: Road & Track last week featured a humorous rant by Jack Baruth on why insurers have a rigged market that kills the fun of driving, and it might resonate with collision repairers and their mutual customers during the claims process. (Screenshot from www.roadandtrack.com)
Share This: