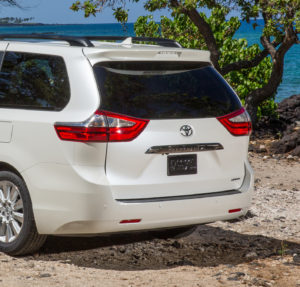 Collision repairers will need to consult repair procedures and potentially train with Toyota to properly repair and refinish bumper covers given the safety-focused radar technology which could sit beneath, an expert said last week.
Two radar devices behind the bumper fascia look about 3.5 meters (11.48 feet) to their respective sides of the vehicle and 3 (9.8 feet) meters behind the bumper as part of the OEM's optional blind spot monitoring, according to Toyota Collision Repair & Refinish Training administrator Agustin Diaz. The radars also check about 1 meter in front of each side of the bumper.
"Which is the blind spot of a car," Diaz told a Guild 21 call June 8.  "Approximately."
The same radar pair also checks diagonal traffic and alerts a driver who's backing up when something is driving into their path at between 5-17 mph. This optional rear cross-traffic alert system can see at diagonals of roughly 20 feet on each side, though this can vary based on vehicle speed, Diaz said.
The existence of such technology makes what had perhaps been a minor bumper repair or refinishing task more complicated, as body filler can't be placed over the radar's field of view to fix a gouge or other injury, according to Diaz, who echoed earlier remarks by Toyota colleague Eric Mendoza. Any cracks or holes in the irradiation area mean the bumper must be replaced. (Nissan gave the same instructions in a recent position statement, and we'd bet more OEMs have similar rules within their repair procedures.)
Primer surfacing and paint is still acceptable, Diaz said, but: "If you're gonna use plastic filler, no."
However, blending can't occur in the area used by the radar either, he said. A uniform film thickness over the radar is important, Diaz said.
"Please avoid it, just clear," Diaz said. And if you can't avoid painting the area, "try not to load it" he said — particularly if a car's been painted before.
Get either of these wrong, and the sensor might fail to alert the driver to threats in the vehicle's blind spot or a vehicle that's about to drive right into where they're backing out. Here's how the systems worked in 2015:
Each radar looks on a 160-degree horizontal plane and a 60-degree vertical field, Diaz said. However, the location of the radar and specific location and dimensions of each area requiring special precautions on the bumper cover might vary from model to model, he said.
Asked about this area, Diaz said Toyota teaches shops how to calculate it as part of its Collision Repair and Refinishing Training curriculum. (Get more information here.) It's unclear if these calculations are available in the repair procedures.
However, before a shop can put that bumper cover back on and proceed to calibrate the radar (or outsource it to a dealership), a technician must be sure they've installed the radar itself precisely where it needs to be, Diaz said.
"You need to have this bracket positioned properly," he said. "The orientation is real important. And the angle is real important."
Diaz described a process that involved finding the centerline of the vehicle and then comparing the difference between that point and the front and rear bracket studs. If this distance is within the particular vehicle's tolerances, then you're OK. (The example Diaz presented showed a 30 mm difference, which was between Toyota's permitted range of 29-42 mm.)
Another step involves making sure the angle of the sensor itself is correct by using a sort of box that a shop can make using instructions contained Toyota's repair procedure, Diaz said.
"It's important to have this bracket (located) properly before you put the car back together," Diaz said.
For more information, see Toyota's OEM repair procedures or contact the Collision Repair and Refinishing Training program.
More information:
Toyota official OEM repair procedures
Toyota Collision Repair and Refinishing Training website
Images:
The rear bumper fascia of the 2015 Toyota Sienna Limited, which can have blind-spot monitoring and rear traffic alert as an option, is shown. (Provided by Toyota)
A slide presented during Toyota Collision Repair and Refinishing Training Administrator Agustin Diaz's June 8, 2017 Guild 21 call demonstrates some considerations for repairing and refinishing near blind spot radar. (Provided by Toyota)
A slide presented during Toyota Collision Repair and Refinishing Training Administrator Agustin Diaz's June 8, 2017 Guild 21 call demonstrates some considerations for installing blind spot radar. (Provided by Toyota)
Share This: