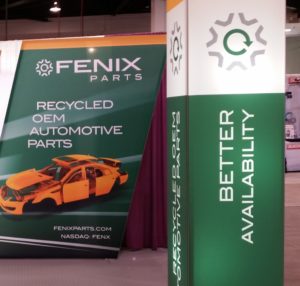 Fenix Parts, whose dream of being a "strong No. 2" to LKQ in recycled collision parts continues to flounder, was delisted June 29 from theNASDAQ after two years.
It said it is now traded on OTC (Over-the-Counter) Markets' "Pink Sheets" market — filled with publicly traded small companies which can't or won't meet major stock exchange requirements and can't even meet the requirements for the higher-quality tiers of risky micro-cap stocks listed by OTC Markets. These are the types of penny stocks Leonardo DiCaprio was selling out of a strip mall at the beginning of "The Wolf of Wall Street."
OTC Markets has flagged Fenix as one of its stocks deserving particular investor care, delineating it with a stop sign icon the exchange says:
Indicates companies that are not able or willing to provide disclosure to the public markets – either to a regulator, an exchange or OTC Markets Group. Companies in this category do not make Current Information available via OTC Markets Group's News Service, or if they do, the available information is older than six months. This category includes defunct companies that have ceased operations as well as 'dark' companies with questionable management and market disclosure practices. Publicly traded companies that are not willing to provide information to investors should be treated with suspicion and their securities should be considered highly risky.
Fenix only joined OTC Markets a few days ago and certainly is used to filing SEC information (though recently late), so perhaps it can get on track and be more attractive to speculators of its penny stocks.
"The Company continues to be actively engaged with its independent auditors to complete its annual audit and quarterly review so that the 2016 Form 10-K and March 31, 2017 Form 10-Q may be filed with the SEC as soon as possible," it wrote in a news release announcing the delisting.
Fenix closed at $0.54 Thursday. At its peak in 2015, just after its IPO, it closed higher than $10.
It's unclear what, if anything, the delisting means for any Fenix part warranties or customers' orders from Fenix's 16 locations on the East Coast and in Ontario, Canada. Getting delisted from a major stock exchange doesn't mean a company can't keep doing business; it just might have a harder time raising additional capital from equity investors or using shares of stock for other financial purposes, such as collateral.
A call to the company's spokesman early Friday morning has not yet been returned.
Fenix announced June 19 it had received an extension from the NASDAQ exchange, but apparently it couldn't meet the extended June 23 deadline to file its 2016 10-K annual report. Its first-quarter 2017 10-Q earnings report had been extended to July 21. The company's last quarterly report, for the three months ending Sept. 30, 2016, was filed in March.
It has however caught a break on repaying a loan, BMO Harris Bank and Bank of Montreal both have agreed to give Fenix until Aug. 31 to honor certain terms of their deal and pay back $250,000 of principal due June 30 rather than take action against the recycler. They also let Fenix tack its quarterly interest onto the principal.
As of Sept. 30, 2016, Fenix had $1.5 million in working capital and $800,000 in actual cash or cash equivalents. At the time, it reported about $55.6 million in liabilities and $127.4 million in assets.
Fenix isn't down for the count yet. But should it fail, another company (besides No. 1 recycler LKQ) might find greater success with its business model based on consolidating a fragmented automotive salvage parts industry.
"We remain committed to driving growth by expanding the business through acquisition," CEO Kent Robertson said in June 2016.
Judging by what's going on with the related collision repair and jobber industries, Fenix's idea doesn't sound like a huge stretch.
"The automotive recycling industry is highly fragmented, with few multi-facility operators," its prospectus stated. "According to the ARA, there are an estimated 9,000 vehicle recycling facilities in the United States and Canada."
More information:
Fenix Parts, June 19, 2017
Featured image: The Fenix Parts booth is seen at NACE 2016. (John Huetter/Repairer Driven News)
Share This: