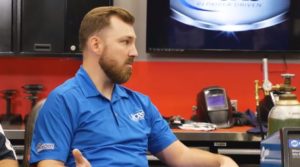 Failing to adjust the welder to the correct settings and test-weld before proceeding with a repair is a mistake that can lead to an insufficient weld or weakened metal, according to the panel discussion in the first two videos of the Society of Collision Repair Specialists' MIG/MAG educational trilogy.
The videos are the latest in a free SCRS YouTube series featuring informal panels of shop owners and other experts discussing both hot and potentially overlooked technical aspects of collision repair. The video collection provides a great educational resource for not only technicians and shop owners but also educators, insurers and vehicle owners.
SCRS Education Committee co-Chairman Toby Chess, a panelist on both videos, said many technicians don't even know where to start on welder setup, but charts exist on newer machines explaining what settings are necessary under various conditions.
"If you have no idea where to start, you're just playing with dials," said Chess (Kent Automotive). A technician needs to consider factors like wire size, gas mix and substrate qualities, he said.
"You have to play with your machine," Chess said — a single setting won't work for all of your welds. I-CAR itself has pointed to a technician just grabbing a welder without checking the settings as one of the common mistakes it saw administering welding certification tests.
Many newer machines do have setting presets, according to SCRS board member Dave Gruskos — but these are merely "guides." Conditions in the shop, such as blasting air conditioning causing reduced power to the welder, could still yield unexpected results despite the presets and require manual adjustment by the technician, said Gruskos (Reliable Automotive Equipment), another panelist.
"The welder might perform a little bit different, so taking test pieces and taking test welds is critical," Gruskos said.
A shop skipping test welds might experience the following scenario, according to SCRS board member Michael Bradshaw: A technician just rolls the welder over to the vehicle without checking any of the settings and fires it up. Upon discovering "'It's welding cold,'" the tech adjusts the welder. Subsequent welding leads to the realization "'It's welding hot'" and the tech adjusts the settings further.
The next welds are correct, but by then, the technician's already welded half of the vehicle incorrectly, said Bradshaw (K&M Collision).
An underpowered "cold" weld to fail to penetrate the metal properly, resulting in a weld which "may look good on the outside" but isn't structurally sound, according to Bradshaw. Too hot, and the substrate metal itself is weakened, he said.
Destructive testing lets a technician confirm the welder is properly dialed in before starting on the customer's vehicle — rather than using the car itself as a proving ground.
"It only takes one little weld to be done wrong" for a potentially catastrophic outcome like an airbag being a millisecond off, according to Gruskos.
Bradshaw and Chess suggested using some of the metal removed from the part to be welded — it was going to be discarded anyway — as the metal for practice welds and destructive tests.
However, one type of destructive test won't fit all welds, according to Chess. MIG brazing will demand a different test than MIG welding steel. Aluminum was "a whole 'nother ball game," he observed.
"It's all about education and training," Chess said.
Bradshaw, whose shop is certified for multiple OEMs, including luxury automakers, noted that some manufacturers will even provide repairers with specifications the test-weld tearout must meet. If the destructive test yields the appropriate distance or length of tearout, it's considered a proper weld. The welding technician and the equipment itself are indeed ready to weld the actual customer's vehicle.
I-CAR also stresses the importance of test welds by requiring them as part of their welding certification tests, according to Bradshaw.
"That's something they're pretty big on," he said.
Not-included procedures
All of this takes time. And Bradshaw noted that CCC last year updated its P-pages to clarify that welding tests and welder setup weren't included in its labor times and would have to be entered manually.
Due to the different types of welding equipment used in the collision repair industry, labor times for welded replaced parts do not include equipment manufacturer procedural steps for welder setup and/or welding tests and preparation. Each welding machine manufacturer may have its own unique configurations and setup processes. Additionally, there may be vehicle-specific variables that may increase or decrease the amount of welding machine setup time and pre-weld preparation. MOTOR suggests using an on-the-spot evaluation to determine an appropriate set-up and preparation time.
Audatex said the same in a March Database Enhancement Gateway inquiry regarding welding a Tesla Model S:
"Welder setup and test welds are not included in the labor allowance," the IP wrote.
Mitchell is a little unclear. The company writes in its P-pages merely that "Welding equipment set-up, 'Run-on' or 'Cold start tabs" are included in "aluminum panel R&R." It does not indicate whether it factors in welder setup on steel or any destructive testing on steel or aluminum, and we couldn't find a DEG inquiry directly addressing these questions. (This might be a good question for a welder to submit to the free service.)
Knowing that welder setup and test welding aren't always included in repair times is important if the estimator is going to produce a proper sheet, according to former SCRS Chairman Andy Dingman (Dingman's Collision Center).
"Doing that takes time," Dingman said, and techs are compensated by their time. The estimator would have to consider this and perhaps add the not-included procedures manually.
"They absolutely should be doing the setup and the test welds," Dingman said — but he noted that those procedures might be "overlooked" by a technician if there's not enough time on the estimate.
Bradshaw said a technician might spend 10-20 minutes setting up and testing a welder for steel, but as much as "an hour, hour and a half" dialing it in for aluminum.
More information:
"SCRS Education Committee Presents – MIG Welding Part 1 of 3 : Equipment and Power"
Society of Collision Repair Specialists YouTube channel, 2017
"SCRS Education Committee Presents – MIG Welding Part 2 of 3 : Settings, Setup and Training"
Society of Collision Repair Specialists YouTube channel, 2017
Featured image: SCRS board member Michael Bradshaw (K&M Collision) appears in an educational video trilogy about MIG/MAG welding. (Screenshot from Society of Collision Repair Specialists video on YouTube)
Share This: