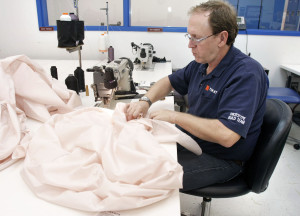 A Florida man's attempt to repair a 2001 Honda Accord containing a recalled Takata airbag led to his death, according to Honda and the Associated Press.
Ramon Kuffo, 81, was working on the Accord in his Hileah, Fla., backyard when the airbag inflator exploded, according to the AP. He died of head trauma, the news service reported in a story posted Tuesday.
Both airbags had inflated, the AP said.
Honda did not identify the deceased, but said the individual was on June 18, 2016, "attempting to perform unknown repairs inside the vehicle using a hammer while the ignition switch was in the 'on' position. This triggered activation of the airbag inflator, which ruptured during deployment of the airbag."
The OEM only recently found out about the incident, according to the AP. Kuffo died June 19, according to Honda.
The Associated Press quoted Honda spokesman Chris Martin as having "noted that there is a deceleration sensor that activates the air bags mounted on the wall between the engine and passenger compartment."
Honda said it might be impossible to determine what actually triggered the airbag.
"It is difficult to determine whether the cause of death in this incident was the inflator rupture, or an interaction of the hammer with the deploying airbag," Honda wrote Monday. "While the absolute cause of death may never be fully determined, Honda now considers this to be the 11th confirmed fatality in its vehicles related to Takata airbag inflator ruptures in the U.S."
Kuffo didn't own the car, according to Honda. The OEM noted that 12 recall notices were sent since 2009 to the Accord's registered owners. The Accord was among the 2001-03 Honda and Acura models determined to be at higher risk because of "so-called 'Alpha' inflators."
According to Honda, Alpha inflators can have as high as a 50-50 chance of exploding and injuring an occupant. Honda advises any car with such technology not be driven anywhere except immediately to a dealership — and it'll even provide a free tow if the customer is afraid to take that risk.
"Our records indicate that the recall repair was never completed on this vehicle," the OEM wrote.
While the incident doesn't seem to have occurred in a professional repair setting, it should be a reminder for all shops: Follow OEM guidelines not just to protect the vehicle owner, but the technician as well. Honda even made a similar point to the AP:
Honda says its service procedures recommend disconnecting the battery when working on the air bag system. Owners can go online and subscribe to Honda service manuals and find out proper procedures for many repairs. It costs about $10 per day, Martin said.
Honda stressed Monday that it has enough replacement inflators to fix every Honda and Acura with a recalled Takata airbag (particularly the Alphas) — for free. It urged customers to schedule a dealer repair as soon as possible and anyone with concerns to call Honda at 888-234-2138.
NHTSA estimates that Honda has fixed nearly 60 percent of all the recalled airbags within its own and Acura vehicles — but that still leaves millions of inflators needing a fix. (Nationally, the tally is 45.8 percent.) Takata on Monday recalled another 2.7 million inflators it sold to Ford, Nissan and Mazda.
If you've got a Honda or Acura in your shop, run the VIN through the National Highway Traffic Safety Administrator's recall locator.  (A NHTSA master list of model years is here as a quick reference; Honda's is here.) But don't just limit this practice to Hondas and Acuras. The Takata airbag threat touches nearly every major OEM's vehicles, from Ford to Ferrari, and it's really a good bit of customer service to run any VIN through the database to see what recalls are listed.
Honda also said it partnered with CCC so that any Honda or Acura with a Takata recall is flagged as soon as the VIN is entered.
"On average, more than 500 recalled Honda and Acura vehicles are receiving estimates and triggering notifications through this system every day," Honda wrote.
Honda also observed that it's "currently engaging the auto insurance industry to explore opportunities to raise awareness of the recall among shared customers."
More information:
"Man dies when air bag inflator ruptures during car repair"
Associated Press, July 11, 2017
"Statement from American Honda Motor Co., Inc. Re: Confirmed Rupture of Takata Airbag Inflator in Hialeah, FL"
Honda, July 10, 2017
National Highway Traffic Safety Administration Takata recall webpage
Honda Takata recall fact sheet and list of affected vehicles
Featured image: A Takata employee sews an airbag at Takata's crash-testing facility Aug. 19, 2010, in Auburn Hills, Mich. (Bill Pugliano/Getty Images/Thinkstock file.)
Share This: