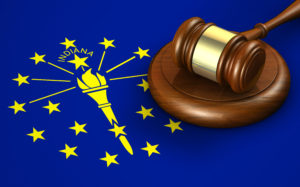 The Indiana Auto Body Association, one of two state trade groups participating in a series of lawsuits against some of the nation's largest insurers, has exited the case.
The IABA and Neary Collision both were granted Tuesday their June motions to dismiss their Eleventh Circuit appeal in Indiana Auto Body Association et al v. State Farm et al for good.
The IABA and Neary's departure doesn't close the case by any means. 25 Indiana collision repair companies remain on the appeal, which like similar cases in other states argues that a Middle District of Florida judge set an inappropriately high bar for lawsuits in killing off their lawsuits alleging steering and Sherman Antitrust Act violations by defendants including Nos. 1-4 State Farm, GEICO, Allstate and Progressive.
IABA President Doug Martin (Martin's Body Shop) said Wednesday the association opted to depart the lawsuit and focus on a mission of "education and just continuous improvement for the industry."
He said the group didn't want to create the perception that it existed only to fight lawsuits against insurers.
"We're much more than that," he said. "… People grabbed a vision of that."
IABA v. State Farm always was divisive for membership as well, said Martin, who was an IABA member but not in a leadership role when the lawsuit was filed in 2014. Not all supported the litigation in the first place, and the ones who didn't "felt alienated," according to Martin.
"We didn't want to divide ourselves," Martin said.
He said there didn't seem to be any signs that the local-level relationships between shops and insurers in the state had been affected because of the litigation. The only tensions seemed to be the usual shop-adjuster disputes, according to Martin.
Under the order, both sides were to pay their own attorney's fees. Martin said none were outstanding and prior legal bills hadn't put undue strain on the associations' balance sheet. "As far as finances, no, we're fine," he said.
Asked about takeaways from the experience for shops or other associations, Martin observed, "It's definitely not an easy thing. We believe more so now."
"If anything, you're better served for legislation," he also said, calling it "probably more effective (than litigation) as obviously insurance companies have a lot of firepower."
In terms of legislation, he said the association would look to make a bigger push for House Bill 1559, which would clarify that third-party claimants must also be notified of their right to select the parts they want and given a chance to approve those parts in writing. As with first-party claimants, the rule only applies to the five years after the vehicle's model year.
The bill, sponsored by Rep. Matt Pierce, D-Bloomington, fizzled because a lack of knowledge of its existence, according to Martin. IABA will devote more effort to the measure in a coming session.
"We just know it's going to be a tough road," he said.
The Alliance of Automotive Service Providers-Pennsylvania is the other trade group involved with the multi-district litigation. It's participating in two lawsuits, AASP-PA et al v. Erie and AASP-PA et al v. State Farm et al. Those cases were stayed in December 2016 along with others pending the outcome of the Eleventh Circuit appeals.
Appeal background
Middle District of Florida Judge Gregory Presnell rejected in June 2016 the steering allegations ("tortious interference") in the Indiana shops' lawsuit because none of the four specific examples provided involved a customer being lost to another shop through an insurer's action, which Presnell said was a requirement under Indiana law.
The allegations included an instance where "against (a customer's) wishes, State Farm towed his vehicle to a preferred shop and refused to allow it to be taken to (Brothers Body & Paint)."
The appeal disagreed with Presnell's interpretation of Indiana law regarding tortious interference and business relationships.
"The district court, however, required certainty," the plaintiffs wrote. "It reduced the verbalized intention of doing business with the plaintiff body shops to nothing more than a mere hope of future business. This is in error."
In February 2016, Presnell threw out the federal antitrust claims for good, ruling in part that insurers acting similarly weren't enough proof on its own of collusion.
The shops did provide evidence of insurers matching rates in Indiana — in one instance, allegedly lowering them in tandem. However, Presnell argued that without specific discussion about how each of the 27 insurers matched an allegedly flawed and concealed rate from No. 1 State Farm, the shops couldn't sue all 27 on price-fixing grounds.
"The actions allegedly taken by the Defendants in this case, such as paying the same labor rates, refusing to pay for the same list of procedures, and requiring the use of lower-quality parts, are not enough, on their own, to constitute a violation of Section 1 of the Sherman Act," Presnell wrote. "Evidence of conscious parallelism alone does not permit an inference of conspiracy unless the Plaintiff either (1) establishes that, assuming there is no conspiracy, each defendant engaging in the parallel action acted contrary to its economic self-interest or (2) offers other "plus factors" tending to establish that the defendants were not engaging merely in oligopolistic price maintenance or price leadership but rather in a collusive agreement to fix prices or otherwise restrain trade."
Featured image: The Indiana Auto Body Association, one of two state trade groups participating in a series of lawsuits against some of the nation's largest insurers, has exited the case and will pay its own attorney's fees. (NiroDesign/iStock illustration)
Share This: