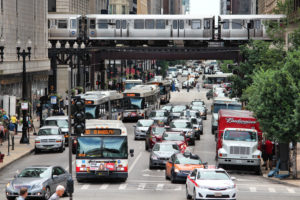 The first NACE Automechanika since the two trade shows merged packs in a lot of content later this month, but don't forget to come early for the Society of Collision Repair Specialists open board meeting that Monday and the one-day Collision Industry Conference on that Tuesday.
SCRS open board meeting
All are welcome to attend the free SCRS open board meeting 3-5 p.m. July 24 hosted by the national auto body repair trade group. No membership is required.
"The two hour meeting will include updates from SCRS staff and committees highlighting current industry events of importance and work that the association has undertaken on behalf of the membership," SCRS wrote in a news release Wednesday. Through its own membership and that of affiliate trade groups, the organization represents 6,000 collision repair businesses and 58,500 auto body professionals.
The meeting should be of particular interest to technicians, owners, estimators and adjusters, as the SCRS Education Committee will present live "Non-Included Items When Working With Aluminum." Better understanding of how to properly estimate for aluminum repairs up front should help ensure the shop covers its expenses and properly compensates piece-rate technicians and hopefully avoid unnecessary supplements or friction with carriers.
Technicians and owners — particularly those preparing for I-CAR or OEM certification tests — will also benefit from the premiere of the third part of SCRS' MIG/MAG welding educational video trilogy. The three welding films are part of a larger free educational series posted on SCRS' YouTube channel.
"This segment, which is under 12 minutes long, focuses on protective equipment considerations in the welding process," SCRS wrote.
Collision Industry Conference
Stick around the next day for the 8-5:30 p.m. Collision Industry Conference. CICs draw repairers, insurers, suppliers, OEMs and other industries from around the country to discuss and work on issues affecting parts or all of the auto body repair ecosystem. Audience participation is encouraged, and the dialogue tends to be lively but collegial.
"There are no 'members' of CIC, only participants," CIC's website states. "All participants share an equal standing."
The meeting is $65 up until a week prior to the July 25 event; after that, the price increases to $75. Or become a Gold Pin member for $285 and get in for free to all four quarterly CICs.
Highlights include:
8:45 a.m.: The Governmental Committee will hold a panel discussion on automotive parts policy — featuring representatives from aftermarket proponents LKQ/Keystone and the Certified Automotive Parts Association but also the Alliance of Automotive Manufacturers. LaMettry's Collision operations President Darrell Amberson will moderate.
This could be a good one with such diametrically opposed competitors on the same panel and an audience full of shops and insurers. The past few months have seen the reintroduction of the PARTS Act and state legislation dealing with parts choice notification. This might also be a good precursor to a NACE panel the next day examining the role of aftermarket parts in cars increasingly incorporating advanced driver assistance systems. (More on this in the NACE section below.)
11 a.m.: Collision repair employment law expert Cory King will present, "What you need to know to stay out of trouble," according to the CIC
1:30 p.m.: An Insurer-Repairer Relations Committee panel of auto body shop and carrier representatives will discuss "Differences of Opinion and Recommendations." The topic of OEM repair procedures generated some strong feelings at the April Pittsburgh CIC, and will likely make for one of the more interesting sessions at this one.
2:15 p.m.: CIC Education Committee heads Kye Yeung and Toby Chess will "Test your knowledge on Aluminum," according to CIC. The two men issued a fun aluminum test to the CIC in 2015 (Take it here, but remember that repair procedures might have changed since then.), and it'll be interesting to see what they do here.
2:45 p.m.: The Parts & Materials Committee will host the Automotive Anti-Counterfeiting Council. This should be interesting in light of last year's discussion of grey-market "Opt-OE" parts sold outside of formal OEM programs and large counterfeiting busts abroad.
4:45 p.m.: The Open Systems, Data Access and Sharing Task Force, which was basically created in response to concerns about the launch of the CCC Secure Share portal, will present "Findings & Perspectives of Industry Stakeholders." Mark Algie (3M), Rick Palmer (ComputerLogic) and Dan Risley (Automotive Service Association) will host. CCC has opted not to participate in past CIC discussions but has submitted written responses to past task force questions, and it's discussed some of the issues in past interviews.
Learn more about the potential benefits and problems the system could bring with our roundup here, and read about the task force's April presentation here and here.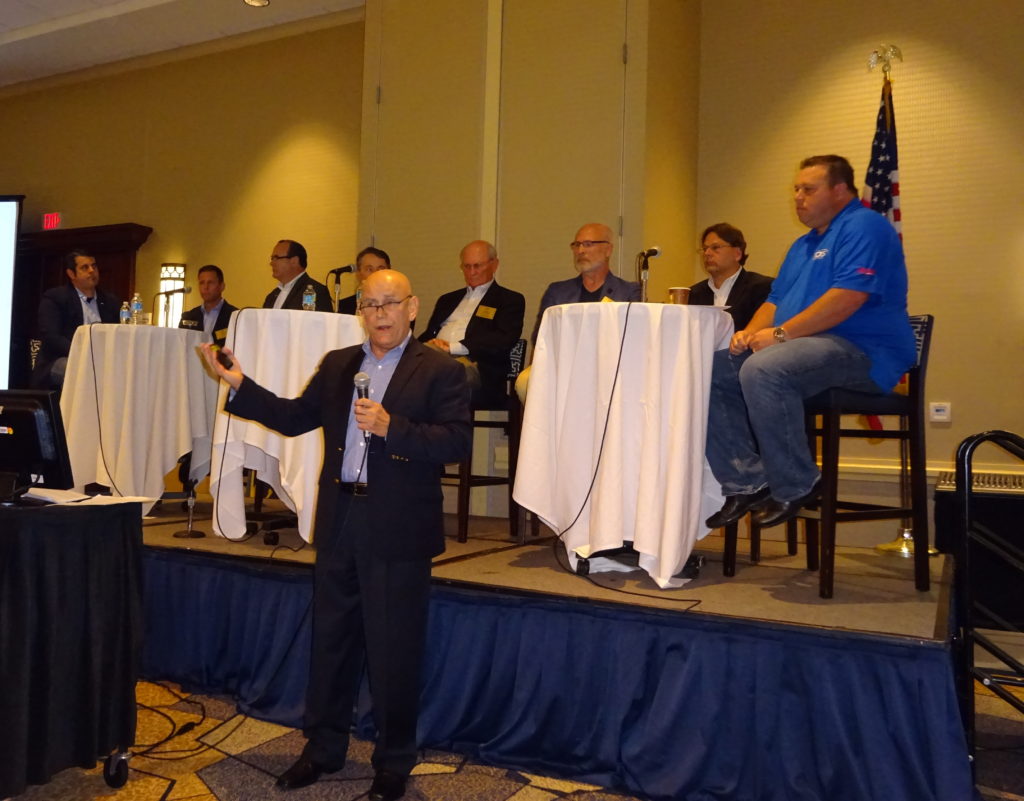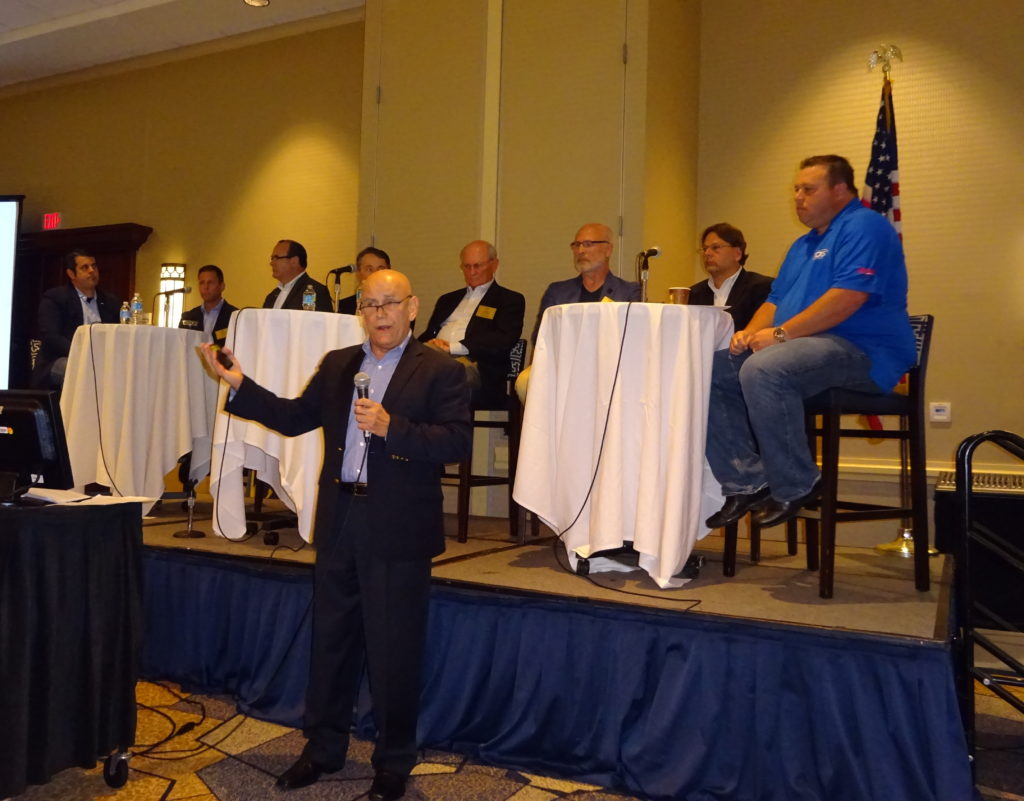 NACE highlights
And of course there's NACE Automechanika itself, which runs July 26-29 at McCormick Place.
Highlights include:
I-CAR's extensive educational classroom and main stage series July 26-28. The latter includes segments on scanning and advanced driver assistance systems calibration, as well as the "What does I-CAR say?" session live on Collision Hub on July 27.
OEM presentations by BMW, FCA, General Motors, and Toyota July 26-28. These include a Spanish-language version of Toyota's "Get Connected" presentation at 1:45 p.m. July 27.
The 2017 Advanced Technology & Diagnostic Repair Forum 7:30 a.m.-11:30 a.m. July 26. Notable panels include "Will Advanced Driver Assistance Systems (ADAS) Force Salvage and Aftermarket Parts into Extinction?", "Governance, OE's and Big Brother are Weighing in at an Astonishing Rate" and "Redefining the Automotive Industry through the Connected Car, Autonomous Vehicle & Mobile Computer".
The 2017 MSO Symposium 12:30 p.m.-5:30 p.m. July 26, which includes the point-counterpoint panel double header "How Insurers are Responding to Vehicle Technology and Repairability Challenges and the Growing Influence of the OEMs" and "The OEM Paradigm Shift." Also Vincent Romans' scorecard of collision repair industry consolidation — followed ironically a few hours later by "What I learned from growing and exiting my MSO – Lessons from those who have 'Been There / Done That.'"
More information:
"SCRS Open Board Meeting on Monday, July 24th in Chicago, IL"
Society of Collision Repair Specialists, July 12, 2017
July 2017 Collision Industry Conference agenda
NACE Advanced Technology & Diagnostic Repair Forum
Images:
Motorists drive under the L-train in Chicago on June 26, 2013. (tupungato/iStock)
Frank Terlep, Collision Diagnostic Services, on April 20, 2017, leads a Collision Industry Conference panel on CCC Secure Share. (John Huetter/Repairer Driven News)
Share This: