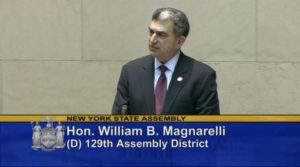 Correction: A prior version of this article gave an overly broad characterization of AB 578's impact upon glass shop choice protections. The Long Island Auto Body Repairman's Association on Friday explained the measure actually kept glass shop choice law consistent and clarified that a 2016 auto body shop choice protection wasn't meant to apply to the glass industry. The article has since been corrected to reflect this.
The New York Legislature and Democratic Gov. Andrew Cuomo have approved a bill to restore state auto glass shop choice policy and clarify that a 2016 shop choice measure fought for by the collision repair industry wasn't meant to apply to the auto glass industry.
2016's Assembly Bill 7738 added a clause to Insurance Regulation 2610 stating that insurers must give out estimates that also in at least 12-point font remind the customer of their right to pick their collision repairer.
"PURSUANT TO SECTION 2610 OF THE INSURANCE LAW, AN INSURANCE COMPANY CANNOT REQUIRE THAT REPAIRS BE MADE TO A MOTOR VEHICLE IN A PARTICULAR PLACE OR REPAIR SHOP. YOU HAVE THE RIGHT TO HAVE YOUR VEHICLE REPAIRED IN THE SHOP OF YOUR CHOICE."
"The passage of this bill is the culmination of 4 years of conversations and meetings with the NYS Assembly and Senate members to garner support and understanding of the issues facing consumers when filing and processing a claim with their insurance company for property damage to their vehicle," New York State Auto Collision Technicians Association Executive Director Ed Kizenberger said last year. The notification had been posted on shop walls, but never before was required to be placed on estimates.
Assembly Bill 578, signed by Cuomo June 21, exempts glass shops from the measure. Kizenberger said this was done to restore consistency between glass shop choice law. Section 2610 for years had stated:
In processing any such claim (other than a claim solely involving window glass), the insurer shall not, unless expressly requested by the insured, recommend or suggest repairs be made to such vehicle in a particular place or shop or by a particular concern.
"Subsection (b) of Section 2610 of the Insurance Law has consistently recognized the difference between collision body repair and vehicle glass repair and replacement services," a memo of justification for the bill on the state's legislative website states. "Currently, there is an exception for claims "solely involving window glass" from the ban on insurance companies suggesting or recommending certain repair shops. This is in recognition of the high-volume nature of glass repair, and the fact that the window glass repair referral process differs from the collision repair process. Therefore, this legislation extends that exemption to the disclosure requirements of subsection (c) (Chapter 278 of 2016).
"Vehicle glass claims are typically conducted via telephone between the insurer, the glass shop and the policy holder and consistently receives a high level of customer satisfaction. Estimates are generally unnecessary and not provided to the customer as part of the vehicle glass claims process, enabling consumers to enjoy a transaction that is relatively seamless. Adding the requirements of subsection (c) to claims solely involving window glass would add unnecessary delays to the current process, create confusion for the policyholder and increase costs for insurers."
The Senate version of the glass exemption bill was sponsored by DeFrancisco and Breslin, and Assemblyman William Magnarelli, D-Syracuse, sponsored the identical Assembly edition which became law. AB 578 passed the Assembly 108-34 March 3; a roll call for its January passage in the Senate could not be found.
Some still sought to retain the estimate notification this session.
"It is giving the consumer less notice," Assemblyman Tom McKevitt, R-East Meadow, said March 23. He urged colleagues to vote no. McKevitt also said it "would really go and be a great hardship" on smaller glass installers.
"It's going to affect small business, and it's going to affect consumers," Excel Auto Glass Corp. President Scott Owens, told glassBYTES in March. "Consumers have the right to be involved with their choice of repair shop. When customers come to our shop, it's their choice," he added.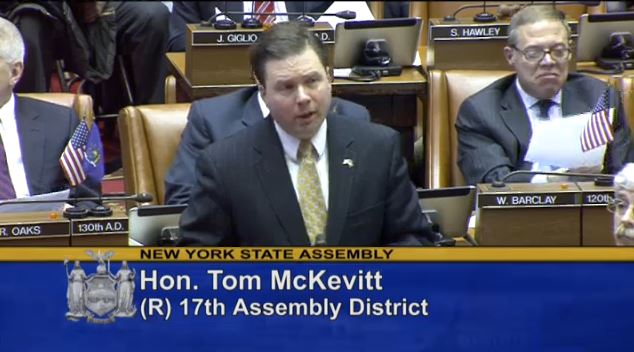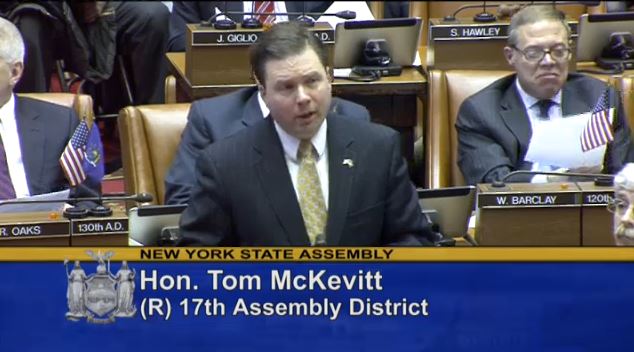 Images:
Assemblyman William Magnarelli, D-Syracuse, sponsored a bill in 2017 to exempt glass claims from a New York shop choice notification rule. (Screenshot from New York Assembly video)
Assemblyman Tom McKevitt, R-East Meadow, sponsored a bill in 2017 to exempt glass claims from a New York shop choice notification rule. (Screenshot from New York Assembly video)
Share This: