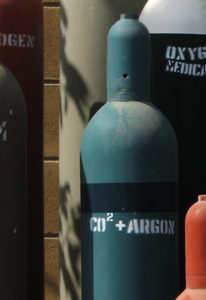 The gas required for a particular weld can trip up a technician, particularly one using a system with multiple dedicated guns, experts cautioned in the second part of a SCRS free educational video trilogy.
Society of Collision Repair Specialists Education Committee Co-Chairman Toby Chess said the industry steel standard is a mix of 75 percent argon, 25 percent carbon dioxide. However, Honda wants an 80-20 mix to accompany the wire it demands for higher-strength steels, and MIG brazing and aluminum welding might demand 100 percent argon.
"You don't want to mix the two," Chess said.
Weld with an argon-CO2 mix on aluminum, and "you just destroyed the metal," he said.
Like inspecting settings before a weld, a technician must take care to inspect which gas mix is currently equipped, Dingman said. Unconsciously grabbing any new tank and starting to weld creates the "potential for massive failure," he said.
SCRS board member Dave Gruskos (Reliable Automotive Equipment) said a technician with a multi-gun welder — which conveniently provides dedicated guns for welding aluminum, steel and with silicon bronze — will often just bring over a single tank of gas. Which based on Chess' comments is a recipe for disaster.
"In reality, that welder should have had three bottles of gas on the back," he said.
Before welding, think about OEM requirements and what type of welding will be done with what wire, Gruskos said.
The videos, part of a free SCRS YouTube educational series, are a great resource for technicians and shop owners seeking to take the I-CAR welding certification tests to meet — or compete with — State Farm's new direct repair program requirement.
Part 1 of the welding trilogy discusses the types of MIG welders available for shops, considerations before buying one, and how to ensure your shop has the correct wiring and voltage to use the new toy on a steel or aluminum vehicle. Part 2 examines welder setup and how many different types of welders a shop might need to work on modern vehicles. Part 3 on protective equipment will be released to accompany the upcoming SCRS open board meeting in Chicago during CIC and NACE Week.
More information:
"SCRS Education Committee Presents – MIG Welding Part 1 of 3 : Equipment and Power"
Society of Collision Repair Specialists YouTube channel, 2017
"SCRS Education Committee Presents – MIG Welding Part 2 of 3 : Settings, Setup and Training"
Society of Collision Repair Specialists YouTube channel, 2017
Featured image: The gas required for a particular weld can trip up a technician, particularly one using a system with multiple dedicated guns, experts cautioned in the second part of a SCRS free educational video trilogy.(danishkhan/iStock)
Share This: