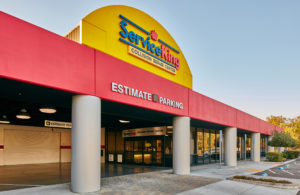 Tesla has added a few dozen Service Kings to its certified collision repair network — the only shops in the country which can buy structural parts for the OEM's vehicles, including the new Model 3.
The date of the addition is unclear. A June 19 post on the Tesla Motors Club forum references Tesla recommending the chain. Other inquiries on that site date to July.
"We can confirm Service King is joining the Tesla Approved Body Shop program," Service King communications manager Britton Drown wrote in an email Friday. "However, at this time, we are deferring all official statements and comments related to the matter to Tesla's press team."
Drown referred inquiries about the number and markets of the Tesla-certified shops to Tesla's locator map.
As is typically the case, Tesla press or auto body repair program staff did not respond to an email early Friday afternoon seeking more information.
The Tesla locator map doesn't list all Service Kings in every market, suggesting the map displays only the shops which can perform structural repairs, and possibly also "satellite" shops. Tesla's most recent body repair program guidelines indicate an MSO can "add additional locations as satellite location TABS" which can perform cosmetic repairs. Those satellite shops must take Tesla's electrical safety and Model S, X and 3 body repair and trim courses online, but aren't required to take its structural or welding offerings.
However, Tesla mandates that an MSO allow vehicle owners to drop off their car at any of the chain's locations and have it transported to the primary certified body shop for free.
Service King and any other certified MSO will be able to repair a Tesla anywhere in its network as well if the technicians working on the car and equipment in that shop meet Tesla's requirements. However, Tesla mandates that "All shop personnel (technicians, helpers, and detailers)" must have taken Chapters 1-4 of its online "Electrical Safety" course and Chapters 1-2 of "Model S High Voltage Awareness."
Tesla sales and service President Jon McNeil in March vowed to add 300 body shops, and far more would still seem to be necessary. Service King only operates in 23 states, and only a few dozen of its 300-plus locations appear to have achieved Tesla certification. So there's plenty of room for other MSOs or independents out there.
Playing around with Tesla's locator map suggested that none of the other MSOs have anywhere near the penetration Service King does for Tesla, potentially giving Service King a head start in servicing the hundreds of thousands of Model 3s Tesla might sell in the next couple of years.
The partnership is a reunion of sorts for McNeil. McNeil was CEO and co-founder of Sterling Collision from 1997-2003. Allstate bought the company in 2001 and sold it to Service King in 2014.
More information:
Tesla auto body repair locator map
Tesla Approved Body Shop operating requirements
Tesla, July 5, 2017
Tesla auto body training brochure
Tesla, May 4, 2017
Tesla certification questionnaire
Tesla, July 12, 2017
Featured image: Tesla has certified Service King's Fremont, Calif., location for its Tesla Approved Body Shop network. (Provided by Service King)
Share This: