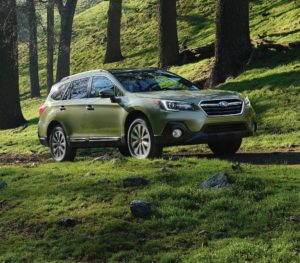 Subaru this month released a position statement advising collision repairers to scan before and after a repair all vehicles dating back to the 2004 model year.
Hopefully, that definitive start date for the procedure placates insurers who this week have questioned whether OEMs who say that all vehicles should be scanned really mean it — despite what's now been a year of OEMs and basically everyone else (I-CAR, ETI, ASA, SCRS) consistently stating that scanning has been important on all vehicles for years. (The idea that stating "all" is somehow unclear has rightfully been ridiculed by Nissan.)
For Subaru vehicles from model year 2004 and forward involved in a collision, Subaru collision repair procedure recommends that pre-repair scanning be performed. Pre-scanning will reveal DTCs for items that are not functioning properly in the vehicle. It allows a shop to identify any issues early in the estimate process, allowing a more complete estimate and encompassing repair process.
Additionally, Subaru collision repair procedure also recommends that post-repair scanning be performed on these vehicles. Post scanning is critical in ensuring the malfunctioning items have been repaired and there are no remaining DTCs. It may also assist in assuring the appropriate calibrations and reinitializations have been performed.
Subaru recommended that shops use the Subaru SSM4 and Denso DST-i interface device; details for these can be found here. Otherwise, it said a shop could use the middleman asTech device to connect to a remote Subaru scan tool. The OEM said it couldn't vouch for any aftermarket scanners.
The OEM pointed out that cars are continuing to add or improve technology like "sensor, cameras, control units, as well as other components. …  They are a critical part of vehicle operation and the safety
features in each Subaru vehicle."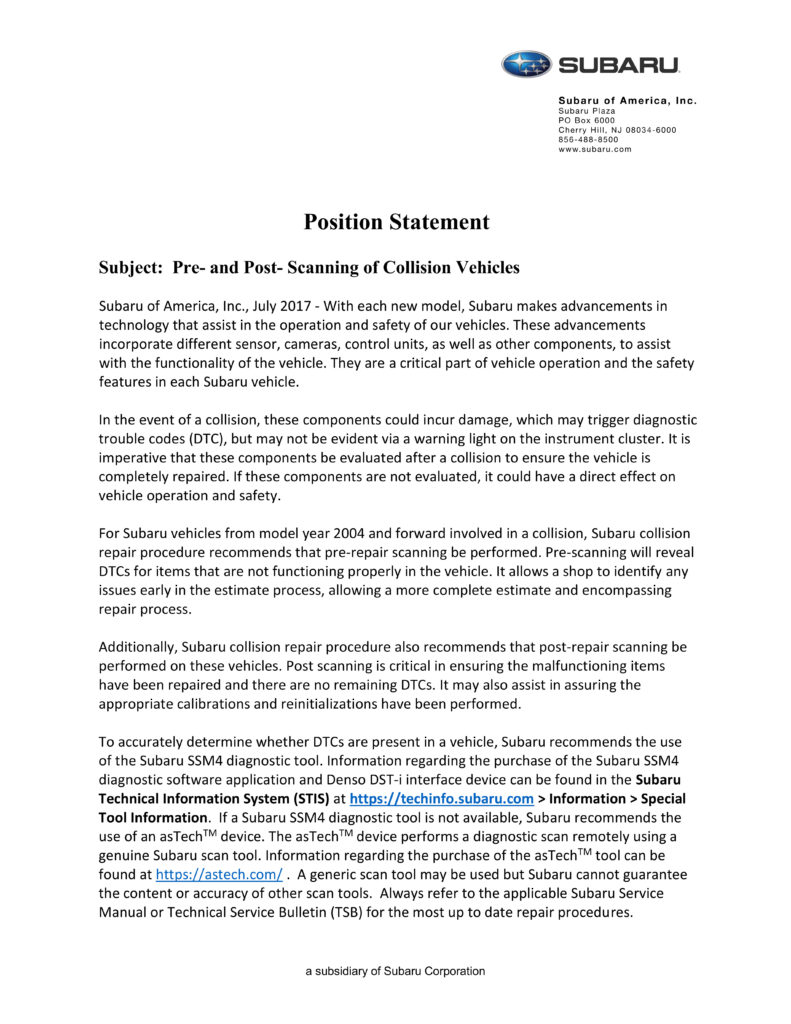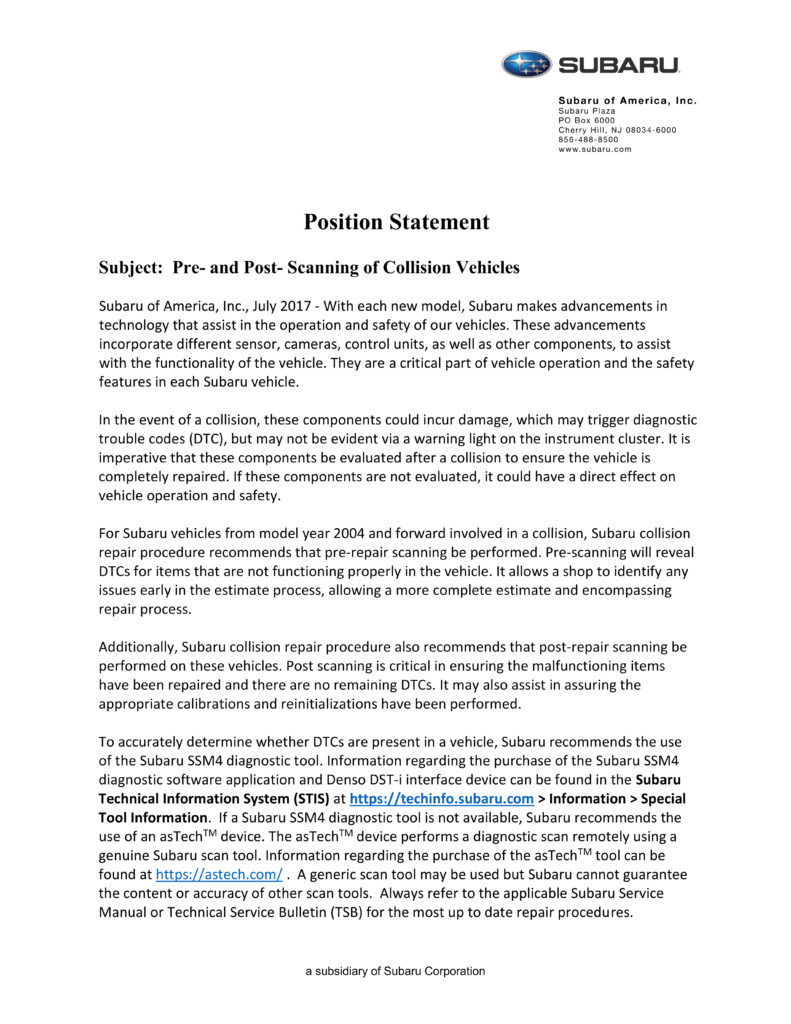 And go figure, this technology might not work well if it's been in a collision, Subaru says:
"In the event of a collision, these components could incur damage, which may trigger diagnostic trouble codes (DTC), but may not be evident via a warning light on the instrument cluster. It is imperative that these components be evaluated after a collision to ensure the vehicle is completely repaired. If these components are not evaluated, it could have a direct effect on vehicle operation and safety."
Subaru also used the position statement to repeat its 2013 stance against anything but new OEM parts, an unusual but certainly welcome aside:
The use of Genuine Subaru original parts will help ensure the vehicle is restored back to its original pre-collision condition and the structural integrity of the vehicle will perform as it was designed and tested in the event of another collision. The safety of our customers is our number one priority.
The use of any aftermarket or substitute structural, body, mechanical or electrical repair parts are not covered under the Subaru of America, Inc. limited warranty, replacement parts limited warranty or Subaru Added Security (SAS) agreements or contracts. Subaru of America, Inc. is not responsible for any resultant damage caused by the use and/or installation of any aftermarket substitute part(s).
Subaru's scanning stance ought to be helpful for collision repairers, but it's important repairers and insurers understand the absence of a position statement doesn't mean a procedure like scanning isn't required. It might very well have been called for or at least implied through the actual OEM repair procedures or simple common sense.
Ford, for example, noted Wednesday during the NACE MSO Symposium that while it didn't have a position statement on scanning, "it's very clearly" contained within Ford repair procedures.
"It absolutely should be done," Ford collision marketing manager Mark Mandl said.
Speaking of recent Subaru position statements, don't forget its May stance demanding calibration of EyeSight after glass replacement and opposition to using anything other than OEM glass. EyeSight is a safety suite including features like autobraking.
If windshield replacement is necessary for a Subaru vehicle equipped with EyeSight, we strongly recommend that Subaru genuine windshield glass specially designed for EyeSight always be used. Only Subaru genuine windshield glass has been tested and certified by Subaru to effectively work with the EyeSight system. If windshield glass other than the glass specially designed for EyeSight is used, visibility of the camera may be compromised or any distortion in the glass may prevent the correct measurement of an object, either of which would result in improper or incorrect EyeSight operation.
Additionally, if windshield glass replacement is performed on a Subaru vehicle equipped with EyeSight, calibration is required after the windshield is replaced. Always perform the "Inspection" and "Adjustment and check" of the stereo camera after windshield glass replacement. Refer to the applicable Service Manual for this procedure. If Subaru genuine windshield glass is not used, it may affect the ability of the EyeSight system to be properly calibrated.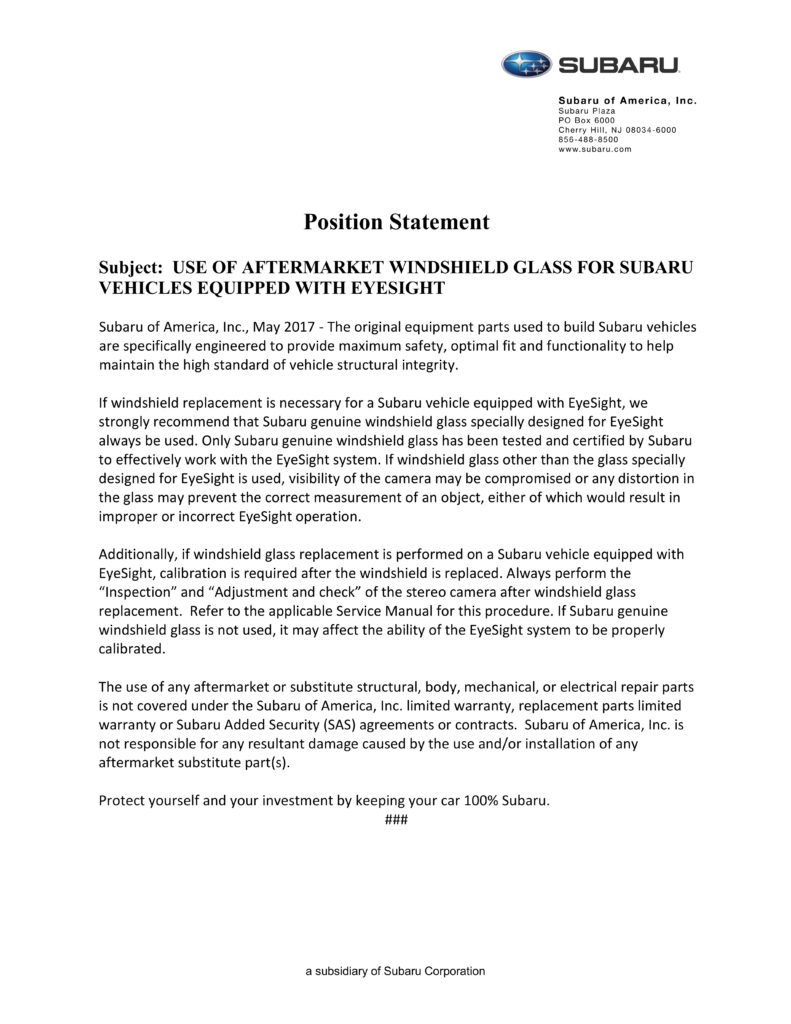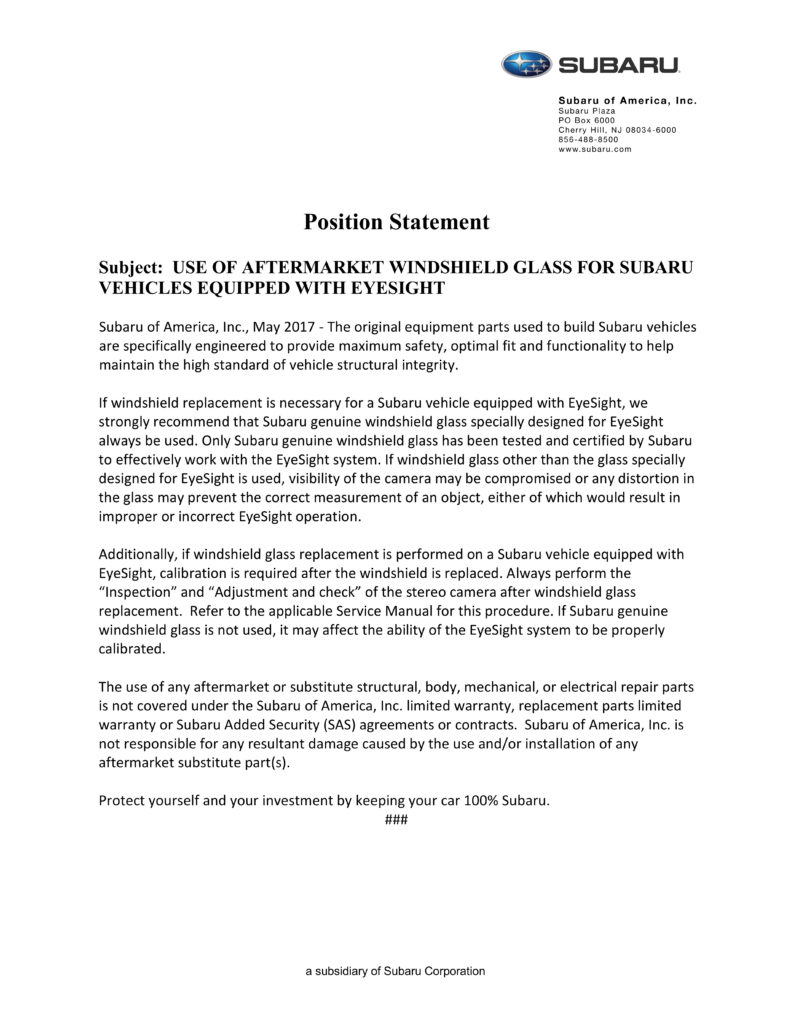 Other Subaru position statements and full repair procedures can be found here.
More information:
Subaru position statement on scanning
Subaru, July 2017
Subaru position statement on EyeSight and windshields
Subaru, May 2017
Images:
The 2018 Subaru Outback is shown. (Provided by Subaru)
Subaru in July 2017 issued a position statement on scanning. (Provided by Subaru)
Subaru in May 2017 issued a position statement on windshields. (Provided by Subaru)
Share This: