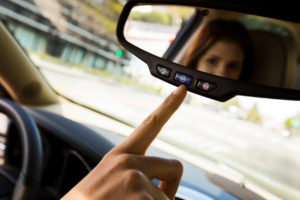 Though the company checked him from revealing too much, a General Motors staffer Wednesday suggested how the company was considering using OnStar and telematics to streamline the collision repair process and influence the customer's choice of shop.
Justin Klug of GM's emerging business group and OnStar said Wednesday during the NACE MSO Symposium that he was trying to give a sense of the OEM's thinking — but not confirming anything. He said he had more slides, but GM got nervous about revealing too much.
Still, his presentation seemed to suggest that GM would recommend through OnStar that its customers frequent certified shops, as it already does with the mixed-materials Cadillac CT6 and hinted Tuesday it would do with its mass-market certified network. It also teased the tantalizing possibility of OnStar scanning the car — something that collision repairers might be dropping the ball on today.
"A very, very, very small percentage" of General Motors vehicles received pre- and post-repair scans in 2016, according to Klug, despite an October GM position statement demanding both for all vehicles and a GM collision representative saying in August 2016 that scanning need to be done by auto body shops — just as mechanics already had been for years.
"It's part of the repair process," GM wholesaler dealer channel manager John Eck said in the preceding panel Wednesday, referencing the OEM's scanning statement. "… It has to be done."
GM cars shipping today are already nearly 100 percent equipped with 4G LTE and the ability to extract raw vehicle data, Klug said (and 97 percent of all vehicles are expected to ship with Internet connectivity by 2020, he said).
"It's coming quickly," he said of connectivity.
Given that capability, why not have the car notify someone "what's wrong?" Klug said.
"These are some of the things we're thinking about," he said.
"We are going to use our technology and our communication links to the customer to develop the best post crash experience that should be a win for GM, the shop, insurer and most importantly the customer," a slide describing GM's thinking stated.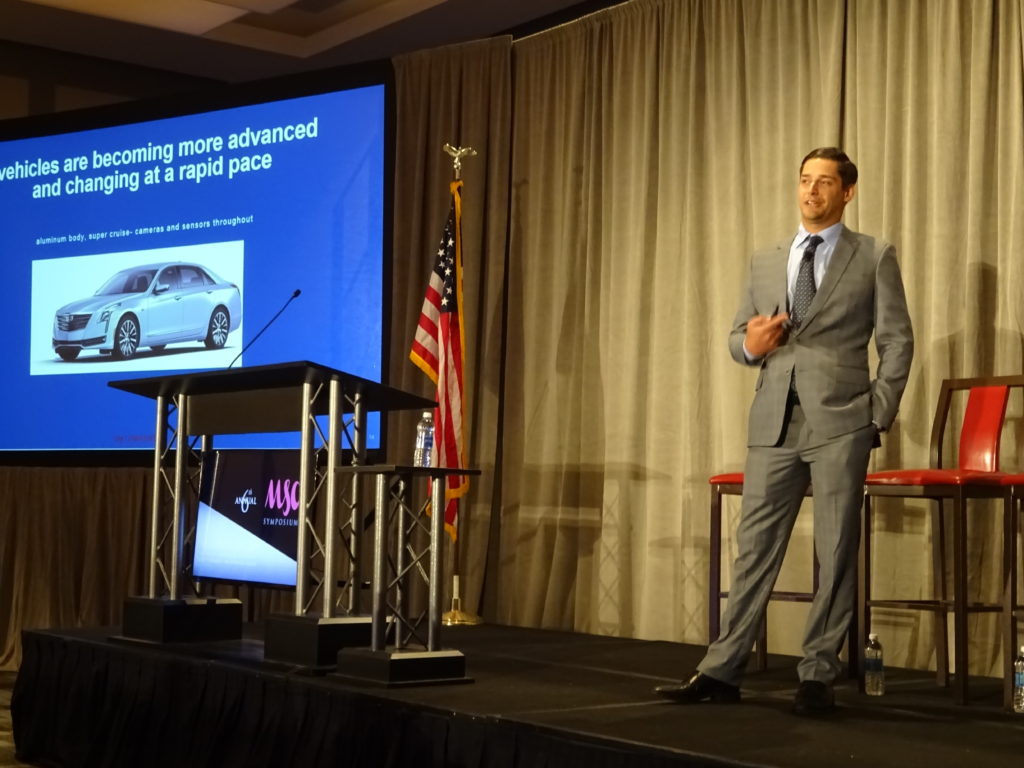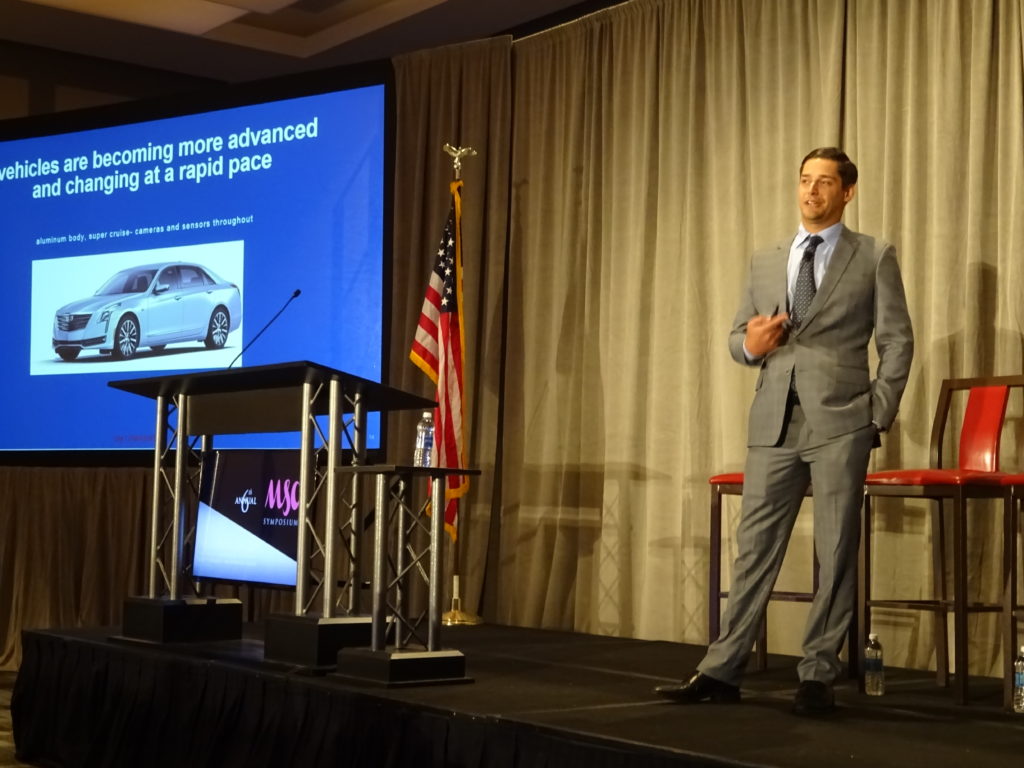 Klug also called the existing claims process inefficient. If the car is the first to know a vehicle like a CT6 is in a wreck, it should direct the owner to a collision repairer properly equipped to handle an aluminum-and-steel CT6. Right now, a police tow truck just sends the car to a police storage yard before going to the repairer, which is "all waste" and inefficiency, Klug said. "Why does it need to get towed around?" he said.
And under the current system, a total loss is still sent to a body shop who must start disassembly before realizing how bad the damage is, according to Klug. Why not have the car realize it was a total loss from the start? he suggested.
Klug said GM wants to work with parties dedicated to deliver safe, speedy and pre-loss-condition repairs.
"We're going to chose our partners wisely," Klug said.
"We are going to develop relationships that ensure our vehicles are repaired to a safe pre crash condition, those that are not committed will not have a relationship," the slide mentioned above also described GM's thinking.
Surprisingly, given the direct repair program business model — an insurer agrees to refer customers without a preference to collision repairers who've agreed to cost concessions — carriers at an earlier MSO Symposium panel didn't seem opposed to the idea of OEMs "steering" customer vehicles to certified shops.
Doing so would cut cycle times and capture first notice of loss immediately (rather than waiting for the customer to get around to it), panelists seemed to suggest.
"When cycle time goes down, the customer experience goes up," Progressive network repairs corporate property damage process director Chris Andreoli said.
USAA claims experience Assistant Vice President Kyle Thompson agreed, saying USAA liked the idea of immediate FNOL. Allstate auto line management claims director Sandee Lindorfer gave a similar perspective, calling FNOL "so important." Collaborating with an OEM on it to help the customer would be a good thing, she said.
OEMs have the "technology advantage right now," State Farm property and casualty claims director Russ Hoffbauer said, but his carrier was talking with them, and, "eventually, we really need to tell the customers … where their car can be fixed right."
The real question with all of this will be whether GM makes OnStar crash FNOL an attractive proposition to vehicle owners.
Right now, it costs $19.99 a month for automatic crash response; it's not part of the basic plan GM owners get free for five years. GM hit 5.5 million emergency services (which include collisions) in 2015 — a small fraction of its 1 billion OnStar interactions since its 1996 launch. Equus Products (Innova Electronics) general manager and Executive Vice President Michael Fitzgerald observed during a June Auto Care Association webinar that unspecified publicly traded automakers report telematics retention after free trials end only "in the mid-single-digits."
Nevertheless — and actually, because of this — his company saw an opportunity for the automotive aftermarket to offer a "cost-effective" telematics option.
"We think the time is now," Fitzgerald said.
More information:
"TELEMATICS: Threat or Opportunity"
Auto Care Association via YouTube, June 26, 2017
Images:
OnStar celebrated reaching 1 billion interactions in 2015. (Copyright General Motors)
Though the company checked him from revealing too much, Justin Klug of General Motors' emerging business group and OnStar on July 26, 2017, suggested how the company might use OnStar and telematics to streamline the collision repair process and influence the customer's choice of shop. (John Huetter/Repairer Driven News)
Share This: