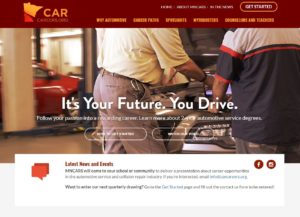 The Minnesota Careers in Auto Repair and Service initiative has reached more than 150,000 with its message promoting mechanical and collision repair careers, co-founder AASP-MN announced last week.
The organization will begin to solicit funds to keep the $250,000 campaign going past its initial two-year lifespan. The MNCARS program — a joint effort between the Alliance of Automotive Service Providers-Minnesota and the Minnesota Transportation Center, an organization of technical colleges and partners — began in January 2016 and has crossed the year-and-a-half mark.
"Those of us who have been involved in this effort from the beginning feel like we're really starting to gain some momentum," MNCARS Chairman Dan Sjolseth (Superior Service Centers) said in a statement. "Counselors, educators and parents appear to be much more receptive to the idea that a 4-year college degree is not for everyone and that the skilled trades – especially automotive – have a lot to offer:  rewarding and varied career paths with high earnings potential in a high-tech, high-demand industry."
The organization last year launched www.carcareers.org, which offers reasons to pick an automotive aftermarket job and clever pitches designed to achieve some of the campaign's key goals. Meant to encourage counselors, teachers parents as well as young people, the site draws 750 average visitors a month.
This number masks a greater interest on social media. MNCARS reports more than "53,000 Facebookers" and more than "52,000 Snapchatters." The initiative also drawn 3,000 video views and "465 Instagrammers."
AASP-MN also reported it'd reached a whopping 150,000-plus Central Minnesotans, more than 8,400 middle- and high schoolers and more than 1,000 school counselors.
The organization is aggressively trying to get the message into schools themselves. It's built a downloadable kit for counselors and attended the Minnesota School Counselors Association conference since 2015. It's created an "industry speaker's bureau," visited schools and career fairs and tapped what it calls "'student ambassadors' to promote careers in the auto service and collision industry." It also has gone to college fairs and sponsored a feature related to the Saint Cloud Times newspaper's SPARK jobs effort and an event at the Saint Cloud Technical Community College.
Other efforts include the "World of Wheels" Student Day and exhibitions at the 2016 and 2017 "Back to the 50s" events.
As Sjolseth observed, many of the MNCARS programs and messages could be duplicated or used by other states' industry efforts to patch the technician shortage.
"It's going to take the work of the entire industry to keep driving our message home and make a bigger impact," Sjolseth said in a statement. "The future of each and every automotive business depends on the availability of skilled technicians and other qualified employees.  We encourage all members of the industry to put the resources developed by MNCARS to use in their own backyard to advocate and educate target audiences about the bright outlook for automotive service and collision repair careers and jobs in our state."
Besides fundraising and continuing its live and social media engagement of students, MNCARS plans to tap "the grassroots army of AASP-MN members at the local level to spread the MNCARS message far and wide" (emphasis AASP-MN) and create a "career exploration trailer" in conjunction with the Minnesota Transportation Center so that students can get a hands-on feel for automotive work.
Details: 612-623-1110, judell@aaspmn.org and www.carcareers.org.
More information:
Minnesota Careers in Auto Repair and Service, July 24, 2017
The Minnesota Careers in Automotive Repair and Service CarCareers.org website. (Screenshot from www.carcareers.org)
Share This: