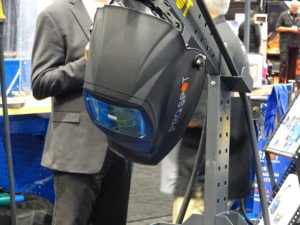 "'I need to be safe'" should be the first thing in a technician and shop's mind regarding welding, and it's the business owner's responsibility to keep employees safe with the relevant personal protection equipment, collision repair industry leaders said in the final part of a SCRS MIG/MAG educational video series.
One place where a technician (or presumably, a shop) might cheap out at their own peril is the welding mask itself, I-CAR welding instructor and Society of Collision Repair Specialists Educational Committee Co-Chairman Toby Chess said in the film.
You ask a technician if they'd buy a $5, 25-piece socket set to save money, and they'd say no, Chess observed. Yet they will frequently opt for the most inexpensive welding mask, and "you can never replace your eyes," he said.
A key indicator of quality — and safety — is the number and quality of sensors contained on the helmet. Typically, an auto body shop-caliber helmet will have three sensors, according to Chess. (Chess described four as "overkill" and good two-sensor helmets the exception rather than the rule.) Lower-quality sensors will take a long time to activate; good ones will "kick off extremely fast" to spare a technician's eyes from ultraviolet rays.
The helmet should probably have the ability to hold a magnifier, as most technicians have eye troubles, according to Chess. (I-CAR offered a similar assessment when describing stumbling blocks towards passing its welding tests.)
"They can't see what they're doing," Chess said. "And this is close-up work."
Finally, does the welding mask offer removable faceplates? Often, they won't, Chess said — which can lead to spatter-covered masks in use, according to SCRS board member Michael Bradshaw (K&M Collision)
One's eyes must be protected from more than the light and spatter, according to board member Dave Gruskos (Reliable Automotive Equipment).
"Your eyes are the critical point of absorbing this carcinogens from the smoke," Gruskos said. Government agencies and scientific research indicate eye issues can arise related to welding fumes, suggesting a need for the fume extractors he and Bradshaw said are being required by more OEMs anyway.
A respirator is also an important piece of safety technology, Gruskos said, even though he estimated the vast majority of welders probably aren't using them.
"There's a lot of bad carcinogens coming off in the smoke while you're welding," Gruskos said.
OSHA requires a particulate respirator fit test once a year, according to Chess. He said one OEM even demands a specific respirator to join their certified repair program.
Even though the technician might have a respirator and mask, what happens to the technician working next to them? Or worse, a customer; Gruskos said he'd seen a one getting an estimate next to a welder, and "the flash is in the consumer's face."
Besides fume extractors, welding screens can shield co-workers — though many shops don't have them, according to Bradshaw. However, more OEMs are beginning to require them, he said.
"The shields are critical to keep everything confined," Gruskos said.
Other protective equipment discussed included welding blankets, the right type of gloves for the welding being done and a jacket. You'll also need a fire extinguisher — and you'll need to get an additional Class D one for aluminum welding, according to Chess. Class D's are intended for combustible metals, and Chess said they're yellow, in contrast to the red Class A-C extinguishers.
More information:
"SCRS Education Committee Presents – MIG Welding Part 3 of 3 : Protective Equipment"
Society of Collision Repair Specialists YouTube channel, July 23, 2017
"SCRS Education Committee Presents – MIG Welding Part 1 of 3 : Equipment and Power"
Society of Collision Repair Specialists YouTube channel, 2017
"SCRS Education Committee Presents – MIG Welding Part 2 of 3 : Settings, Setup and Training"
Society of Collision Repair Specialists YouTube channel, 2017
Featured image: A ProSpot-branded welding mask hangs at NACE 2017. Shops should typically consider welding masks with at least three sensors, a replaceable faceplate and an option to add a magnifier, collision repair welding expert Toby Chess said. (John Huetter/Repairer Driven News)
Share This: