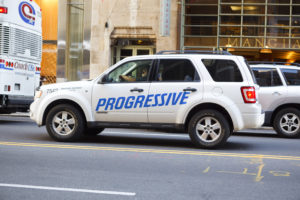 Highway Loss Data Institute figures presented by Progressive earlier this month show an interesting disparity between how much advanced safety technology reduces property damage and collision claims.
"The impact does vary by coverage," Progressive personal auto project development leader John Curtiss said on an Aug. 3 investor webinar.
The difference has to do with the nature of the two types of insurance coverages, according to Curtiss.
Property damage claims typically involve the insured striking another vehicle in the rear or side — precisely the kind of crash advanced driver assistance technology can mitigate, according to Curtiss. However, while "a good percentage" of collision-line claims involve frontal impacts, the incidents can also involve losses like the insured backing into a pole or sliding off the road, he said. These aren't necessarily mitigated by ADAS to the same degree, he said.
ADAS technology also is typically bundled into a suite of capabilities, and the technologies might overlap in the types of crashes they prevent, Curtiss said.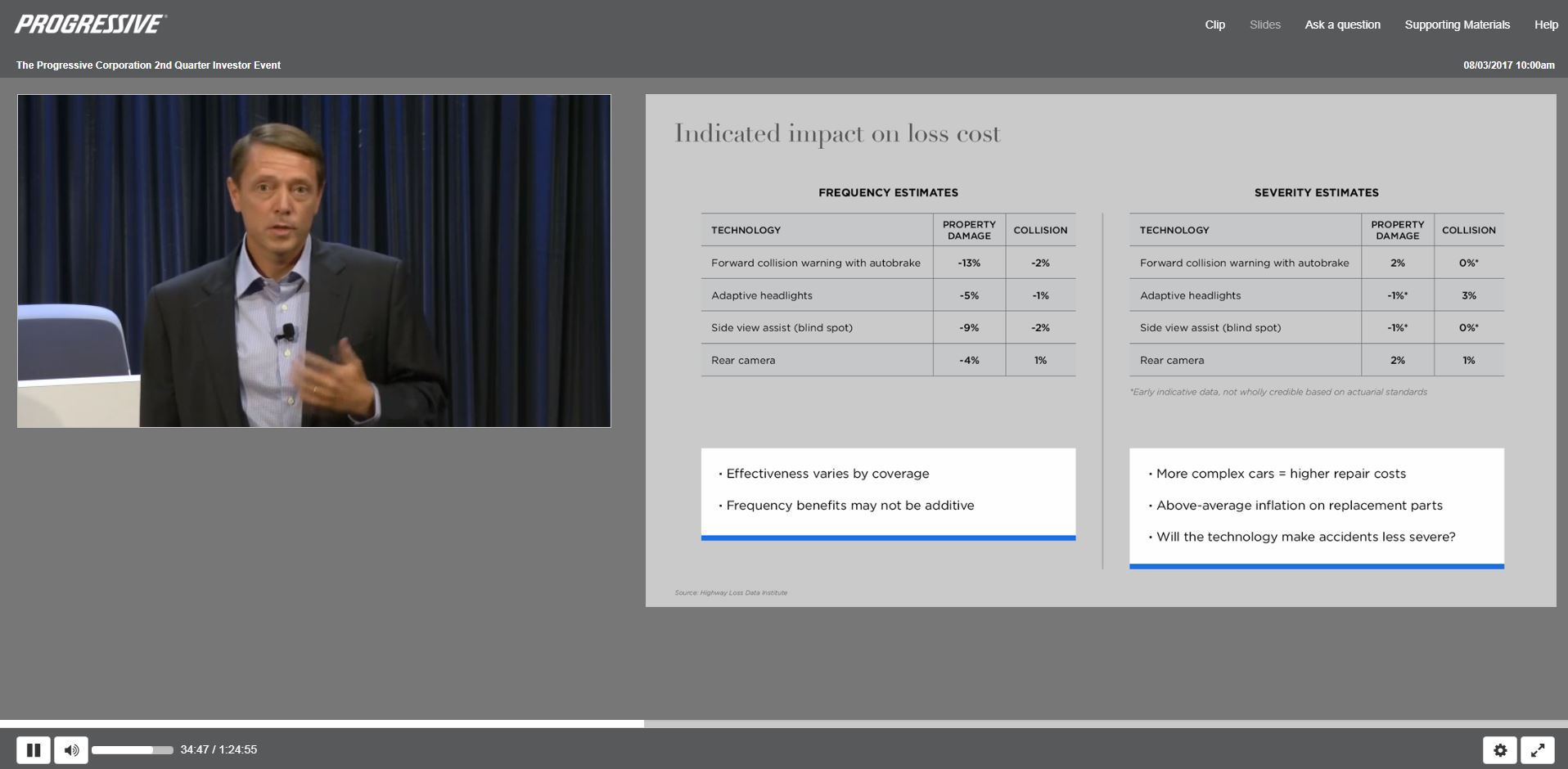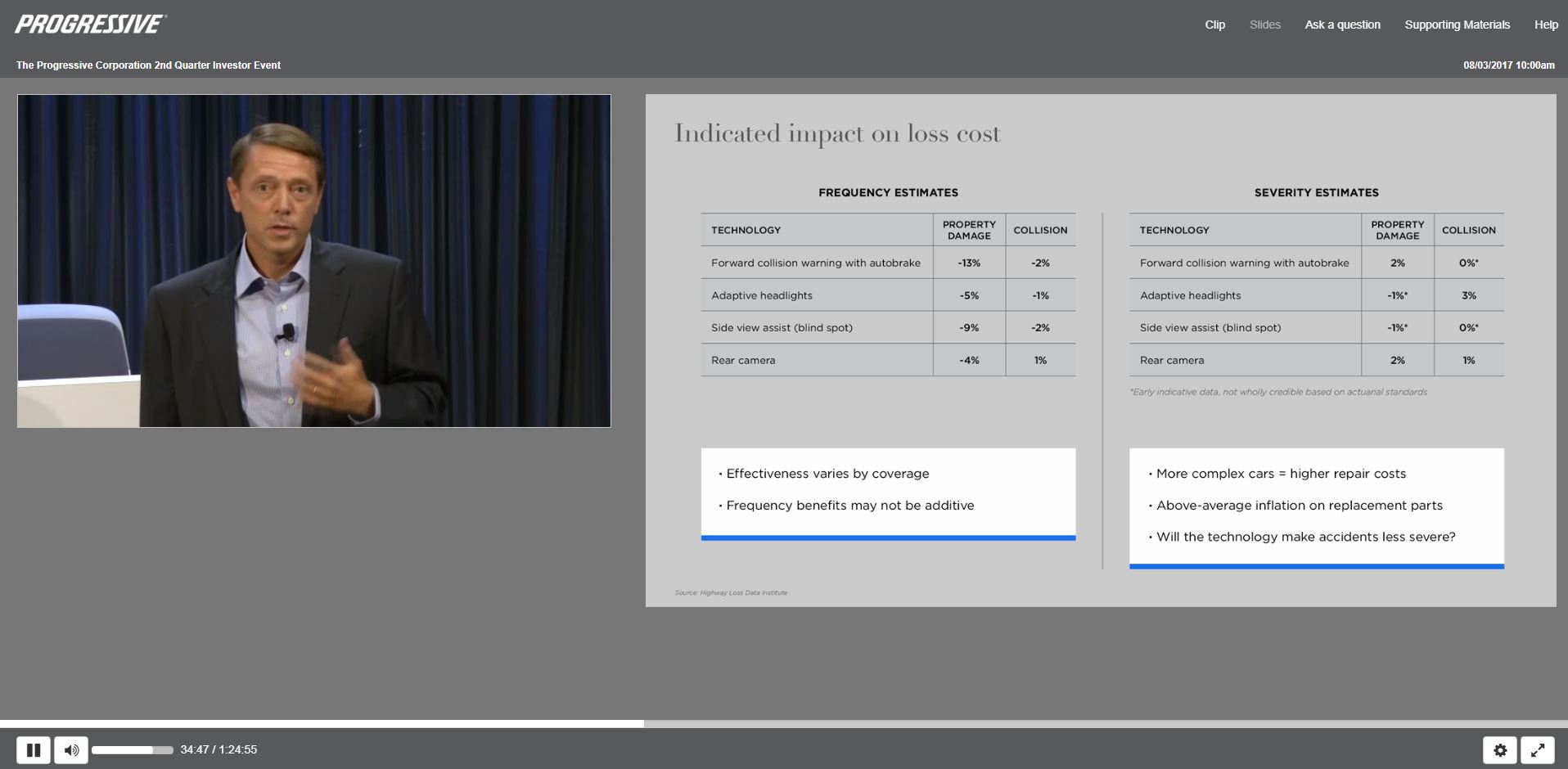 It's an interesting suggestion of the kind of work auto body shops will continue to do — and not do — as ADAS technologies like autobraking become more prevalent.
The Insurance Institute for Highway Safety HLDI frequency data, which Curtiss described as very strong, found property damage claims falling 13 percent with the combination of forward collision warning and autobraking, and blind-spot/side-view technology cut them 9 percent.
Adaptive headlights cut property damage claims 5 percent, while rearview cameras lowered them 4 percent. Oddly considering the "backing into a pole" scenario, rearview cameras somehow raised collision claims 1 percent.
The other three types of tech barely made a dent in collisions (though a high-volume shop might feel more of a pinch) — cutting them between 1-2 percent.
---
Learn more about vehicle technology at Repairer Driven Education
Progressive is paying attention to the impact of advanced vehicle technology on auto collision frequency and severity. Are you? Learn more about the tech increasingly found on the U.S. vehicle fleet and what it could mean from your shop at the Society of Collision Repair Specialists' OEM Collision Repair Technology Summit Nov. 2 during the SEMA Show in Las Vegas.  Innovators in automotive technology will be on hand for "How Automotive Research is Driving Change in Vehicle Design, Technology and Function"; "The Impact of Advanced Vehicle Systems on Routine Repair Process and Procedure"; and "The Hidden Dangers of Vehicle Technology, Improper Repair Methodology and Your Liabilities." Space will be limited; early registration is encouraged. The sessions are part of the SCRS Repairer Driven Education Series Oct. 30-Nov. 4. Register here for the individual classes or the series pass package deal, which includes the entire week of classes, all three parts of the OEM Summit and the Nov. 2 Sky Villa afterparty.
---
CEO Tricia Griffith presented data that between 1986 and 2016, frequency across all company lines had "gradually declined" about 0.7 percent a year — but "popped up" 1.3 percent between 2012-2016. She said the company didn't typically alter its pricing because of such increases, but it did keep an eye on them.
Curtiss anticipated that technology will eventually put "downward pressure" on frequency. However, it could take a while to deliver when one considers that frequency won't really start to fall until larger numbers of vehicles possess the technology, he said.
Curtiss noted that it took more than 10 years before autobraking even became standard. This will start to increase penetration "pretty rapidly," he said, but it will still remain below 50 percent of the U.S. fleet for a while. At historic rates of other technology penetration, the impact of such ADAS technologies will have a "relatively gradual" impact on frequency.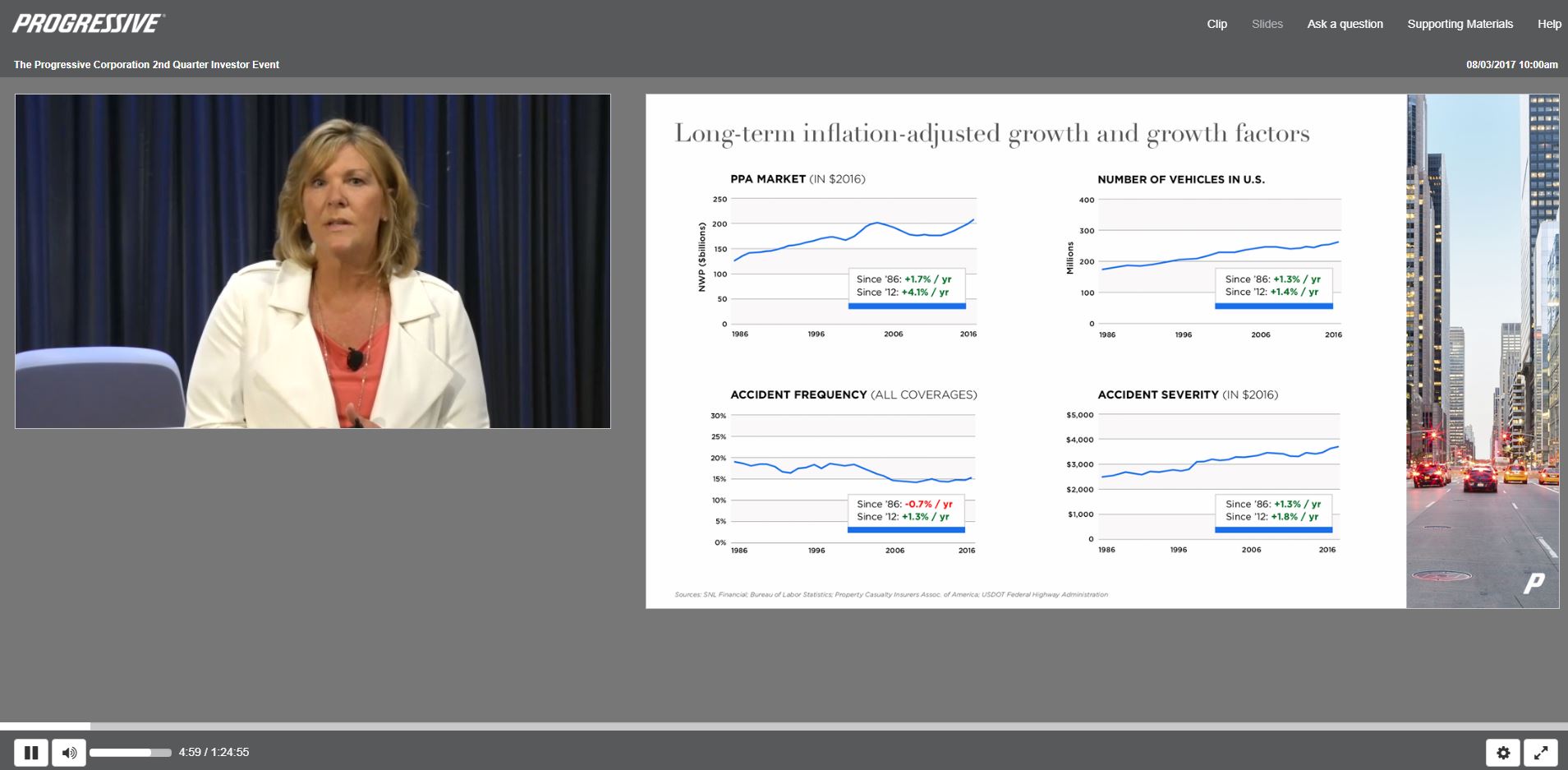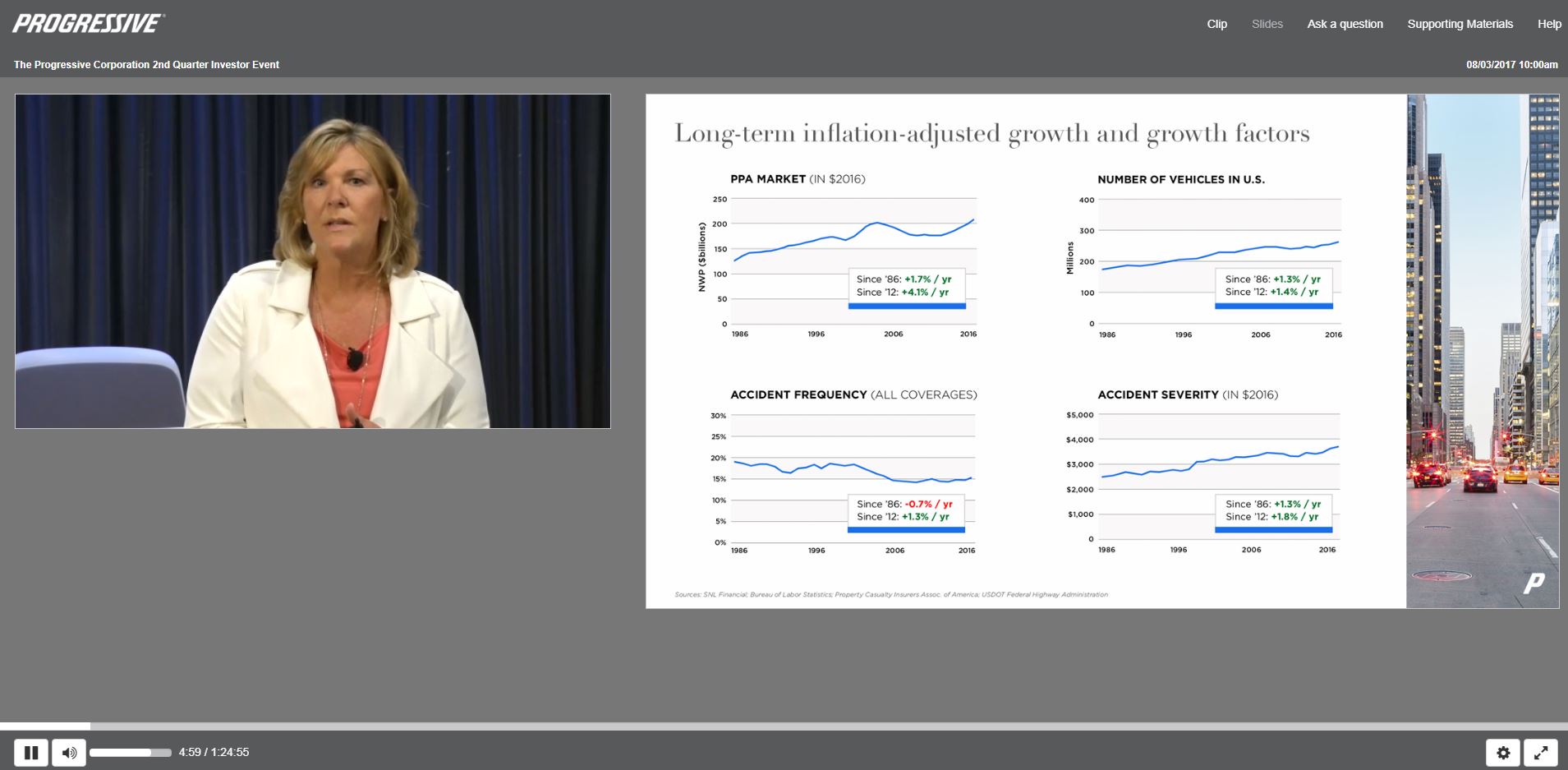 Consider a hypothetical technology that cuts frequency 15 percent, Curtiss said. It starts at less than 5 percent of the fleet, ramps up to near 50 percent in 20 years, and approaches 100 percent in 35-45 years. The actual frequency impact might be small, maybe "half a percent per year," he said.
The company is making "pricing adjustments" for technology like autobraking, according to Curtiss, but it was unclear if he meant lowering premiums because of diminished frequency or increasing them because of the additional severity.
Asked about Progressive's views on the possibility of consumers retrofitting ADAS upgrades, the company was bearish.
"We have not seen many consumers take that option," Griffith said.
Curtiss agreed, noting that there hadn't been much movement, and the company hadn't talked about offering incentives for it to consumers.
More information:
Progressive second-quarter webcast
Progressive, Aug. 3, 2017
Progressive second-quarter slides
Progressive, Aug. 3, 2017
More information:
A Progressive Insurance vehicle drives along West 57th street in Manhattan on June 2, 2011. (wdstock/iStock)
Progressive CEO Tricia Griffith on Aug. 3, 2017, presented 1986-2016 historical data, including frequency and severity across all Progressive lines. (Screenshot from Progressive via media-server.com)
John Curtiss, Progressive personal auto project development leader, on Aug. 3, 2017, presented IIHS Highway Loss Data Institute data on the frequency and severity impact of certain ADAS technology. (Screenshot from Progressive via media-server.com)
Share This: