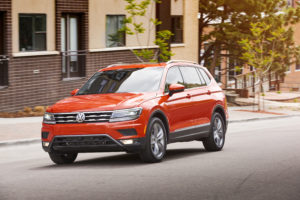 Volkswagen said this summer its next-generation 2018 Tiguan SUV would be longer and wider than its predecessor, and it is likely to use more ultra-high-strength steel as well.
A diagram for the European version of the Tiguan — which has a much shorter wheelbase than the American 2018 Tiguan — provided by a Volkswagen spokesman indicates ultra-high-strength, hot-formed steel helped make that body-in-white nearly 26.5 pounds lighter than its predecessor.
Volkswagen senior product and technology communications manager Mark Gillies wrote that the American Tiguan "body in white won't be as light, because there is about 8 inches of extra metal in the lwb version."
The 2018 Tiguan is 10.6 inches longer than the 2017 Tiguan and has a wheelbase 7.8 inches longer, leading Volkswagen to call it "(s)ignificantly larger." However, the new version of the compact SUV has 336 pounds more curb weight.
"The new Tiguan demonstrates how we plan to give American customers the usability and versatility they demand without sacrificing style or Volkswagen's trademark driving dynamics," Volkswagen North America CEO Hinrich J. Woebcken said in a statement. "Every detail of the Tiguan has been thoughtfully engineered for our U.S. customers to maximize space and convenience, while retaining its performance, agility, and value. We plan to price Tiguan very competitively with other compact SUVs. With the brand-new Tiguan and the all-new Atlas, 2017 is the year of #SUVW."
Volkswagen sold 43,638 Tiguans in 2016, up 21.7 percent. The 2018 edition went on sale in late July.
The diagram for the European Tiguan indicates that areas including the A- and B-pillars, transmission center tunnel, front floorwell (kickout panel), roof rails, inner frame rails, and rear floor crossmember are all "ultra-high-strength hot formed steel" with more than a gigapascal of tensile strength.
Regions including the shotguns, another floor crossmember and roof crossmembers and other roof supports connected to the roof rails are also ultra-high-strength steel but below 1,000 megapascals. Ultra-high-strength steel typically starts around 780 MPa. The rest of the body-in-white appears to be less than 420 MPa in tensile strength.
"Essentially, we make them out of steel, high-strength steel, and ultra-high strength steel," Volkswagen senior product and technology communications manager Mark Gillies wrote of the 2018 Atlas, which uses the same Modular Transverse Matrix ("MQB") platform but is larger than the Tiguan.
"Safety in the 2018 Tiguan starts with a rigid laser-seam-welded bodyshell, a crash-optimized and energy-absorbing front end, and heat-formed steel center B-pillars," Volkswagen wrote in a news release.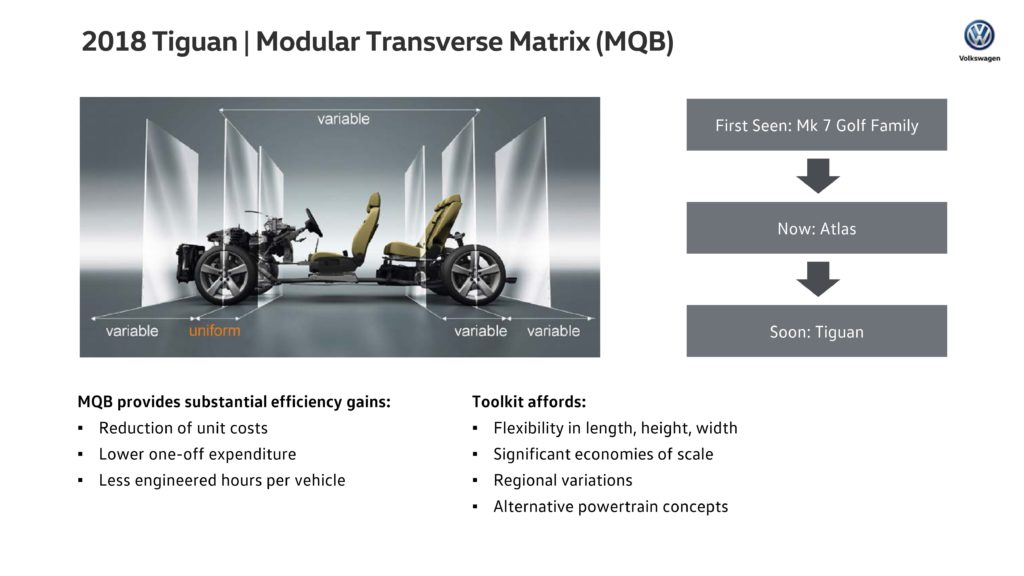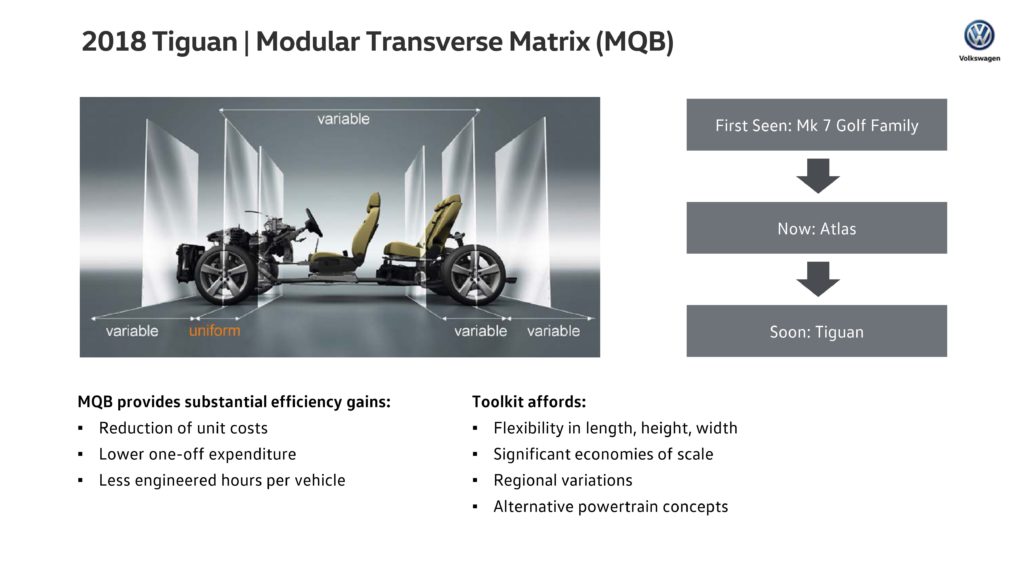 Volkswagen's description of the steel cage is virtually identical to its language on the 2017 Tiguan, indicating that some shops might at at least be familiar with some of the higher-strength steel repair considerations it'll likely demand for the new body-in-white. For body shops, many if not all of the 2018 Tiguan's ultra-high-strength steel parts will likely be replace-only and carry very specific heat and sectioning restrictions. A shop is going to have to consult Volkswagen repair procedures to fix this SUV or risk undoing all of Volkswagen's hard work protecting the occupants inside.
"Mounted in a lightweight, one-piece strengthened steel subframe, the Tiguan's strut-type front suspension has lower control arms and long-travel coil springs," Volkswagen also writes. Interestingly, the 2017 Tiguan had a "lightweight, one-piece aluminum subframe."
The switch in materials could reflect a projection by Ducker Worldwide that while certain components will inexorably shift towards a particular lightweighting strategy — i.e. a greater proportion of Part X growing aluminum while Part Y moves higher-strength steel — others will stay competitive and fluctuate between substrates depending on an OEM's need that particular vehicle generation.
Expect to be calibrating some familiar and potentially new technology following a collision.
In addition to tire pressure monitoring, antilock brakes, electronic stability control and "Anti-Slip Regulation," the Atlas comes standard with a backup camera (as all 2018 vehicles must) and post-collision braking, which continues to slam on the brakes once the airbag sensors detect a crash to "reduce residual kinetic energy and, in turn, the chance of additional damage," according to Volkswagen.
The Tiguan also comes standard with the "advanced Volkswagen Intelligent Crash Response System (ICRS) that automatically shuts off the fuel pump, unlocks the doors, and even switches on the hazard warning lights if the airbags deploy."
Autobraking and other advanced-driver assistance systems are also available as options.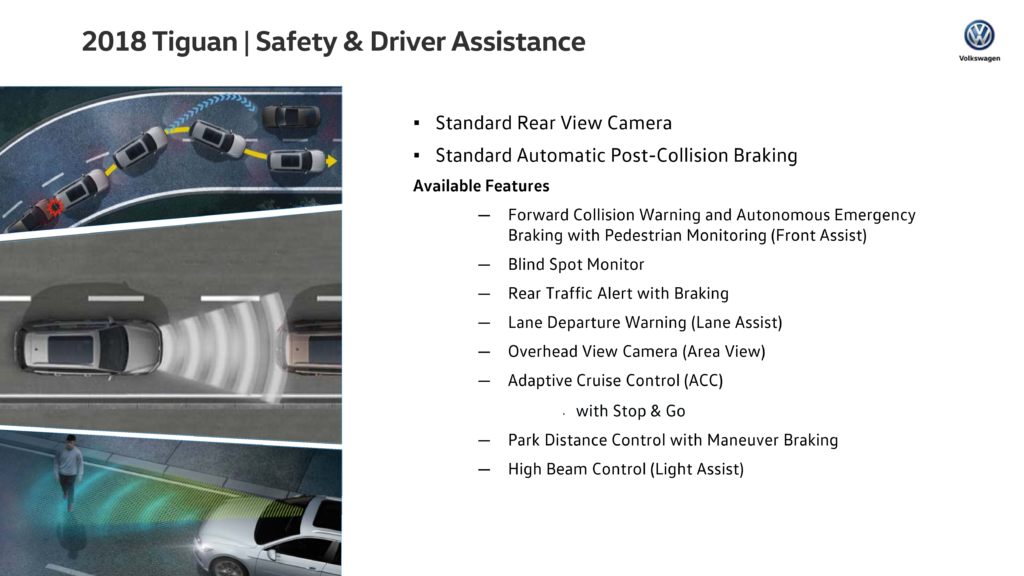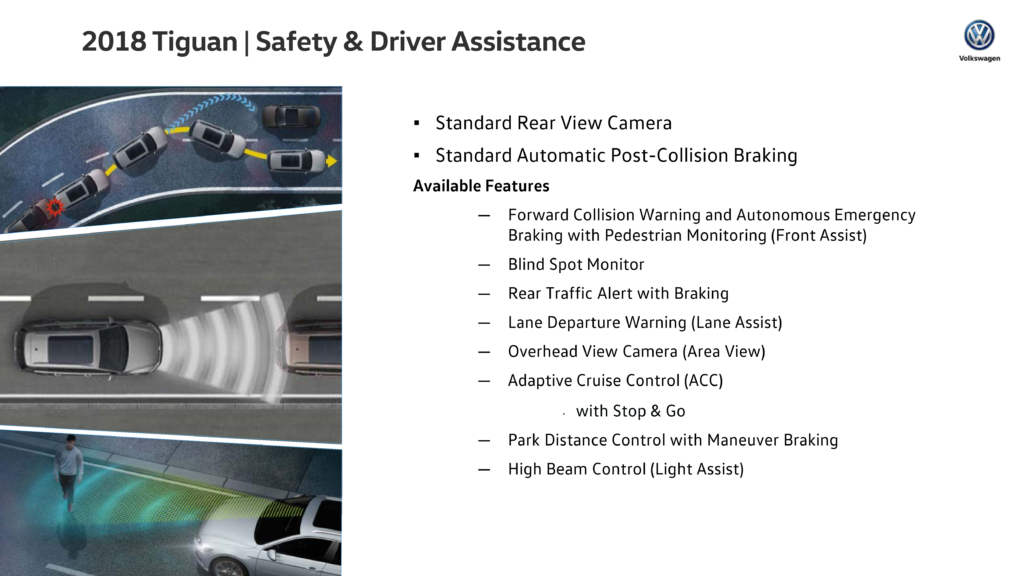 Update: An earlier version of this article incorrectly assumed Volkswagen European short-wheelbase Tiguan information was that of the long-wheelbase variant more closely resembling the U.S. Tiguan. The article has since been updated with an analysis reflecting the new information.
More information:
"ALL-NEW 2018 VOLKSWAGEN TIGUAN: AIMED AT THE HEART OF THE COMPACT SUV MARKET"
Volkswagen, June 19, 2017
2018 Volkswagen Tiguan media presentation
Volkswagen, June 21, 2017
Images:
The 2018 Volkswagen Tiguan SEL Premium is shown. (Provided by Volkswagen)
The 2018 Volkswagen Tiguan is an example of a vehicle using the company's Modular Transverse Matrix (MQB) architecture. (Provided by Volkswagen)
Some of the safety technology found on the 2018 Volkswagen Tiguan. (Provided by Volkswagen)
Share This: